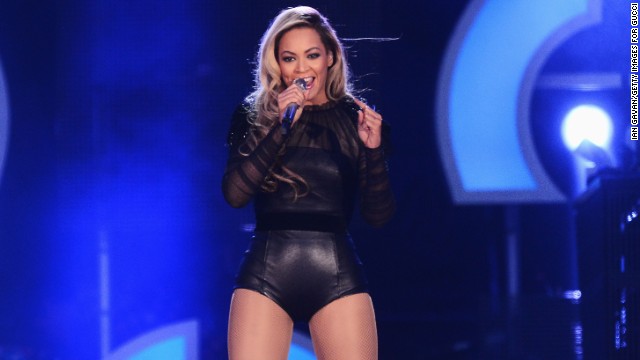 Queen Bey still reigns. Forbes named Beyonce the top-earning woman in music for 2014, thanks to the release of a chart-topping secret album and a highly successful joint tour with husband Jay Z. She made $115 million.
Taylor Swift can indeed "Shake It Off" with the year she's been having, raking in $64 million. A platinum album and endorsement deals with Diet Coke and CoverGirl have made for a lucrative 2014.
Pink puts in work. She reportedly grossed more than $1 million per city for 85 concerts and snagged a gig as a CoverGirl spokeswoman, which helped put her in the green with $52 million.
according to Forbes
) complement her hits and place her at No. 4 on the list with $48 million.
Rihanna stirs both controversy and the money pot. Her massive fan base and strong social media presence (more than 37 million followers on Twitter and 90 million on Facebook,
Katy Perry didn't tour as much as some of the others on the list, but she has her own Coty fragrance and endorsement deals with Pop Chips and CoverGirl for earnings of $40 million.
A new album and a return as a judge in "American Idol" raised Jennifer Lopez's visibility and income to $37 million this year. Her performance with Pitbull on "We Are One," the official song of the FIFA World Cup, didn't hurt, either.
Touring and her "Bangerz" album made Miley Cyrus a pretty wealthy 20-something. She earned $36 million.
Celine Dion may not be as much in the limelight, but her continued Las Vegas residency and concerts in Europe have given her a healthy bottom line. Like Cyrus, she pulled in $36 million.
Lady Gaga is down a bit from her peak of peak of $90 million in 2011, but $33 million isn't so bad.
Britney Spears' gig with a Las Vegas residency helped balance the less-than-stellar sales of her "Britney Jean" album to earn her $20 million.
Beyonce ($115 million)
Taylor Swift ($64 million)
Pink ($52 million)
Rihanna ($48 million)
Katy Perry ($40 million)
Jennifer Lopez ($37 million)
Miley Cyrus ($36 million, tie)
Celine Dion ($36 million, tie)
Lady Gaga ($33 million)
Britney Spears ($20 million)
STORY HIGHLIGHTS
Beyonce released a short film Friday
She reflected on a number of topics, from feminism to fame
She also talked about marriage
(CNN) -- In honor of the one-year anniversary of her groundbreaking self-titled work, Beyonce has taken us by surprise yet again.
The superstar singer gets personal in a nearly 12-minute short film titled "Yours and Mine," which was released Friday without warning, much in the same way she unleashed her album "Beyonce" in December 2013.
The result is a visually arresting piece that also includes nuggets of insight from Bey, who speaks on a range of topics from feminism to fame to marriage.
Here's what we learned:
'Humanist' rather than 'feminist'
One of the biggest hits from "Beyonce" is the track "***Flawless," which uses a snippet from a 2013 TEDx talk given by writer Chimamanda Ngozi Adichie called "We Should All Be Feminists."
Though Beyonce's always been a proponent of female empowerment, even going back to her Destiny's Child days, she admits in her short film that she was initially skittish around the word "feminist."
"I've always considered myself a feminist, although I was always afraid of that word because people put so much on it," Beyonce says. "When honestly, it's very simple. It's just a person that believes in equality for men and women. Men and women balance each other out, and we have to get to a point where we are comfortable with appreciating each other."
When it comes to men and the cultural pressures they face, "I have a lot of empathy," Beyonce continues. "I have the same empathy for women and the pressures we go through. ... I consider myself a humanist."
'The property of the public'
No one is immune to the price of fame, and that includes Beyonce. With global stardom, "you become the property of the public," she laments. "There's nothing real about it."
To be honest, "I sometimes wish that I could just be anonymous and walk down a street like everyone else," she adds. "Before I was famous, I was the girl on the hill with the guitar. I was the girl that just wanted a beautiful view of the beach. And now that I'm famous, it's really, really difficult to do very simple things. I think it's the hardest thing to give up."
CNN 10: Beyonce and more of 2014's most influential entertainers
'Never make excuses'
That said, Beyonce is never one to play the victim.
"My mother always taught me to be strong," she says. "Never make excuses; never expect anyone else to provide for me things that I know I can provide for myself. I have dreams, and I feel like I have a power to actually make those dreams become a reality."
'We're supposed to depend on each other'
There are those who think they'll "lose something when they get married, but it doesn't have to be that way," Beyonce, who's been married to Jay Z for six years, reflects. "There's nothing more exciting about having a witness to your life."
And beyond that, she sees something powerful in partnership.
"You know, everybody's not good at everything. It's OK to depend on someone; it's actually what we're supposed to do," she says. "We're supposed to depend on each other, and when you find the person that you trust and you love and that you feel that is going to respect you and take all of the s*** that you have and turn it around and bring out the best in you, it feeds you. It is the most powerful thing you can ever feel in your life. ... One thing that's for sure: The love that I have for music, for my husband, for my child, is something that will last far beyond my life."