STORY HIGHLIGHTS
Campaign against Islamophobia #illridewithyou takes off on social media
Anti-Muslim sentiment flares after gunman takes hostages in Sydney
Australian Twitter users offer to travel with Muslims as a gesture of solidarity
#illridewithyou becomes top trending hashtag globally
(CNN) -- A social media campaign condemning Islamophobia under the hashtag #illridewithyou has taken off after an armed man who may have links to radical Islam took hostages in Sydney.
Anti-Muslim sentiment flared as chilling images from Australian media showed people, believed to be hostages, with their hands pressed against the glass of the Lindt Chocolate Cafe in Sydney's central business district. They were holding up a black flag with Arabic writing on it reading, "There is no God but God and Mohammed is the prophet of God." The gunman reportedly was demanding an ISIS flag.
There were fears that Australian Muslims could become the targets of racially motivated retaliatory attacks.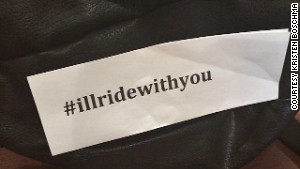 #illridewithyou trends in Sydney standoff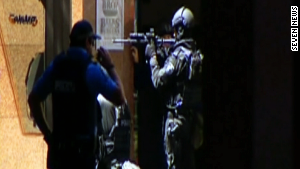 Witness: Woman screamed 'he has a gun'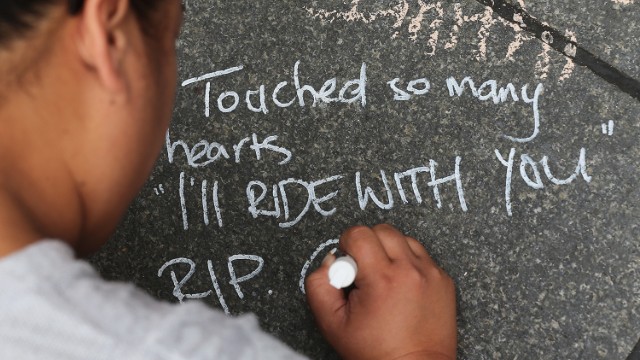 A message of condolence is written on the pavement at Martin Place, Sydney on Wednesday, December 17. #illridewithyou became a trending hashtag on Twitter during the siege, expressing solidarity with Australian Muslims in the wake of deadly siege at the Lindt Cafe in Sydney.
A woman walks past flowers placed by people as a mark of respect for the victims of Martin Place siege on Tuesday, December 16.
Members of the Muslim community show their respect at Martin Place on December 16.
Prime Minister Tony Abbott arrives with his wife Margaret to pay their respects at Martin Place on December 16.
Australian flags fly at half mast on Sydney Harbour Bridge on December 16 following the fatal siege.
An injured hostage is carried to an ambulance from a cafe in Sydney on December 16. Gunfire erupted early Tuesday as police stormed the Lindt Chocolate Cafe, where a gunman had been holding hostages since Monday morning.
Hostages run toward police officers on December 16.
A police officer and a paramedic escort a hostage away from the scene of the siege on December 16.
An injured hostage is wheeled to an ambulance after shots were fired during the raid on the cafe.
Two armed police officers stand ready to enter the cafe on December 16.
A hostage stands by the front entrance of the cafe as she turns off the lights on Monday, December 15.
A hostage runs toward police on December 15. She was one of five people seen fleeing the cafe.
Police gather near the cafe on December 15.
Hostages behind the cafe's window hold up a black flag with Arabic script on December 15.
A police officer listens to a radio on December 15.
Two hostages make it to safety outside the cafe on December 15.
A police sniper walks to his vehicle on December 15.
A journalist reports on the situation in Sydney.
Armed police are seen outside the cafe on December 15.
People rush past armed police near the cafe on December 15.
Police close a street near the scene on December 15.
Police officers talk at the scene on December 15.
Armed police patrol near the Sydney Opera House. Major landmarks in Sydney were evacuated as police responded to the hostage situation.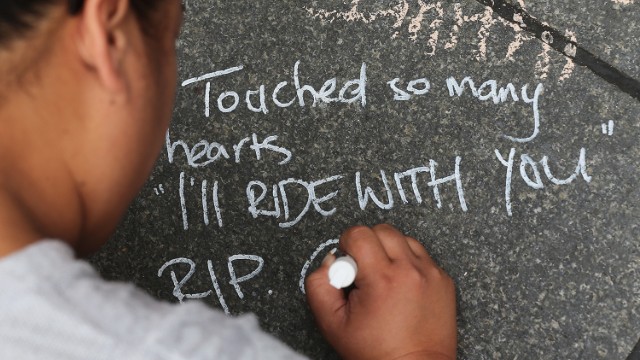 Photos: Sydney cafe siege
Instead Australian Twitter users offered to accompany Muslims wearing religious clothes on public transport as a gesture of solidarity under the hashtag #illridewithyou.
The campaign started with a tweet from @sirtessa, a TV content editor and writer from Sydney whose real name is Tessa Kum. "If you reg take #373 bus b/w Cogee/Martin Pl, wear religious attire, & don't feel safe alone: I'll ride with you. @ me for schedule," she wrote.
Kum told BuzzFeed News that "her heart broke" after reading a story tweeted by Rachael Jacobs as news of the hostage siege broke.
Jacobs had tweeted that "....and the (presumably) Muslim woman sitting next to me on the train silently removes her hijab ... I ran after her at the train station. I said 'put it back on. I'll walk with u'. She started to cry and hugged me for about a minute - then walked off alone."
Kum added: "It is hard to feel hope when you feel helpless. #illwalkwithyou is a small act, but might be important for someone one day ... For those of us watching; we live in this world. We aren't bystanders. We aren't helpless."
Kum received such a strong response to her initial tweet that she quickly suggested using the #illridewithyou hashtag, and tweets started coming in from all over Australia and beyond.
One Twitter user @Jamus_ wrote: "Any Muslim person getting the Geelong line (rail line in Melbourne) in the morning, #illridewithyou if you'd like me to. 6:47AM from southern cross."
Another one, Terri, said she would be wearing a scarf around her wrist so that any Muslims who wanted to travel with her would know who she was: "I'm a semi regular commuter on the #mandurah line. If you see me #illridewithyou. I'll be wearing this scarf."
The hashtag quickly began to trend and turned into a place for people to show their support and speak out against racism and Islamophobia.
Nikos de Serf from Melbourne tweeted: "We are all Australians & we will not turn away from our Muslim brother, sisters, fathers, mothers, loved ones & friend #illridewithyou all."
Phil Burgess, an Australian living in the United Arab Emirates, tweeted: "We live in Abu Dhabi but I am proud to say that #illridewithyou anytime!"
In a few hours, #illridewithyou has become the top trending hashtag globally and has been mentioned 150,000 times, including retweets, in the past 24 hours, according to social search and analysis site Topsy.
Muslims in Australia and across the world have shown their gratitude for the campaign.
One user, Angger Prawitasari, wrote: "Thanks for protecting my sisters #illridewithyou."
Ozge Sevindik, whose Twitter profile shows her wearing a hijab, wrote: "I was going to drive to work tomorrow but seeing the outpouring of support changed my mind. #illridewithyou Thank you. See you on the train!"
Sydney streets fall silent during hostage standoff