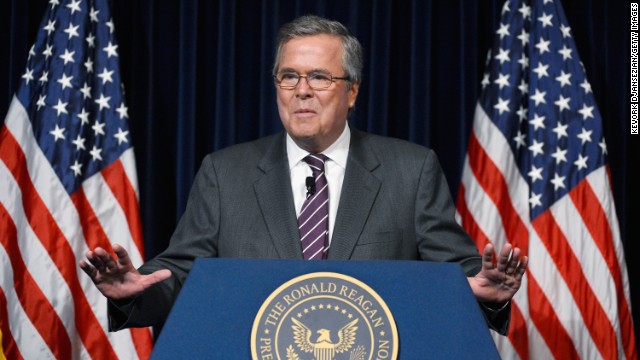 Former Florida Gov. Jeb Bush has said his decision to run for the Republican nomination will be based on two things -- his family and whether he can lift America's spirit. His father and brother formerly served as President.
Gov. Scott Walker of Wisconsin, recently re-elected to a second term, is considered a possible Republican candidate.
Republican Texas Gov. Rick Perry announced in 2013 that he would not be seeking re-election, leading to speculation he might mount a second White House bid.
Mitt Romney probably won't be running for president again in 2016. He has suggested the chances of a third run are close to a million to one. But that hasn't kept some Republicans from encouraging him to enter the race if another legitimate candidate doesn't step up. Ann Romney, for her part, is not excited at the prospect. She told the LA Times Oct. 14th that she and her husband are "done done done" with running for office. Romney is still a draw on the campaign circuit. He is shown here stumping for senate candidate Joni Ernst in Iowa Oct. 11, 2014. (Photo by David Greedy/Getty Images)
Hillary Clinton continues to have an overwhelming lead over other possible 2016 Democratic presidential candidates. Although the former first lady and secretary of state has not said whether she'll run, a group of PACs and advocacy organizations have begun the process of raising money and aiding a hypothetical campaign.
Vice President Joe Biden has twice before made unsuccessful bids for the Oval Office -- in 1988 and 2008. A former senator known for his foreign policy and national security expertise, Biden made the rounds on the morning shows recently and said he thinks he'd "make a good President."
Sen. Marco Rubio, a Republican rising star from Florida, was swept into office in 2010 on the back of tea party fervor. But his support of comprehensive immigration reform, which passed the Senate but has stalled in the House, has led some in his party to sour on his prospects.
New Jersey Gov. Chris Christie has fallen out of the top spot among potential Republican presidential candidates with a political scandal roiling his administration.
Rep. Paul Ryan, a former 2012 vice presidential candidate and fiscally conservative budget hawk, says he's "keeping my options open" for a possible presidential run but is not focused on it.
Sen. Rand Paul has said that he was seriously considering a run for president in 2016. If the tea party favorite decides to jump in, he likely will have to address previous controversies that include comments on civil rights, a plagiarism allegation, and his assertion the top NSA official lied to Congress about surveillance.
Texas Sen. Ted Cruz plans to travel to states that factor into the early nomination process. The first-term Republican and tea party darling is considered a gifted orator and smart politician. He is best known in the Senate for his marathon filibuster over defunding Obamacare.
Maryland Democratic Gov. Martin O'Malley released a "buzzy" political video in November 2013 in tandem with visits to New Hampshire. He also headlined a Democratic Party event in South Carolina, which holds the first southern primary.
Louisiana Gov. Bobby Jindal said recently it's too early to announce whether he'll run. Jindal has said he wants to focus on "winning the war of ideas" before making a decision on his presidential ambitions.
Former Pennsylvania Sen. Rick Santorum, a social conservative, gave Mitt Romney his toughest challenge in the nomination fight last time out and has made trips recently to early voting states, including Iowa and South Carolina.
Political observers expect New York Gov. Andrew Cuomo to yield to Hillary Clinton should she run in 2016, fearing there wouldn't be room in the race for two Democrats from the Empire State. Should she not jump in, Cuomo would then be a potential candidate.
Potential 2016 presidential candidates
Potential 2016 presidential candidates
Potential 2016 presidential candidates
Potential 2016 presidential candidates
Potential 2016 presidential candidates
Potential 2016 presidential candidates
Potential 2016 presidential candidates
Potential 2016 presidential candidates
Potential 2016 presidential candidates
Potential 2016 presidential candidates
Potential 2016 presidential candidates
Potential 2016 presidential candidates
Potential 2016 presidential candidates
Potential 2016 presidential candidates
Potential 2016 presidential candidates