STORY HIGHLIGHTS
Charlotte Dujardin and horse Valegro post dressage world record
The new mark of 87.740 eclipses the pair's previous record of 87.129
Dujardin delights home crowd at Olympia Horse Show in London
Editor's note: Follow us at @WorldSportCNN and like us on Facebook
(CNN) -- The Queen would most certainly approve.
Charlotte Dujardin, Britain's double Olympic champion, broke her own dressage world record on Tuesday night, in front of a rapturous home crowd in London.
On board Valegro, the pair posted a new mark of 87.740, eclipsing their previous best of 87.129, which was set at the World Cup in April.
The news is also sure to delight Buckinhgham Palace, Dujardin revealing recently the Queen had said of her prowess: "no-one rides like this young lady."
Read: The girl with the dancing horse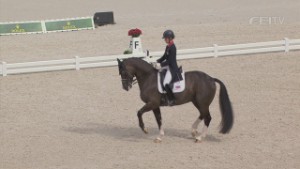 The Queen of the dancing horses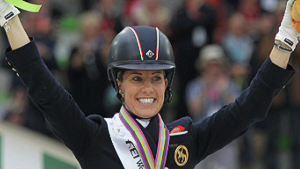 Equestrian star's historic feat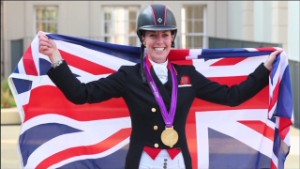 The girl with the dancing horse
"To break another world record is fantastic," Dujardin was quoted as saying on Team GB's official website.
"I just went in there to enjoy it as Valegro and I hadn't competed since the World Equestrian Games and didn't want to put pressure on him.
"But we both love Olympia and the amazing atmosphere and it's great to achieve this and we'll just go out again and let rip on Wednesday."
The 29-year-old only began competing at the top level of dressage three years ago but is the current World, European and Olympic champion, becoming the first rider in the sport's history to hold all its major titles.
Dujardin, known by the moniker "The Girl with the Dancing Horse" in her native Great Britain, was recently crowned Sunday Times & Sky Sports Sportswoman of the Year.
And she recently spoke of her visit to the Palace to meet the Monarch, who is an avid fan of horse racing and dressage.
"She was absolutely amazing," Dujardin explained of her meeting with Queen Elizabeth II in a recent interview with The Guardian newspaper.
"I was talking to two ladies and she came over and said: 'I have to tell you two that there is no other girl that rides like this young lady.' And I was like: 'Oh my god the Queen has just said that!' You don't expect that from the Queen.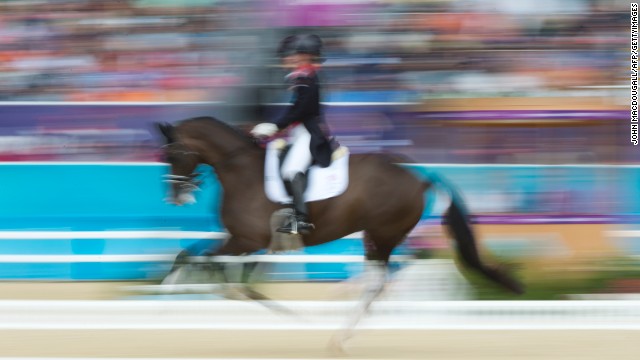 Life has been a blur for Charlotte Dujardin and Valegro since winning double Olympic gold in 2012 courtesy of a host of world records.
Dujardin describes the relationship between horse and rider as like a marriage, calling her mount Valegro "my best friend."
They have been unstoppable in the past two seasons, with the world championship the only title to elude them.
Dujardin broke her latest world record in Lyon in April but believes more milestones could tumble when she and Valegro compete.
There have been constant fears, though, that their partnership would be split as Valegro was put up for sale by owner Carl Hester.
But horse and rider look set to ride into the sunset, with Dujardin being told that Valegro will never be sold despite a possible $10 million price tag.
The pair will forever be remembered for winning double gold at the London 2012 Olympics.
Dujardin had claimed to be happy to have qualified, but dominated the competition with a series of faultless displays.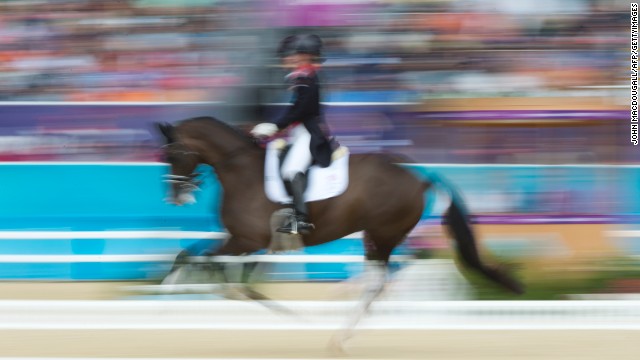 The perfect partnership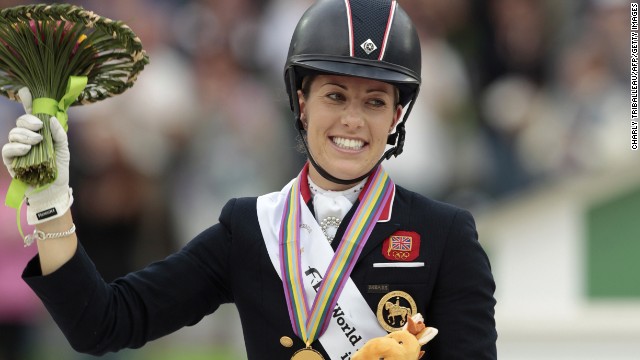 British rider Charlotte Dujardin continued her reign as the golden girl of dressage, winning both individual titles at the World Equestrian Games in France.
Riding Valegro, the Olympic champion beat Germany's Helen Langehanenberg (on Damon Hill) in both the special and the freestyle. Dujardin was also the top individual rider in the team event, but could not prevent Germany regaining the title.
Jumping star Jeroen Dubbeldam also won two golds for the Netherlands in team and individual, becoming the first from his country to do so.
Jacques Ferrari gave host nation France its first success of the two-week competition, winning gold in the men's individual vaulting from compatriot and defending champion Nicolas Andreani. France also won its first medal in the team event, with bronze.
In the individual endurance race, Sheikh Hamdan bin Mohd Al Maktoum of United Arab Emirates was first home in the 160 km competition riding Yamamah.
In para-dressage, Sophie Christiansen continued her dominance of the individual event with her fourth world title, while the Paralympic champion helped Britain continue its long unbeaten run in the team event with another victory. However, she was beaten to gold in the Grade 1a freestyle by Italy's Sarah Morganti.
Horseball was one of the exhibition sports this year, along with polo, as men's, women's and mixed teams took part in Saint-Lô.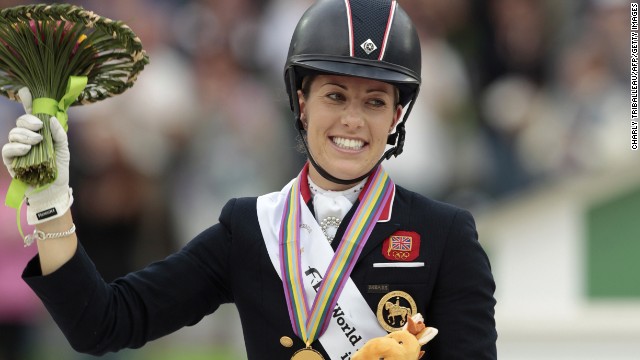 2014 World Equestrian Games - The highlights
"I was thinking: 'Does she know all this because she has researched me, or does she follow what I do?' But when we talked further she knew so much about me, far more than you could read."
Dujardin's prowess has catapulted her into the limelight, with over 75,000 people voting for her during the BBC's Sports Personality of the Year contest.
She came fourth in the annual vote to crown the sporting achievement of the year behind Formula One world champion Lewis Hamilton, four-time major golf champion Rory McIlroy and athlete Jo Pavey.
After completing her "grand slam" of titles in September, she told CNN: "If someone had asked me 'do you think that's possible?' I would have been like 'absolutely not.
"For it to have been possible and that I've actually done it is very surreal and something that I always have to think 'Oh my God!' I've won all of it. There's no more I can do."
Read: Bring on the dancing horses!
Read: Dressage champ Dujardin wins award