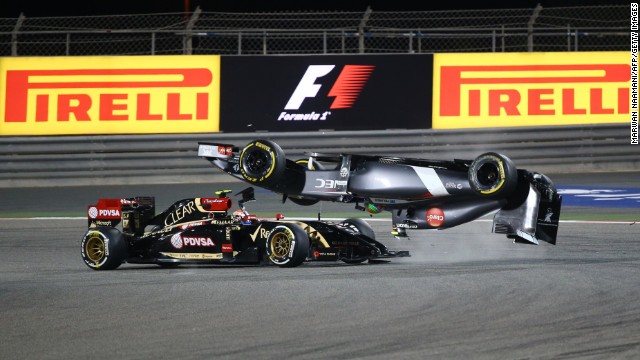 Formula One driver Esteban Gutierrez goes airborne after crashing with Pastor Maldonado during the Bahrain Grand Prix on Sunday, April 6. He was not injured.
emotions in the country
were reminiscent of 1950, when Brazil last hosted the World Cup and
suffered a heartbreaking defeat.
A Brazil fan reacts after his team was crushed 7-1 by Germany in a World Cup semifinal match played Tuesday, July 8, in Belo Horizonte, Brazil. The
Luke Glendening of the Detroit Red Wings gets knocked into the glass during a first-round playoff series against the Boston Bruins on Sunday, April 20. The Bruins won the series 4-1.
A Jack Russell terrier named Lucie jumps into the water during a dog diving competition held Saturday, June 14, in Erfurt, Germany.
Philadelphia Eagles wide receiver Jeremy Maclin crashes through Gatorade after he was pushed out of bounds Sunday, October 26, in Glendale, Arizona.
Diego Ferreira, right, punches Ramsey Nijem during their mixed martial arts bout Saturday, August 30, at UFC 177 in Sacramento, California. Ferreira won by a second-round knockout.
Carlos Moncrief of the Cleveland Indians catches a fly ball at the right-field wall during a spring training game in Goodyear, Arizona, on Wednesday, February 26. The wall was displaying an advertisement for a homebuilder.
Pro tennis player Kei Nishikori, second from right, is thrown into a pool after winning the final of the Barcelona Open on Sunday, April 27.
Bulgarian gymnast Sara Staykova performs during the Rhythmic Gymnastics World Cup event in Stuttgart, Germany, on Saturday, March 22.
Switzerland's Xherdan Shaqiri looks at the shadow of Ecuador's Walter Ayovi during a World Cup match Saturday, June 14, in Brasilia, Brazil.
Chinese bodybuilder Xin Jian poses during competition Friday, November 21, at the Asian Beach Games in Phuket, Thailand.
New England Patriots wide receiver Julian Edelman is tackled by Oakland Raiders during the Patriots' 16-9 win Sunday, September 21, in Foxborough, Massachusetts.
Jockey Johnny King goes flying Thursday, September 4, after mounting Arbitrageur at Laytown Racecourse in Laytown, Ireland. Both the horse and jockey were OK, and they went on to finish in seventh in their race.
Kallum Watkins of the Leeds Rhinos has his shorts pulled down during the Challenge Cup final, which was played Saturday, August 23, in London. Leeds defeated the Castleford Tigers 23-10.
Brett Gardner of the New York Yankees dives into second base as he tries to get a double Wednesday, September 3, in a home game against the Boston Red Sox. He was tagged out on the play.
A Montreal Alouettes cheerleader performs during the second half of a Canadian League Football game Friday, August 1, in Montreal.
Jesse Ryder of the Otago Volts is bowled out by the Auckland Aces during a Twenty20 cricket match Saturday, November 1, in Hamilton, New Zealand.
A reflection in the water shows Aidan Coleman riding Stone Light as they jump at the Newbury Racecourse in Newbury, England, on Friday, February 28.
Miami Heat star Dwyane Wade rests after practice Friday, October 10, in Rio de Janeiro. Miami was in Rio to play Cleveland in an NBA preseason game.
Australia's Bernard Foley is tackled by a South African player during a Rugby Championship match in Perth, Australia, on Saturday, September 6. Australia defeated South Africa 24-23.
Ohio State point guard Aaron Craft, left, lies on the court after missing a shot to beat Dayton during their NCAA Tournament game on Thursday, March 20.
Clemson running back D.J. Howard flips in the air after being hit by a Syracuse player Saturday, October 25, in Clemson, South Carolina.
Taylor Hall of the Edmonton Oilers is tripped during an NHL game in Dallas on Tuesday, November 25.
Chinese gymnast Lin Chaopan lands after performing on the horizontal bar Tuesday, October 7, at the World Gymnastics Championships in Nanning, China. He and the Chinese men won gold in the team all-around.
Cyclists with neon costumes participate in the opening of the Track Cycling World Championships in Cali, Colombia, on Wednesday, February 26.
Competitors help a woman climb an obstacle Saturday, June 28, during the Spartan Race in Uncasville, Connecticut.
Lithuanian ice dancer Isabella Tobias competes at the World Figure Skating Championships in Saitama, Japan, on Friday, March 28.
The face of Baylor's Isaiah Austin is covered by the basketball in this photo from the NCAA Tournament on Friday, March 21.
A member of Japan's synchronized swimming team twists out of the water Monday, September 22, while competing in the Asian Games in Incheon, South Korea.
Tony Cruz of the St. Louis Cardinals avoids a tag from Milwaukee catcher Jonathan Lucroy and scores a run Saturday, August 2, in St. Louis.
Portugal's Cristiano Ronaldo celebrates after scoring against Cameroon during a soccer match Wednesday, March 5, in Leiria, Portugal.
Boxers Dmitry Chudinov, right, and Patrick Nielsen clinch during their middleweight title bout Monday, June 2, in Mytishchi, Russia. Chudinov won by unanimous decision.
In this photo taken with an underwater camera, Germany's Robin Backhaus competes in the 4x200-meter freestyle during the European Swimming Championships on Saturday, August 23.
Liam Atkins dives from 20 meters (65.6 feet) as spectators in Ponte Brolla, Switzerland, watch him compete in the International Cliff Diving Championship on Saturday, July 19. The Australian finished fourth in the men's competition, which was won by Russia's Ilya Shchurov.
Juventus striker Carlos Tevez, left, celebrates with teammate Andrea Pirlo after scoring against Torino during a Serie A soccer match Sunday, February 23, in Turin, Italy.
Nebraska wide receiver Jordan Westerkamp just misses a touchdown pass Saturday, November 1, while playing Purdue in Lincoln, Nebraska.
Sri Lankan cricket player Dimuth Karunaratne is hit by a ball Sunday, January 12, during a Test match against Pakistan in Dubai, United Arab Emirates.
Sprinter Terezinha Guilhermina competes in the 200 meters along with her guide, Guilherme Santana, during the T11 final of the Brazilian Athletics Open Championships on Thursday, April 24. The T11 category is for athletes who are visually impaired.
Baylor linebacker Taylor Young walks through artificial smoke before the Bears took on TCU at Baylor's McLane Stadium on Saturday, October 11.
Germany's Britta Heidemann, left, competes against Estonia's Erika Kirpu on Sunday, July 20, during the World Fencing Championships in Kazan, Russia. Heidemann defeated Kirpu in what was the semifinal match of the women's epee event, but she lost to Italy's Rossella Fiamingo in the final.
The "Cameron Crazies" cheer on Duke freshman Jabari Parker after he scored a basket while playing North Carolina on Saturday, March 8, in Durham, North Carolina.
Dominika Cibulkova throws a racket as she celebrates her win over Agnieszka Radwanska in the semifinals of the Australian Open on Thursday, January 23. Cibulkova lost in the final to Li Na.
Stuttgart goalkeeper Thorsten Kirschbaum tries to stop a lawn sprinkler during a Bundesliga match Saturday, October 18, in Stuttgart, Germany.
The reflections of Yukiko Inui and Risako Mitsui, two synchronized swimmers from Japan, are seen underwater as they perform at the Asian Games in Incheon, South Korea, on Saturday, September 20. They won silver in the duets event.
Kamui Kobayashi loses control of his car after crashing into Felipe Massa during the Australian Grand Prix on Sunday, March 16. It was the opening race of the Formula One season.
Russ Pulley, a college football official, falls down on a play during the Georgia-South Carolina game Saturday, September 13, in Columbia, South Carolina.
Pro wrestler Maik Tuga, bottom, fights Nacho Libres during a Swiss Championship Wrestling event held Saturday, May 31, in Zollikofen, Switzerland.
A husband carries his wife through a 200-meter obstacle course during City Day celebrations in Krasnoyarsk, Russia, on Saturday, June 28.
Baltimore Ravens safety Matt Elam catches a cleat in the face while playing the San Diego Chargers on Sunday, November 30.
Fans cheer tennis player Maria Sharapova on Monday, September 22, after she defeated Svetlana Kuznetsova at the Wuhan Open in Wuhan, China.
Photographers try to avoid Anthony Rizzo of the Chicago Cubs as he dives to catch a foul ball Sunday, July 20, in Phoenix.
JaVale McGee #34 of the Denver Nuggets protects the fans as he ended up in the front row after saving the ball against the New Orleans Pelicans at Pepsi Center on November 21, 2014 in Denver, Colorado. The Nuggets defeated the Pelicans 117-97.
Hockey fans in Columbus, Ohio, watch a fight between Ottawa's Mark Borowiecki, left, and Columbus' Jared Boll during an NHL game Tuesday, October 28.
A competitor falls into muddy water during the Tough Mudder obstacle race held Saturday, March 22, in Phillip Island, Australia.
Ron Hainsey of the Carolina Hurricanes and Boone Jenner of the Columbus Blue Jackets collide during a game in Raleigh, North Carolina, on Friday, November 7.
Uzbekistan's Mukaddas Kubeeva, in white, competes against India's Shushila Devi Likmabam during a judo match Saturday, September 20, at the Asian Games in Incheon, South Korea. Likmabam won the match.
The reflection of Indian squash player Dipika Pallikal is seen on the wall during her Asian Games semifinal match against Malaysia's Nicol Ann David on Monday, September 22. David won and went on to win the gold medal.
Norbert Ell clears a hurdle with his horse T-Quinta during the World Equestrian Games on Wednesday, September 3.
Irina Annenkova, a rhythmic gymnast from Russia, competes in the individual all-around Tuesday, August 26, at the Youth Olympic Games in Nanjing, China. She won gold in the event.
MotoGP rider Pol Espargaro crashes during a practice session for the Italian Grand Prix on Friday, May 30. He wasn't injured, and he went on to finish fifth in the race two days later.
Tiger Woods hits a tee shot during a practice round for the PGA Championship on Wednesday, August 6. Woods missed the cut after his back troubles flared up again.
Teams from New Zealand and England compete in a nude rugby match Saturday, June 14, in Dunedin, New Zealand. A nude rugby match has been held in Dunedin every year since 2002.
A horse is cooled down with a hose Wednesday, March 12, after racing at the Cheltenham Festival in Cheltenham, England.
A bodyboarder rides a wave in Newport Beach, California, on Wednesday, August 27. Southern California beachgoers experienced higher than normal surf that was brought on by Hurricane Marie.
Gael Monfils loses his racket as he dives for the ball during his Rogers Cup match against Novak Djokovic on Wednesday, August 6, in Toronto. Djokovic won the second-round match in three sets.
Spain's Pablo Larrazabal jumps into a water hazard to escape hornets Friday, April 18, in Kuala Lumpur, Malaysia. "It was the scariest moment of my career, for sure. I've never been so scared," he said. Larrazabal birdied the hole he was on when the attack occurred and then completed his second round with a 4-under-par 68.
New York Giants wide receiver Odell Beckham Jr. makes a spectacular one-handed touchdown grab while playing Dallas on Sunday, November 23, in East Rutherford, New Jersey.
A rugby fan adjusts his latex mask at the Hong Kong Sevens tournament on Saturday, March 29.
American gymnast Simone Biles ducks from a bee Friday, October 10, during a medal ceremony at the World Gymnastics Championships in Nanning, China. Biles had just won gold in the individual all-around. When the entire competition wrapped up a couple of days later, Biles had won four golds in all. She also finished first in the balance beam and the floor exercise, and the United States was victorious in the team event.
A Mud Day participant wearing an elephant mask competes in Beynes, France, on Thursday, May 8. The eight-mile course had more than 20 obstacles, most of them set in mud.
Lucy Li, who is only 11, tees off from the 16th hole during the first round of the U.S. Women's Open, which was held Thursday, June 19, in Pinehurst, North Carolina. Li missed the cut but still set a record as the youngest person ever to qualify for the tournament.
Tommy Kahnle, a rookie pitcher with the Colorado Rockies, wears a pink backpack as he walks to the bullpen before a Major League Baseball game against the Arizona Diamondbacks on Wednesday, April 30.
What a shot! 75 sports moments from 2014
What a shot! 75 sports moments from 2014
What a shot! 75 sports moments from 2014
What a shot! 75 sports moments from 2014
What a shot! 75 sports moments from 2014
What a shot! 75 sports moments from 2014
What a shot! 75 sports moments from 2014
What a shot! 75 sports moments from 2014
What a shot! 75 amazing sports moments from 2014
What a shot! 75 sports moments from 2014
What a shot! 75 sports moments from 2014
What a shot! 75 amazing sports moments from 2014
What a shot! 75 sports moments from 2014
What a shot! 75 sports moments from 2014
What a shot! 75 sports moments from 2014
What a shot! 75 sports moments from 2014
What a shot! 75 sports moments from 2014
What a shot! 75 sports moments from 2014
What a shot! 75 sports moments from 2014
What a shot! 75 sports moments from 2014
What a shot! 75 sports moments from 2014
What a shot! 75 sports moments from 2014
What a shot! 75 sports moments from 2014
What a shot! 75 sports moments from 2014
What a shot! 75 sports moments from 2014
What a shot! 75 sports moments from 2014
What a shot! 75 sports moments from 2014
What a shot! 75 sports moments from 2014
What a shot! 75 sports moments from 2014
What a shot! 75 sports moments from 2014
What a shot! 75 sports moments from 2014
What a shot! 75 sports moments from 2014
What a shot! 75 sports moments from 2014
What a shot! 75 sports moments from 2014
What a shot! 75 sports moments from 2014
What a shot! 75 sports moments from 2014
What a shot! 75 sports moments from 2014
What a shot! 75 sports moments from 2014
What a shot! 75 sports moments from 2014
What a shot! 75 sports moments from 2014
What a shot! 75 sports moments from 2014
What a shot! 75 sports moments from 2014
What a shot! 75 sports moments from 2014
What a shot! 75 sports moments from 2014
What a shot! 75 sports moments from 2014
What a shot! 75 sports moments from 2014
What a shot! 75 sports moments from 2014
What a shot! 75 sports moments from 2014
What a shot! 75 sports moments from 2014
What a shot! 75 sports moments from 2014
What a shot! 75 sports moments from 2014
What a shot! 75 sports moments from 2014
What a shot! 75 sports moments from 2014
What a shot! 75 sports moments from 2014
What a shot! 75 amazing sports moments from 2014
What a shot! 75 sports moments from 2014
What a shot! 75 sports moments from 2014
What a shot! 75 sports moments from 2014
What a shot! 75 sports moments from 2014
What a shot! 75 sports moments from 2014
What a shot! 75 sports moments from 2014
What a shot! 75 sports moments from 2014
What a shot! 75 sports moments from 2014
What a shot! 75 sports moments from 2014
What a shot! 75 sports moments from 2014
What a shot! 75 sports moments from 2014
What a shot! 75 sports moments from 2014
What a shot! 75 sports moments from 2014
What a shot! 75 sports moments from 2014
What a shot! 75 sports moments from 2014
What a shot! 75 sports moments from 2014
What a shot! 75 sports moments from 2014
What a shot! 75 sports moments from 2014
What a shot! 75 sports moments from 2014
What a shot! 75 sports moments from 2014