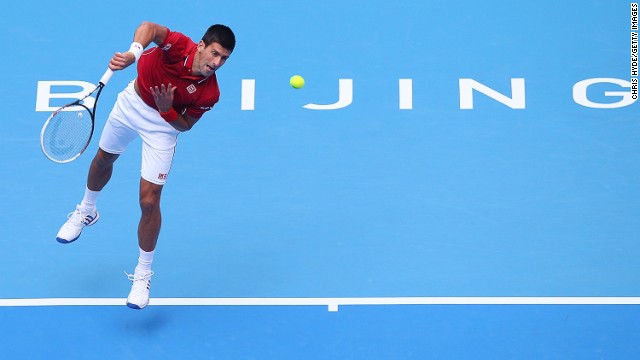 Belgrade-born Novak Djokovic, the world's number one male tennis player, is the poster boy for Serbia's recent athletic resurgence.
In July, 27-year-old Djokovic won his seventh grand slam title after beating Roger Federer in a five-set Wimbledon thriller.
Djokovic celebrates after a historic win against Gael Monfils at the Davis Cup tennis match finals between Serbia and France in December 2010.
A former world number one, Ana Ivanovic claimed the 2008 French Open at just 20 years old. After years of injury-related problems, she's recently returned to the elite of female tennis -- the 27-year-old Serbian athlete is the current world number five.
Ivanovic has known compatriot Djokovic since they were four-year-olds and the pair went on to play in junior tennis competitions together. They have also represented Serbia in doubles in the past.
Ivanovic became a UNICEF National Ambassador for Serbia in September 2007, while she has also gone on to appear on the cover of a number of magazines around the world such as FHM, Grazia, Vanity Fair and Cosmopolitan. Last year, Forbes rated her as the ninth highest-paid female athlete in 2013 with total earnings of $7 million -- largely thanks to lucrative sponsorship deals.
Currently the world number 11, Jelena Jankovic is the second highest ranked Serbian behind Ivanovic. The 29-year-old is also a former number one.
At 38, Nenad Zimonjic (center) has enjoyed a long and winning singles and doubles career, including Davis Cup victories for Serbia on home turf.
"In the past, we didn't have that much success in individual sports but it turned out to be that our generation was maybe the beginning of something new -- you know to have world number ones, for such a small country, it was amazing," says the father of two.
A four times ATP World Tour title winner, Janko Tipsarevic reached his career high in April 2012 when he rose to world number eight.
Ivana Jorovic is an up-and-coming Serbian tennis sensation and a former world junior number one. "We are really strong people and I think that is what makes us so special," says the 17-year-old.
Meet Serbia's tennis superstars
Meet Serbia's tennis superstars
Meet Serbia's tennis superstars
Meet Serbia's tennis superstars
Meet Serbia's tennis superstars
Meet Serbia's tennis superstars
Meet Serbia's tennis superstars
Meet Serbia's tennis superstars
Meet Serbia's tennis superstars
Meet Serbia's tennis superstars
Meet Serbia's tennis superstars