Cristiano Ronaldo immortalized in bronze statue outside his personal museum
updated 7:32 AM EST, Mon December 22, 2014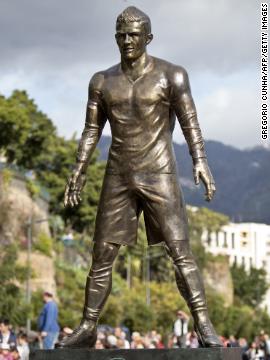 Cristiano Ronaldo's bronze statue stands outside his "CR7 Museum" in his hometown of Funchal on the Portuguese island of Madeira.
Inside Ronaldo's museum also stands a wax statue of the Real Madrid player.
One of football's most infamous statues used to stand outside of Fulham's Craven Cottage stadium. The "King of Pop" Michael Jackson once attended a match at the ground as he was friends with former owner of the club Mohamed Al-Fayed.
Andy Murray poses with a statue which is supposed to depict the tennis star as a Terracotta Warrior during the Shanghai Masters in 2011.
David Beckham's statue stands outside in New York as part of an H&M advertising campaign.
Ronaldo immortalized
Ronaldo immortalized
Ronaldo immortalized
Ronaldo immortalized
Ronaldo immortalized
STORY HIGHLIGHTS
Statue of Cristiano Ronaldo unveiled outside his "CR7 Museum"
Museum based in his hometown of Funchal on island of Madeira
The statue has come in for criticism for its appearance
Follow us at @WorldSportCNN and like us on Facebook
(CNN) -- Already boasting a treasure trove of trophies and mementos, the latest addition to Cristiano Ronaldo's own personal museum is a 10-foot bronze statue of the man himself.
The "CR7 Museum" -- opened in December 2013 in the Real Madrid attacker's hometown of Funchal, on the Portuguese island of Madeira -- houses more than 125 awards, including the two Ballon d'Or titles he won in 2008 and 2013 after being voted the world's best player.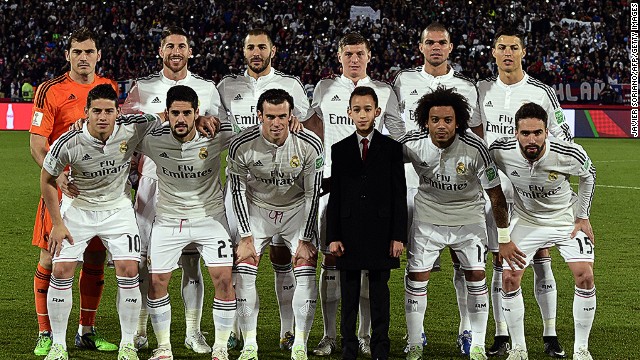 The stars line up. Real Madrid's players pose with Morocco's Prince Moulay Hassan before the FIFA Club World Cup final against San Lorenzo at the Marrakesh stadium.
South American champions San Lorenzo went into the final as the underdogs but at least Pope Francis is in their corner as a lifelong fan of the Argentine club.
Real Madrid defender Sergio Ramos celebrates as he puts the European Champions ahead in the first half.
San Lorenzo's Uruguayan forward Martin Cauteruccio tries to get his side back in the match in Marrakesh.
There are concerns for Real Madrid when Brazilian defender Marcelo limps off during the first half.
But the smiles are soon back for Real Madrid when Gareth Bale (right) scores a second goal against San Lorenzo.
Real superstar Cristiano Ronaldo may have had a quiet night in Morocco but he gives his teammates the thumbs up as they secure victory.
It's been a year to celebrate for Real Madrid who finally get their hands on the Club World Cup -- their fourth trophy of 2014.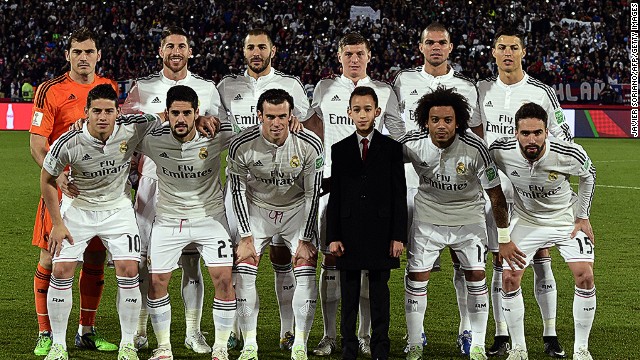 In photos: Club World Cup final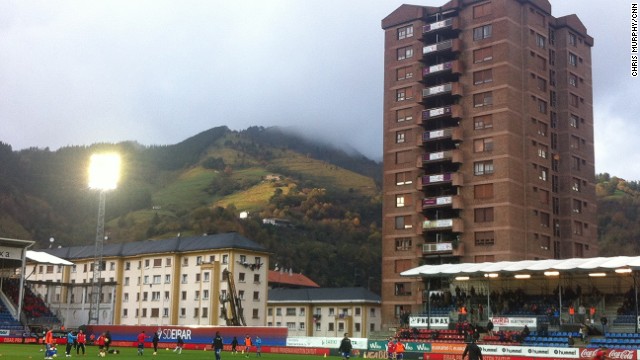 Tiny Eibar is holding its own in Spain's top flight despite being the smallest team in the division by some distance. After successive promotions, and a share issue to raise the requisite capital, the club situated in the Basque mountains sits in the top half of the table as the season nears its half way point.
The club is novel in that it is debt free and self-sustaining. Despite having a budget for the season that is dwarfed by most clubs, Eibar sits ninth in La Liga, nine points clear of the relegation zone. And this for a town with a population of only 27,000 people.
The club is determined not to overextend itself financially and after a summer of modest spending, Eibar began life in the top flight with a morale boosting victory over Basque neighbors Real Sociedad on the opening day, Javier Lara scoring the winner.
One of the biggest days of Eibar's season came with the visit of European champions Real Madrid. Los Blancos, complete with Cristiano Ronaldo, Gareth Bale and James Rodriguez, won 4-0 at Eibar's tiny Ipurua stadium in November. Madrid has a budget of €762m for the season, compared to Eibar's €18m.
Eibar are coached by Gaizka Garitano (R) who spent four years at the club as a player in the 1990s. He has overseen successive promotions to take Eibar into Spain's top division for the first time in its 75-year history.
Eibar have also made the daunting trip to Barcelona -- 22 times champions of Spain. Their clash in October saw Eibar's Ander Capa miss a golden opportunity to put his side ahead, before goals from Xavi, Neymar and Lionel Messi settled matters. The entire town of Eibar could fit into Barca's Camp Nou stadium three-and-a-half times.
Eibar's share issue attracted support from all over the world, including Scotland, a country that already has links to the Basque club. A group of Eibar fans introduced a Scottish element to its support, calling themselves Escocia la Brava or 'Scotland the Brave', after a visit to the country to watch a rugby international.
Eibar president Alex Aranzabal says the club's "soul" has been key in its recent transformation. "It's very important for us that the club and the fans are together because we have to create very special conditions, like a mystique. It is raining, everything is dark, surrounded by the Basque mountains and the people are feeling what the players are feeling. It can be quite frightening for the opposition."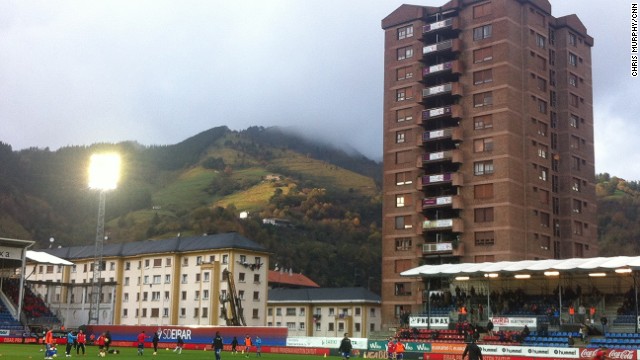 Eibar's dream continues
And now standing outside to greet those fans who make the pilgrimage to pay homage to one of football's greats is a mammoth sculpture of the Portugal captain in all his glory.
Ronaldo, fresh from helping Madrid lift FIFA's Club World Cup in Morocco on Saturday, was in Funchal just 24 hours later to unite with his family for the statue's official unveiling.
"I feel so proud to be honored with a statue in Madeira," Ronaldo wrote on his official Twitter account.
"It's a huge joy to share this moment with my family and the people from Madeira. Thank you all for the warm reception."
While in Funchal, Ronaldo also found time to receive the "Cordão Autonómico de Distinção" -- the highest distinction of Madeira.
The 29-year-old has enjoyed a 2014 to remember, having helped Madrid lift the European Champions League, European Super Cup and Spanish Copa del Rey, as well as the Club World Cup.
Ronaldo, who has scored 34 goals in 27 games for club and country this season, is favorite to land the 2014 Ballon d'Or ahead of Barcelona's Lionel Messi and Bayern Munich's Manuel Neuer, with the result being announced on January 12, 2015.
Read: Real Madrid lifts Club World Cup
Read: Miracle club Eibar -- a soccer blueprint?