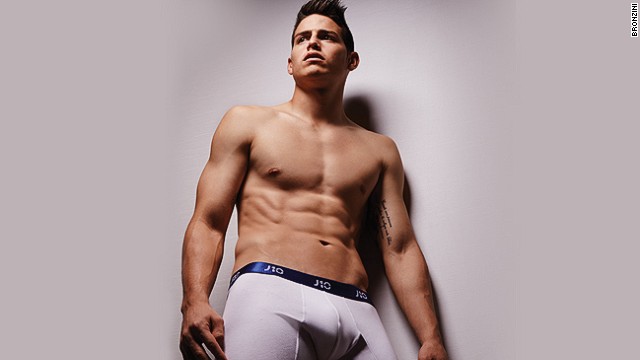 Real Madrid's James Rodriguez is the latest soccer star to launch his own underwear collection, in partnership with Colombian brand Bronzini, just in time for Christmas.
Cristiano Ronaldo shows off his briefs in the Bowery district of New York. Huge images of the Real Madrid star where projected in major cities for the launch of his CR7 underwear range in 2013.
Ronaldo's range appeals to "football fans who aspire to his look and image," according to the CR7 collection's brand adviser Steve Martin.
Already one of the world's most recognizable sport's stars, David Beckham got in on the bulging underwear market in 2012 when he collaborated with Swedish fashion retailer H&M.
There are plenty of happy customers for Beckham's Bodywear range but will the former LA Galaxy star follow his wife Victoria by launching his own fashion range?
Former Arsenal player Freddie Ljungberg of Arsenal was one of the first footballers to stop traffic when he posed for Calvin Klein in 2003.
The first sporting underwear pioneer was the shy and retiring Swedish tennis star Bjorn Borg, who launched his own underwear collection in 1984.
American baseball player Jim Palmer scored a bit of a home run when he attracted attention off the field by posing in Jockey underwear in the 1970s and 1980s.
New York writer Seth Stevenson predicts pants by NFL superstar Tom Brady could be a big seller. If he did launch a range maybe Brady could get some posing tips from his model wife Gisele Bundchen.
Portuguese playmaker Ronaldo has already expanded his CR7 range beyond underwear by launching a collection of shirts in 2014.
Soccer stars get into underwear
Soccer stars get into underwear
Soccer stars get into underwear
Soccer stars get into underwear
Soccer stars get into underwear
Soccer stars get into underwear
Soccer stars get into underwear
Soccer stars get into underwear
Soccer stars get into underwear
Soccer stars get into underwear
STORY HIGHLIGHTS
Football stars are cashing in on Christmas market for branded underwear
World Cup star James Rodriguez is the latest to launch an underwear brand
Global icons Cristiano Ronaldo and David Beckham also have their own underwear collections
Bjorn Borg brand now sells five million units a year after the tennis star pioneered the idea
Follow us at @WorldSportCNN and like us on Facebook
(CNN) -- Under Christmas trees around the world, parcels of underpants and bundles of briefs are waiting to be opened -- perhaps with a tinge of dismay -- by the men in your life.
Underwear is a big hitter on the traditional holiday gift list and now soccer stars are muscling into the market.
Colombian World Cup star James Rodriguez became the latest footballer to tackle branded underwear, launching his J10 collection for Bronzini last month and posing semi-naked to show off the goods on offer.
The 23-year-old was following the lead of his Portuguese Real Madrid teammate Cristiano Ronaldo, whose CR7 underwear label recently celebrated its one-year anniversary.
David Beckham's pants hit high streets in close to 40 countries when the former LA Galaxy and Manchester United maestro teamed up with Swedish fashion store H&M in 2012.
Even though he is approaching 40 -- that's 17 years older than undies rival Rodriguez -- Beckham stripped off again this summer to model his wares.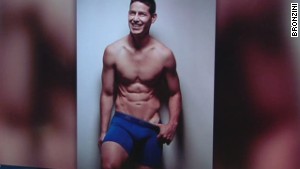 Another soccer star strips for underwear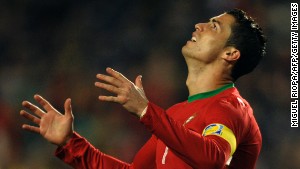 Cristiano Ronaldo: A star like no other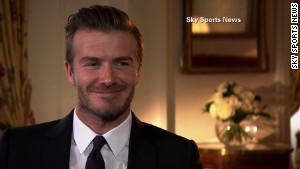 Beckham: I want to go out on top
But why do footballers choose to branch out their brand in the most intimate way?
"Christmas comes round once a year but footballers are in the shop window continually," Steve Martin, the global CEO for brand agency M&C Saatchi Sport and Entertainment, told CNN.
"Underwear is an every day purchase and wearing the right underwear has seen it become something of a lifestyle item.
"For some of the major players, it's a natural extension of their individual brand.
"They don't need the money. It's not about greed but it is about making the most of their true value over the short period of their career."
Martin helps manage the branding and marketing for Ronaldo's CR7 range, which he says is available in almost 100 countries -- its main markets are in southern Europe, Asia and South America -- as well as online.
Read more: Ronaldo immortalized in bronze statue
Ronaldo's luxury trunks cost $36 a pair with the briefs priced at $30 but he also stocks a basic line where trunks are $30 and briefs $17.
"The core audience [for the CR7 range] is football fans who aspire to Ronaldo's look and image," Martin adds. "The age range is mainly 18-24 year olds and slightly older.
"The beauty of Ronaldo is that he cuts across quite a big demographic."
The aesthetic allure of Ronaldo, Rodriguez and Beckham is an undeniable factor in why their underwear packs a punch.
Beckham stopped traffic as an underwear model for Emporio Armani before collaborating with H&M while the perfectly manicured Ronaldo oozes style on and off the pitch.
Rodriguez may still be baby faced but he is already winning awards for his looks, voted the world's sexiest man in 2014 by Spain's "People" magazine.
When this handsome trio launched their underwear collections, they not only appealed to football fans but to their gift buying wives, girlfriends and mothers too.
"I'm sure H&M chose David Beckham because he's a very attractive, fit fellow," Seth Stevenson, New York based senior writer for Slate, told CNN.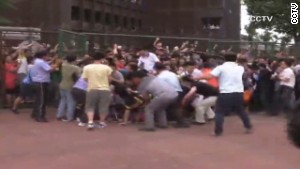 Beckham appearance causes stampede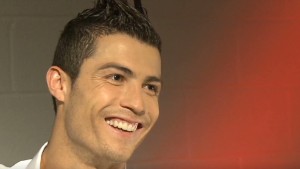 Meet soccer's most bankable star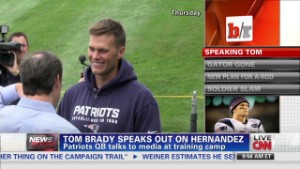 Brady on Hernandez & A-Rod on his bosses
"They also chose him because he has appeal in a lot of different places. He's famous in Asia, he's well known in the U.S. and he's married to Victoria Beckham.
"He's got some profile all over the world and they've got stores all over the world.
"Celebrities are a popular advertising gambit because people are interested in celebrities and like to do what they do."
The pioneer of the celebrity underwear market was, however, not a footballer but Swedish tennis ace Bjorn Borg.
After his sudden retirement from the game in 1983 at the age of just 26, the 11-time grand slam singles champion served up another winner by launching his eponymous underwear brand in 1984.
The company now sells around five million items of underwear across its male and female ranges each year and is stocked in 20 global markets.
"The Bjorn Borg name is a very strong part of this success," says the company's marketing and communications manager Jonas Lindberg Nyvang.
"He's still involved in that he comes to the office, he's informed about what we do and he's still part of the process."
Borg's dashing good looks, like those of Beckham, Ronaldo and Rodriguez, certainly helped him cut a dash in the underwear market but sustaining a successful brand over 30 years relies on more than superficial appeal.
Sports stars arguably make natural underwear manufacturers because they understand more than most about the importance of comfort on the go.
"If you have the right underwear you feel more confidence on the court or off the court," explains Nyvang. "It's important for sporting performance.
"At Bjorn Borg we focus on the perfect fit and we are also very fashion conscious. We put out underwear that makes people feel more active and attractive."
But before you dream about wrapping up a Nigel de Jong thong or a pair of Neymar knickers for your loved ones, bear in mind it takes a certain type of star to make money from undies.
"You are talking about one-offs here," says Martin. "There are probably only a handful of global sports stars that can attempt something like this.
"For every Ronaldo there are thousands and thousands and thousands of footballers who don't make a thousandth of what he does."
Stevenson agrees that true sporting icons stand a better chance of successfully creating a product line that is not directly connected to their core business -- but that even then there could be pit falls.
"Tom Brady is a quarterback for the New England Patriots NFL team and is married to model Giselle Bundchen," explains Stevenson, who was sent on assignment to underwear powerhouse Victoria's Secret Fashion show this year.
"He's very famous in the U.S. and he's even got an international profile.
"If Tom Brady were marketing underwear I imagine lots of people would be swayed by that.
"Tom is the current spokesperson for UGG men's boots. I haven't seen the sales but he was made fun of by his teammates.
"Bob Dylan was a spokesperson for Victoria Secret's at one time which was another very odd advertising moment and a very odd choice."
Martin adds: "When you've got such a global impact there's a danger you could put your name to anything.
"You could put Ronaldo's name on literally anything but there has to be a strong filtering process of what's right and what's wrong, what works in the marketplace and what maintains his very strong brand image."
Just like the underwear waiting under the tree to be unwrapped this holiday time, sporting stars must be sure the products they buy into are the right fit in more ways than one.