Two senior government officials with ties to New Jersey Gov. Chris Christie were indicted Friday in the scheme to close lanes and create traffic tie-ups on the George Washington Bridge, hours after a former key Christie ally pleaded guilty in the act of political retribution against a mayor who did not back the governor in his re-election campaign two years ago.
Former Christie Deputy Chief of Staff Bridget Kelly and Port Authority Deputy Director Bill Baroni were charged with a total of nine criminal counts, including conspiracy and fraud, U.S. Attorney for New Jersey Paul Fishman said at an afternoon press conference. The charges came after David Wildstein, a former Christie ally and Port Authority appointee, pleaded guilty earlier Friday to one charge of conspiracy to commit fraud on federally funded property and one civil rights violation.
"They agreed to and did use public resources to carry out a vendetta and exact retribution," Fishman said, adding that the scheme "callously victimized the people of Fort Lee," who were just trying to go about their lives.
In her first public comments since the scandal surfaced, Kelly proclaimed her innocence Friday at a press conference and slammed Wildstein and her former colleagues as liars. "David Wildstein is a liar."
"I am not guilty of theses charges. I never ordered or conspired with David Wildstein to close or realign lanes at the bridge for any reason much less for retribution," she said Friday.
Although the developments deepen the stain the scandal has left on Christie's tenure, Fishman indicated the governor would likely avoid any criminal charges.
"Based on the evidence that is currently available to us, we're not going to charge anybody else in this scheme," he told reporters, noting that he would not usually disclose that information. "I say it because the public has a right to know certain things."
Christie said on Twitter Friday that he felt vindicated by the news of the indictments, reiterating his claim that he had "no knowledge or involvement in the planning or execution of this act."
In his plea, Wildstein admitted to using a "traffic study" as a cover for the lane closures and choosing the first day of school to maximize the impact. Wildstein also admitted to purposefully not alerting Fort Lee Mayor Mark Sokolich or the town's police chief, and admitted to intentionally keeping "radio silence" with local officials on the issue.
Wildstein and his alleged collaborators closed lanes and toll booths on the bridge in September 2013 and ignored questions from Fort Lee officials during the closure, according to the federal indictment of Kelly and Baroni.
The investigation has also focused on Christie, who appointed Wildstein and Baroni to their Port Authority positions, and the governor's staff. Federal prosecutors reportedly interviewed Christie over the Bridgegate affair late last year.
After the court hearing Friday, Wildstein's lawyer, Alan Zegas, said the government was satisfied with Wildstein's cooperation and reiterated the claim that Christie knew of the closures.
"Mr. Christie knew of the lane closures while they were occurring and evidence exists to establish that. That is as much as I can say, as much as I will say at this time," Zegas said.
RELATED: Chris Christie plots his comeback
It is not yet clear whether Wildstein struck a plea deal with prosecutors to give them more information into how the scandal unfolded. But Fishman suggested that Wildstein could benefit from his cooperation, noting that "it is typical" for judges to take into account defendants' cooperation during sentencing.
Fishman also said that the investigation identified other co-conspirators who were not indicted. He declined to name them, but said they could be identified later. He would not elaborate on why those co-conspirators were not indicted.
Wildstein is not the only link to Christie in the scandal.
Christie fired Kelly after an email she sent to Wildstein calling for "traffic problems in Fort Lee" surfaced.
Christie also cut loose one of his top advisers, Bill Stepien, who was expected to play a key role in an eventual Christie presidential campaign. Stepien's name had also popped up in email exchanges linked to the bridge closures.
In his plea, Wildstein implicated both Kelly and Baroni in the scheme, saying they conspired together to punish the Fort Lee mayor.
The controversy surrounding the closures deeply damaged Christie's standing within the national GOP and raised doubts about his viability in the upcoming presidential race, but the governor has continued to prepare for a bid and has given little indication that the scandal will dissuade him from the race.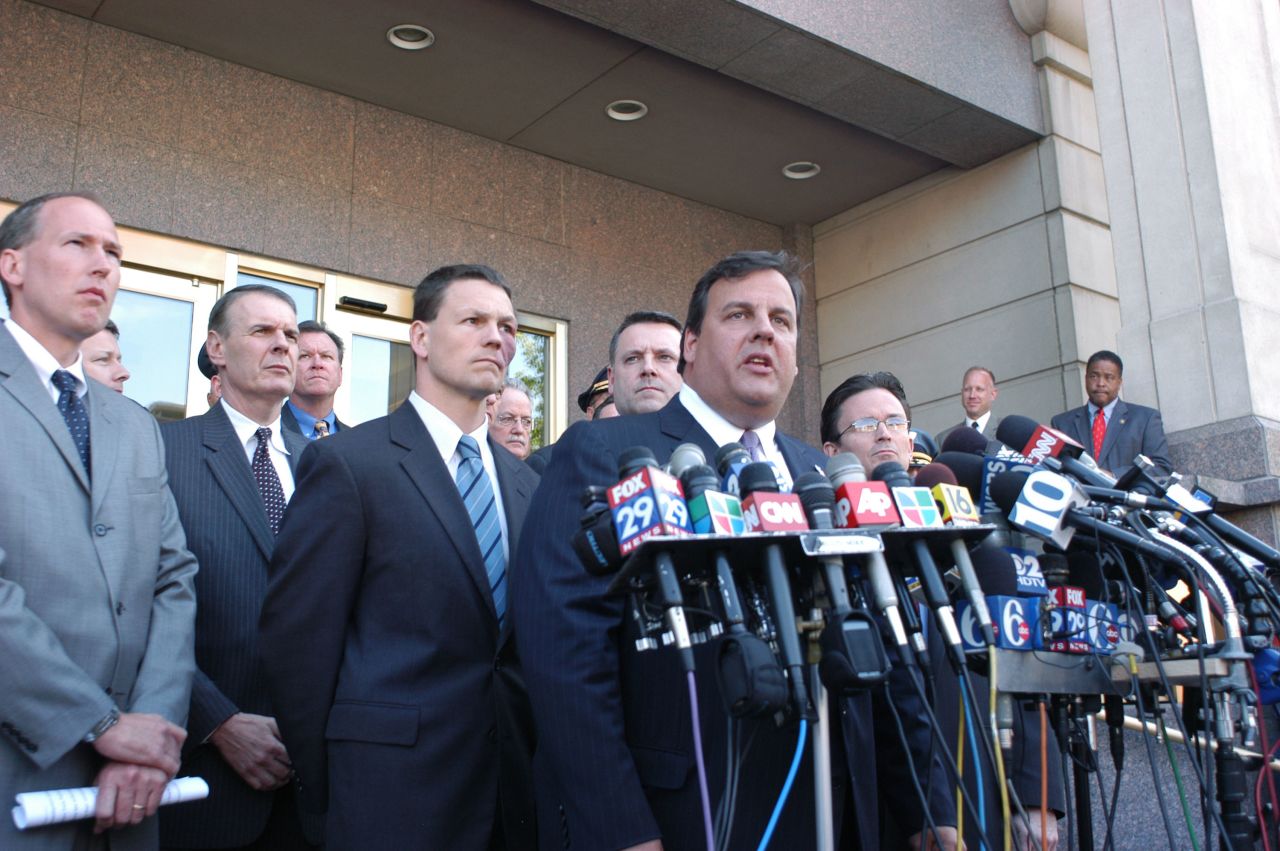 Chris Christie's career in photos