Are you affected by the flooding? Please share your images with CNN iReport if you can do so safely.
Story highlights
NEW: Authorities report a third death in Oklahoma
A flash flood emergency is issued for parts of Texas, including Austin
Texas governor adds 24 counties to list of 13 under disaster declaration
Record-setting rains left officials in Texas and Oklahoma scrambling to assess the scope of the damage and destruction Monday as an emergency coordinator told reporters that a dozen people were missing in one county.
The 12 people missing in Hays County, Texas, come from families who had gathered for the long weekend, said Ken Bell, emergency coordinator for San Marcos, one of the cities hardest hit by the storms and flooding.
The group likely includes children, Bell said. The county still has Internet problems, and cell phone networks are overwhelmed.
"People outside our community know more about what's going on than people inside our community," Bell said.
The severe weather has left at least four people dead, including one in Texas and three in Oklahoma, and washed away hundreds of homes. The storms are easing up, but it doesn't mean the threat is gone.
The torrents that those storms dumped are still too much for river and creek banks to contain, and runoff was peaking early Monday, threatening continued flooding, the National Weather Service warned.
And rain relief is not coming to everyone.
A flash flood emergency was issued Monday for several areas in south-central Texas, including the city of Austin and Hays County. Thunderstorms were moving over the area and an additional rainfall of 3-6 inches was expected, according to the National Weather Service.
Forecasters warned that with the ground already saturated, even a small amount of new rain could have devastating consequences.
"Only an inch or two of rainfall could quickly lead to more flash flooding concerns," the weather service said.
The destruction and threat of more inclement weather prompted Texas Gov. Greg Abbott to add 24 counties to the 13 already under an emergency disaster declaration, allowing the state to use all the resources "reasonably necessary to cope with this disaster."
Forecasts call for thunderstorms, hail, high winds, flash flooding, river flooding and tornadoes this week, the governor's statement said.
State issues severe weather tips
Texas homes wiped away
In Hays County near Austin, up to 400 homes have washed away. "We do have whole streets that have maybe one or two houses left on them, and the rest are just slabs," said Kharley Smith, emergency management coordinator.
More than 1,000 more homes were damaged, and waters washed two main bridges away in Hays.
While flood warnings and watches were winding down in most places overnight, a new flood watch loomed from Monday into early Tuesday for Hays County.
One person was confirmed dead in San Marcos, and bad weather hindered the search for missing people Sunday. Rescuers used helicopters to heave stranded residents off the rooftops of buildings surrounded by flood lakes, where normally fields stand.
The Blanco River, which flows through San Marcos, shot past its previous flood record of 33.3 feet to 40.21 feet late Saturday.
Nearly 200 miles southeast of Hays County, near Houston, an area of about 400 homes around Lewis Creek Dam is under mandatory evacuation. The dam has not breached, but workers continue to pack soil on it.
Water was topping a dam in the middle of Bastrop State Park, said Lt. Roger Dolle with Bastrop County Emergency Management. Officers wee checking a campsite downstream to warn anyone who might be there, he said.
Oklahoma firefighter drowned
In neighboring Oklahoma, three people died.
On Saturday, a woman in Tulsa died after her car hydroplaned. On Monday, a 37-year-old man died in Sapulpa, under circumstances that were unclear. In the nearby town of Claremore, a firefighter got swept into a storm drain while attempting a high-water rescue Sunday.
There, water levels in creeks usually waist-deep raged up two dozen feet or more over the weekend. Markers signifying moderate to major river flooding dotted the weather map, particularly along the border with Texas.
The weekend deluges caused Oklahoma City to break its all-time rainfall record for any single month. But much of Oklahoma got a rain break Sunday. Fog wafted through Tulsa, and on Monday, there was a chance of thunderstorms there.
A flood watch is on from the southern Plains to the Gulf of Mexico. The heavier rains are moving east, where they are sending some rivers and creeks over their banks.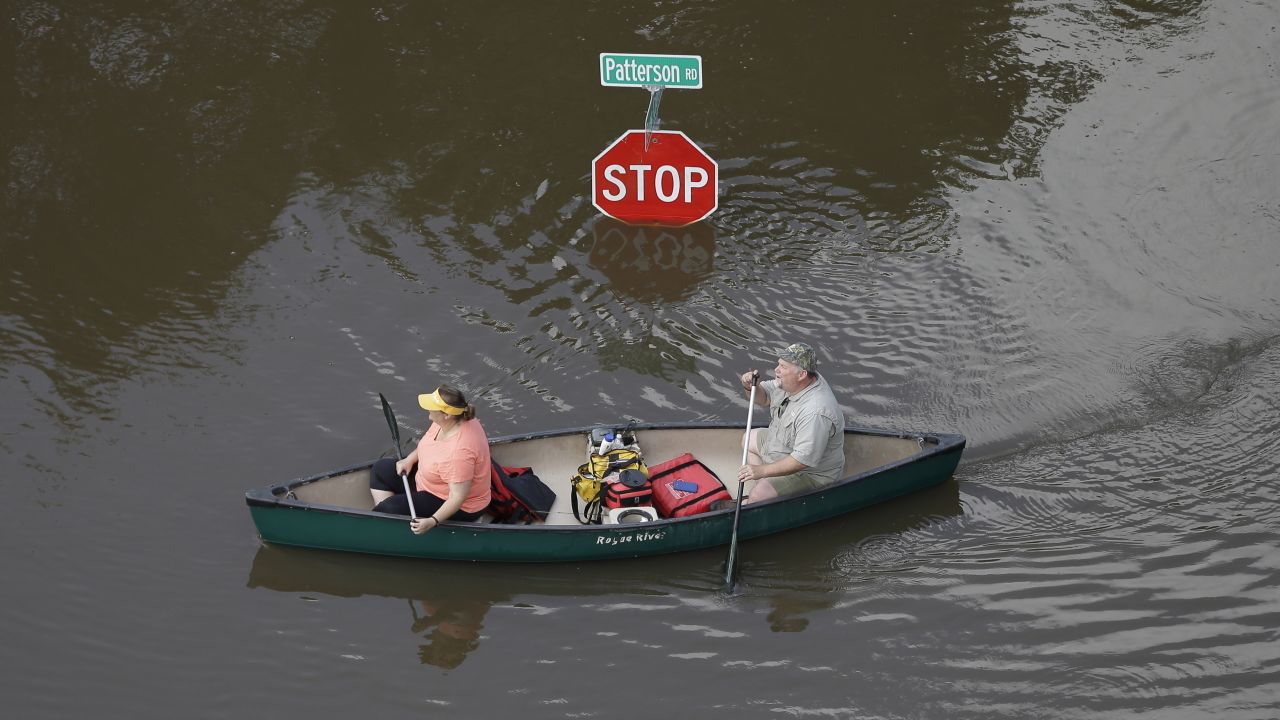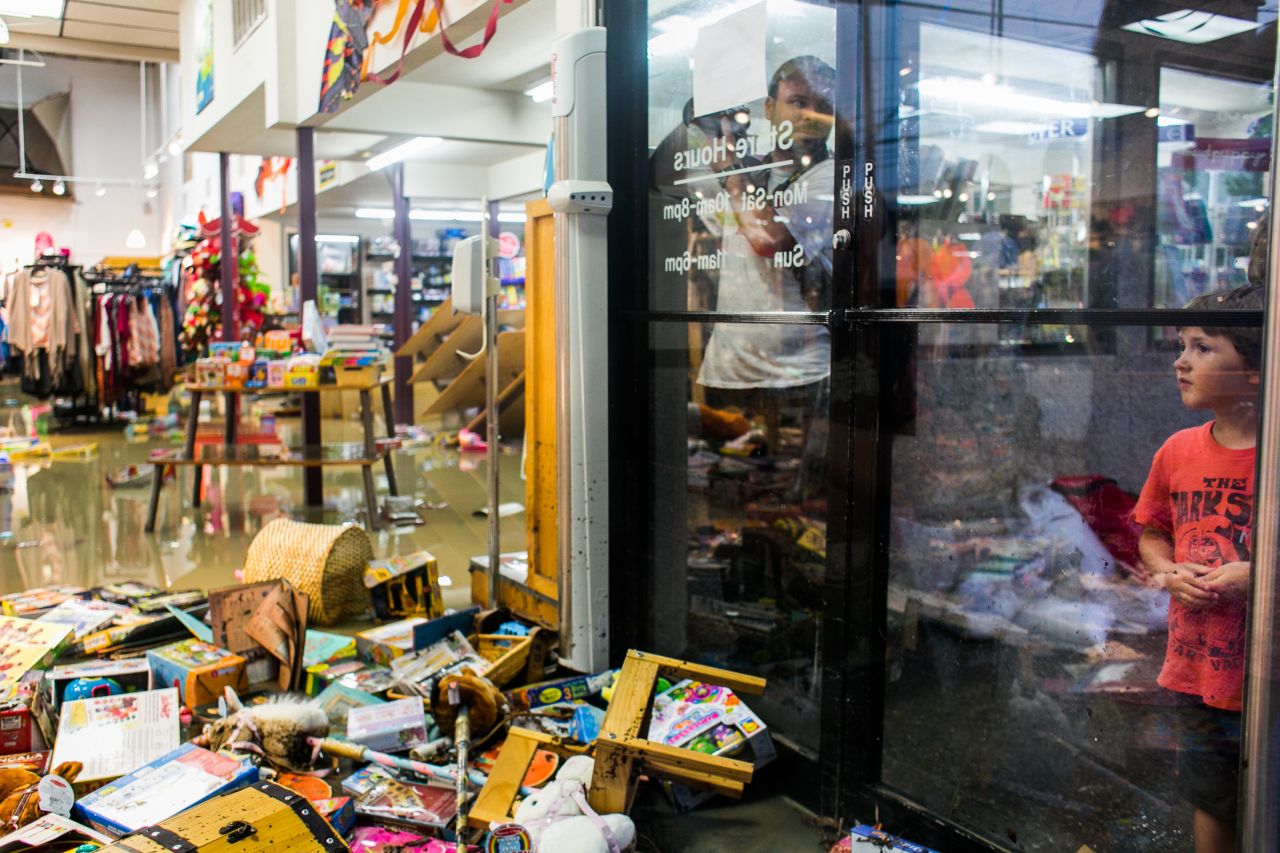 Texas flooding
CNN's Chris Lett, Catherine E. Shoichet, Janet DiGiacomo, Joe Sutton, Carma Hassan and Eliott C. McLaughlin contributed to this report.