Story highlights
Matt and Alex Walker gave CNN an interview ahead of their father's official announcement of his presidential campaign
They intend to be fully engaged in their father's presidential race.
Gov. Scott Walker's sons Matt and Alex are such a staple of his stump speech that some in Wisconsin even made up a drinking game: Every time he says their names in a speech, you take a sip.
For two college-aged boys, the thought of spawning a drinking game is kind of cool.
"It's pretty funny," chuckled 21-year-old Matt Walker, who said he hadn't heard about it, and has actually only been the legal drinking age for only two weeks.
Matt, and his brother, Alex, who will be 20 years-old later this month, have only known a father in politics. Scott Walker first won elected office in the Wisconsin State Legislature at age 25, before his sons were born.
But watching their Dad rise through the political ranks in Wisconsin to become governor is one thing and preparing for him to run for the highest office in the land, is quite different.
Walker's account tweets that he's running for President
They sat down with CNN at the picturesque Wisconsin governor's mansion, lakeside, for their first interview together.
"We've seen his leadership – first-hand. We've seen that he can get things done," said Alex Walker.
What Walker did in as governor in 2011 shot him to national prominence: trying to cut state spending by curbing collective bargaining and breaking state unions. It made him a hero to the right, and the devil to the left.
Passions ran so high through a failed attempt to recall Walker, his then-high school aged sons say they faced death threats.
"We got a lot of those threats. We were able to just keep calm, work through them," remembers Matt Walker, who said that the family ended up bonding more than ever.
"In a lot of these circumstances, families can kinda grow apart, or come together. I think in the end we got closer. You know, it's hard sitting there listening to terrible attacks against family members," said Matt Walker.
How Scott Walker could go from No. 15 to No. 1
Their mother, Tonette – also gave her husband tough love, telling him he wasn't communicating well.
"She tried to ask our Dad to explain to people more what the reforms did, and what he was doing," said Alex, who said that his mother is always able help the governor get his point across better.
Walker's wife is twelve years his senior. How they met says a lot about Scott Walker's personality. He is self-assured, but also – a bit awkward.
Get to know Gov. Scott Walker in less than 2 minutes
He saw Tonette across the bar one night, and instead of going up to her and talking to her, he slipped a note on a napkin and walked out.
"He wrote on a napkin 'forgive me for being rude. But, I've gotta work early in the morning. But, if you'd like to go out sometime gimme a call' and he put his number down, and his name," said Alex Walker.
Walker's sons say their parents have a running disagreement to this day over how long it took for her to call him. He says a few days, she says a week.
"Our Dad actually told our Mom's roommate on their second date, 'I'm gonna marry that woman,'" said Alex, adding with laugh that it "might have scared the roommate a little bit."
Family disagreement on same-sex marriage
The Walkers are close, but even they disagree on some political issues.
Matt and Alex support same-sex marriage, and complained to their mother when their father called last month's Supreme Court decision legalizing it a "grave mistake" and vowed to push a constitutional amendment giving states a right to decide.
Tonette Walker told her sons to go talk to their father, and they did.
"We talked to him. Like any family, we have disagreements," said Matt Walker.
They say he explained his position "and that was it."
"Matt and I aren't necessarily changing his stances on any issues," said Alex Walker, insisting they didn't try.
"We respect his opinion on things," he added.
Like many families across the country, for the Walkers, it is personal.
Will Walker's strategy pay off after Iowa?
Alex Walker was the best man at their cousin's wedding, when she married another woman. Scott Walker was out of town during the ceremony but did attend the reception.
"We love our family. We love our cousin. We stand by that," said Alex.
Why Walker didn't finish college
Walker's intense political ambition began as a teenager. He lost a contentious bid to be student body president at Marquette University, and dropped out before graduating, 34 credits short.
It has long been a source of intrigue as to why someone with obvious desire to run for office decided not to get his college degree, but his sons insisted it was simple: He got a job.
"What he always told us is that he had friends who had already graduated, and they were still looking for work," said Matt Walker. "He was getting an offer of a job before he even left. So, why would he not take it?"
Walker's job was with the American Red Cross in Wisconsin.
Matt Walker is currently a student at the same university his father attended, Marquette, and Alex attends the University of Wisconsin.
Matt is taking time off from school to help on his father's presidential campaign, which he calls a once-in-a-lifetime opportunity.
What would their father say if either of them decided to leave college without getting a degree?
"He might be alright with it if we told him we had a good reason. Our Mom, on the other hand, would not allow that," said Alex, adding with a laugh, "She'd go crazy."
Scott Walker spars with GOP ahead of 2016 launch
Walker: Career politician
Walker was just 22-years-old when he first ran for the Wisconsin State Assembly. He lost that race, but was elected three years later, at age 25, and he has been a career politician since. But he was not always an obvious political star.
Conservative radio host Charlie Sykes remembers first meeting Walker some two decades ago, and not being particularly bowled over.
"Scott is one of those guys that does not fill up the room. He's not going to blow you away, he comes off as very intense, very thoughtful," said Sykes.
Walker plans Super Tuesday presidential blitz
Walker was a regular guest on Sykes show as he moved up through elected office from state assembly, to county executive to governor, understanding early on the power of talk radio and of honing his skills as a communicator.
"Scott Walker's one of those guys, you put the quarter in and you're going to get a great response," said Sykes, who added that Walker was such a good and reliable guest, his bosses ribbed him for having him on so much.
Walker is also known in Wisconsin as a micromanager, especially of his political operation – in the weeds with details in a way that most principals leave to low-level staffers.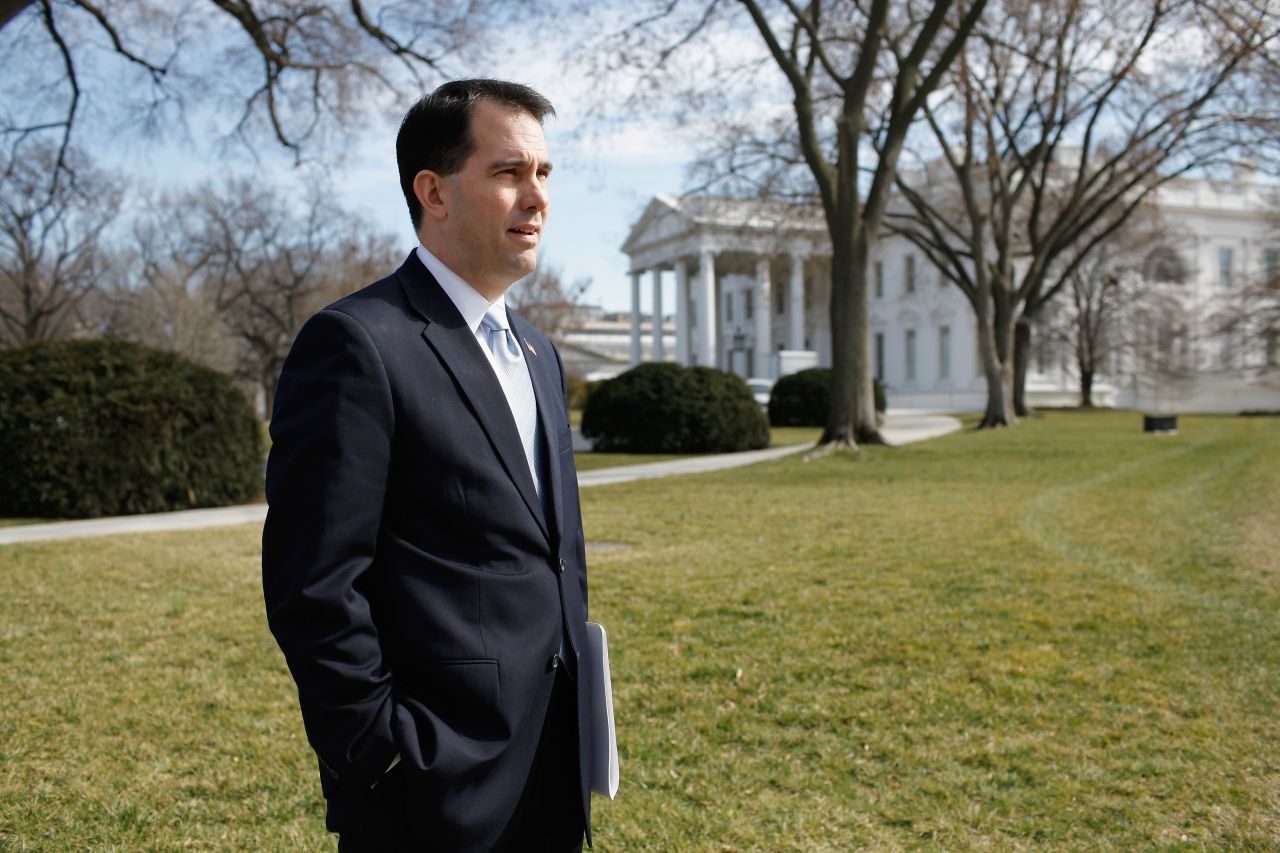 Scott Walker's career
"To understand Scott Walker, you have to understand that first of all, he is his own No. 1 strategist, he is his own No. 1 spokesman, he is his own media person," said Sykes.
He said the challenge for his presidential campaign team will be to let some of that go.
"I'm guessing that right now there are people in a room somewhere who are having that conversation with him … maybe pushing back a little bit but also understanding that, yeah, you're at a completely different level now," said Sykes.
But that may be hard to achieve, because Walker is also known to be very stubborn.
For example, every year he makes candied pecans from scratch and bringing them around to media outlets during Christmas time. Even after he learned he is allergic to nuts, he kept up the tradition.
"There's a stubborn streak in Scott Walker. He if he is set out to do something, if he has promised that I am going to do this every year, by God he's going to do it," said Sykes.
Even-keeled
Talk to those who know and have worked with Walker over the years say that he is remarkably even-keeled. He has no temper.
Wisconsin Lt. Gov. Rebecca Kleefisch says even during the intense moments during 2011 protests and recall attempt, he never got riled up.
"I was floored by his calm," said Kleefisch.
She attributes that, in part, to the fact that Walker is "a man of deep faith."
"We don't go into meetings and quote scripture," she said with a laugh. "But you can see how he cares deeply."
Walker is a preacher's son, and his faith guides him spiritually, but it also helps politically with Christian conservatives voters he needs in the Republican presidential primary process, especially in Iowa.
Before Kleefisch ran for office, she was a reporter who covered Walker. Back then, she said he was one of her best sources. Now that she is working with him, not reporting on him, she said she is struck by how similar he is.
"Same guy when we're in a public meeting versus when the door is closed," she said, acknowledging she knows that "sounds weird."
Scott Walker hoping new bundlers help vault him over fundraising hurdles
Typical, embarrassing Dad
For Scott Walker's sons, being a typical guy also means being a dorky Dad.
Alex Walker says he likes to embarrass them "every chance he can get."
That happens with Gov. Walker's tendency to take the microphone and sing – whether in public or in private. They say based on his singing ability, that tendency is probably best relegated to the shower.
Kleefisch agrees, saying he sings at state conventions and in meetings sometimes. Asked whether he's any good, she replied that "politics is really good for him."
But for Matt and Alex Walker – their father's wardrobe is the most cringeworthy.
"The big one is that he wears jean shorts sometimes, and that's a little rough," said Matt Walker.
He also wears white ankle socks that are a little high with those shorts.
"Fashion choices need to be updated a little bit," he added.
That's all embarrassing now that they're older, but when Walker's sons were young, they loved when he dressed like a pirate. They say he acted more like a kid than they did on trips to Disneyworld.
"That's just how he's always been," said Alex Walker. "He's shown the example for us."
CNN's Abigail Crutchfield and Brian Rokus contributed to this report