Story highlights
A witness recalls "bodies everywhere" as well "utter chaos and mayhem"
A bomb rips through a busy area of Bangkok known as the city's own Times Square
Sirens wail for some time around the scene, even though a hospital is just yards away
A person thrown 60 feet up the road. Bodies scattered on the ground. Bikes burned to a crisp outside a popular Hindu shrine.
All this and much more in the heart of Bangkok, striking at a time and place often packed with people.
It's a reality that many in Bangkok struggled to make sense of Monday night, after a bombing there seemingly targeted the Erawan Shrine at one of the city's busiest intersections. The blast killed at least 22 people and wounded more than 120 others, according to authorities.
Sanjeev Vyas knows he could have been among those casualties. He had been waiting outside the shrine for his brother, then walked across the road to a skywalk when he felt and heard a "huge explosion."
"It's like somebody just pushes you, suddenly, out of the blue, it felt like that," Vyas said. "It was like this huge gust of wind and debris flying through you."
At first, Vyas thought it might have been a contrived blast for a movie or a big car wreck. But when he went down, he saw and heard that it was all too real.
"I see bodies everywhere, there are cars on fire, there are bikes everywhere," he said. "People are screaming and shouting, … everybody is honking. It is utter chaos and mayhem."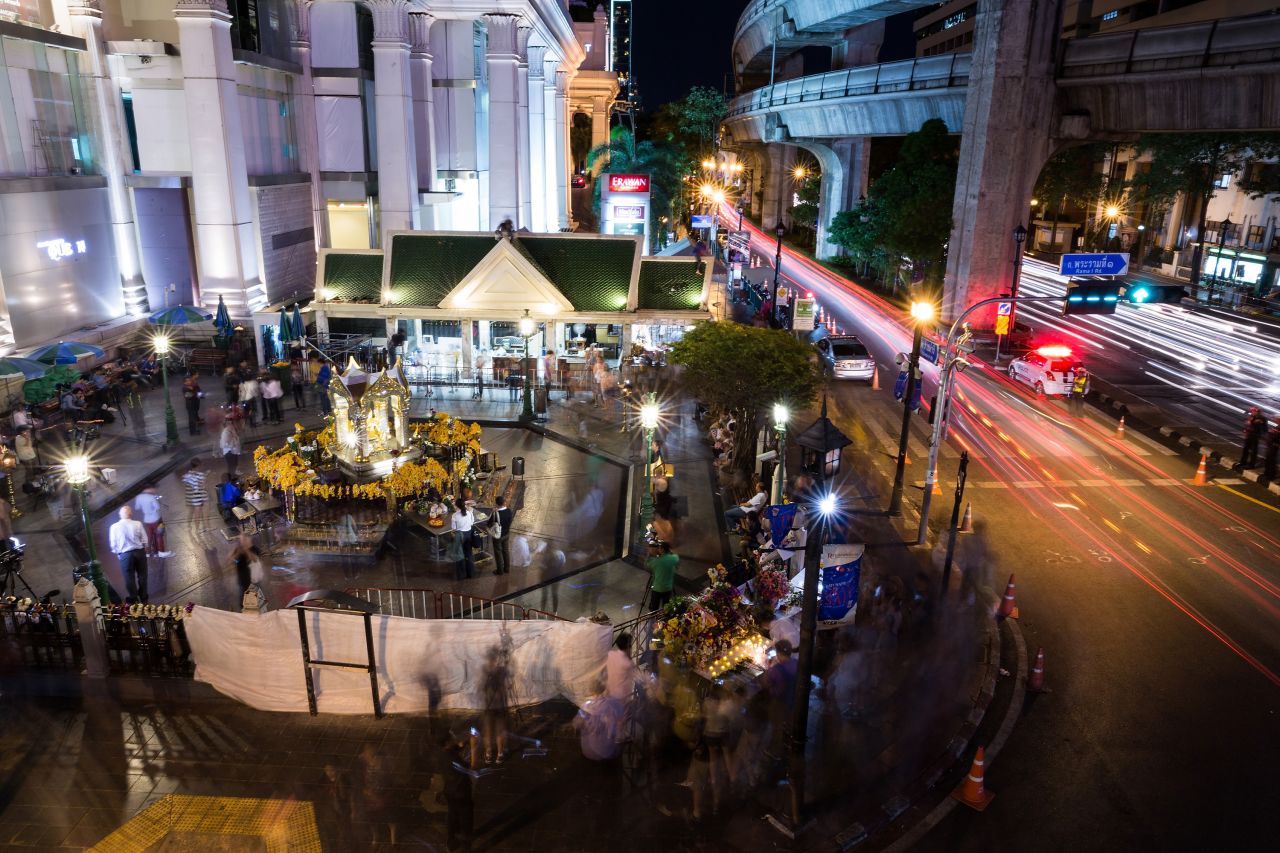 Explosion in Bangkok
'Particularly vicious'
Marko Cunningham, a paramedic with Bangkok Free Ambulance, rushed to the scene of the explosion to help the injured. Even he was taken aback by the carnage that resulted.
"The people that tended to survive were the ones that ended up underneath the dead people," Cunningham said. "I'm guessing that the person in front took the blast and the person behind was somehow saved. We had to take of the dead bodies from the living people underneath.
"I'd never seen injuries this bad before. I'd been to a few bomb blasts before. This bomb is particularly, I don't know the word, vicious. It was obviously designed to cause maximum damage," he said.
'Pray for Bangkok'
Sirens were still wailing about 45 minutes after the blast, even though a hospital sat just a few yards away. By then, many bodies had been taken away.
Tourists among those killed in apparent attack
Police, firefighters and troops joined emergency health workers, pushing people away from the worst of the carnage. Some of the onlookers were tourists, snapping pictures of the grim scenes on their phones. Locals couldn't help but look, too, as they headed home for the night.
Although authorities did not declare a state of emergency, they announced close to 10pm that all of the 438 schools administered by the Bangkok municipality would be closed Tuesday.
Erawan Shrine: Why was place of prayer targeted?
The attack took place in a part of Bangkok that is often overflowing with people, an area compared to New York's Times Square with all its activity. It's in the epicenter of the Thai capital's main shopping district, which includes one of the world's biggest malls with stores such as H&M and Toys "R" Us.
The Erawan Shrine itself is connected to the Grand Hyatt Hotel, while the Holiday Inn and InterContinental hotels are a stone's throw away.
Emotions ran high after the explosion, both on the streets of Bangkok and on the Web.
"Pray for Bangkok," many posted online after the blast. Others shared the message, "Tonight, I pray for your peace, happiness and unity."
And many more posted the flag of Thailand, a country that's not unaccustomed to political unrest but where something like this – a bomb causing mass casualties in the middle of its largest city – is unusual.
The flag was paired with two simple words: "Stronger together."
CNN's Mark Phillips reported from Bangkok, and CNN's Greg Botelho reported and wrote from Atlanta. CNN's Jessica King contributed to this report.