Story highlights
Khloe Kardashian has been by Odom's side, source says
Odom was found unresponsive after spending days at a legal brothel in Nevada
For years, millions of viewers have followed Lamar Odom's every move – from the two-time NBA champ's layups on the basketball court to his highly publicized romance with reality TV star Khloe Kardashian.
But now Odom is far from the spotlight's glare, with those closest to him remaining tight-lipped as he fights for his life at a Nevada hospital.
Officials have said little about how he ended up there – and what his current condition is, days after he was found unconscious at a brothel about an hour from Las Vegas.
The manager of the brothel, Love Ranch in Crystal, Nevada, says Odom was there "to get far away from something."
In three days, Odom spent $75,000 there, the price that guaranteed two women would "take care of any of his needs," owner Dennis Hof told CNN's sister network HLN.
He used cocaine on his first day at the brothel Saturday, employees told 911 dispatchers. On a 911 call played at a news conference, a woman said she also saw him take 10 herbal supplement tablets over three days.
The brothel's employees also told 911 operators that when they found him Tuesday, Odom was lying in bed on his side with a pinkish fluid coming from his mouth and nose.
Nevada brothels: Things to know in wake of Lamar Odom's collapse
As details eked out about what may have led to Odom's hospitalization, members of the Kardashian family have revealed few specifics to their millions of social media followers, instead posting photos of happier times as they rallied support and pushed for prayer.
Kourtney Kardashian shared a photo of Odom hugging one of her children.
"Believing in the power of prayer for this beautiful soul," she wrote.
Odom's father and two children have been with him at the hospital, along with the Kardashians.
In a statement Thursday, his children Destiny Odom, Lamar Odom Jr. and their family asked for prayers.
"Thanks for your outpouring of prayers and support for our dad. We are here with our family and friends," the statement said. "We appreciate everyone respecting our privacy at this time. We ask for your continued prayers."
Khloe Kardashian making medical decisions
In addition to appearing on "Keeping Up With the Kardashians," Odom and Kardashian had their own reality show, "Khloe & Lamar." It lasted for two seasons and 20 episodes.
The two signed divorce papers this year, but the divorce has not been finalized, a source told CNN.
As a result, the source said, Kardashian will make medical decisions for the former NBA star.
The Kardashians have also rallied to support Odom. Khloe Kardashian rushed to his side, together with her sister Kim Kardashian and the Kardashians' matriarch, Kris Jenner. They have been at the hospital since Tuesday night.
"Please pray for Lamar #ourfighter," Jenner posted on Instagram.
Khloe Kardashian's brother, Rob, also expressed concern.
"Praying nonstop for my Brother!!" he posted on Instagram with a picture of the two of them.
Opinion: Odom and the lesson on risky sex pills
"Khloe was there, and his friends. We joined hands and we had prayer," Jackson told CNN on Thursday.
"He is in a real struggle, and I think the doctors are doing their task," Jackson said. "We fall down and we try to get back up again, and we hope mercy and grace will be extended to (Lamar) and he can get up again."
Lamar Odom troubles show Kardashian family ties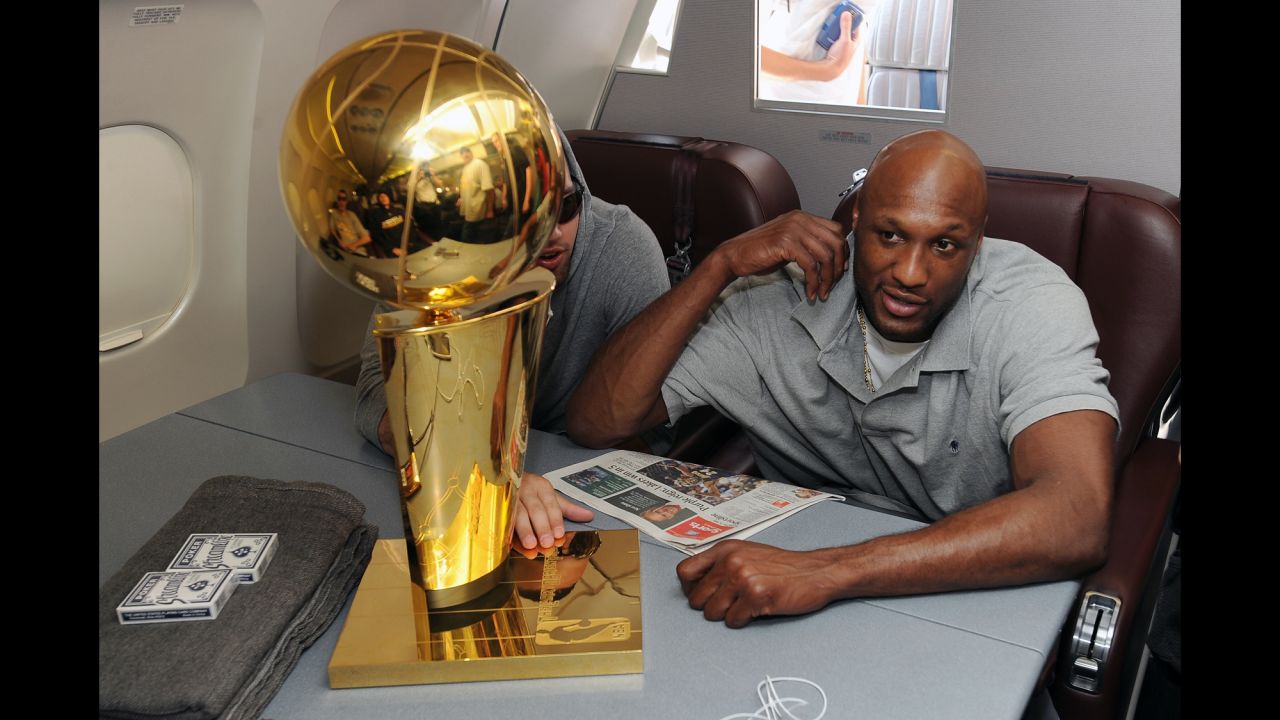 Former NBA star Lamar Odom
Grandmother: 'Spotlight could have gotten to him'
His grandmother, Florence Odom, said she was devastated she could not be at his bedside because of her disabilities.
"I know Lamar didn't do the things they are saying he did. … He's beautiful," she said. " If you ever were to meet him you would say the same. I don't listen to gossip."
The pressures of celebrity could have taken their toll on him, the 89-year-old said.
"Lamar being on the show with the spotlight could have gotten to him."
The manager of the brothel said the former basketball player was there "to get far away from something."
Odom asked to be picked up from a home in Las Vegas and dropped off at the brothel, TJ Moore told CNN affiliate KSNV-TV.
Moore said she picked him up and took him there.
"He didn't indicate what he wanted to get away from but was adamant he wanted no phone calls, don't acknowledge he was here, wanted rest and relaxation," she said.
Four teams, 14 seasons
Odom, 35, won two NBA championships as a forward for the Los Angeles Lakers.
Odom played for four teams during his 14 seasons in the NBA and won the Sixth Man of the Year Award during the 2010-11 season.
The Los Angeles Clippers drafted him in 1999, and he played for the team for four seasons before signing with the Miami Heat.
After one season in Miami, Odom was traded to the Lakers and was a key part of their championship teams in 2009 and 2010.
A year later, he played briefly for the Dallas Mavericks before returning to the Clippers for one season. He has not played in the NBA since then, though the New York Knicks signed him to a two-year contract during the 2014 offseason, only to cut him three months later.
Outside of basketball, Odom has continued making headlines, including for a drunken driving charge two years ago. He pleaded no contest and received three years' probation.
Lamar and Khloe: A whirlwind romance
CNN's Lorenza Brascia, David Burgess, Cheri Robertson Mossburg, Christine Sever and Carma Hassan contributed to this report.