Story highlights
Addis Ababa is growing so fast,the local government is struggling to keep up with housing demand
A number of creative projects are afoot to try and ease the pressure
Addis Ababa, Ethiopia
CNN
—
Whether it's paving, construction or big-time infrastructure projects, Addis Ababa is growing fast.
High-end apartments and glass-fronted buildings stand where informal shacks once stood. A new metro line cuts through the heart of the city while the number of people living within its boundaries has reached 3.2 million, according to the CIA World Factbook.
But with rapid progress comes a host of new challenges.
Among the most pressing is where to fit all the new residents keen to take part in the city's economic success. According to the 2015 Knight Frank wealth report, Addis Ababa is currently growing at 3.8% per year.
"One of the critical challenges to the government is the lack of housing in Addis Ababa," said Teklu Fikru, deputy general manager of local government run Housing Project Office.
The "problem is very crazy," he noted. "Infrastructure is not sufficient" he said, adding that many existing homes which were built informally are "becoming slums."
A new approach
A 2011 report from the U.N. stated Addis Ababa needed 300,000 new homes with only 30% of existing properties in "fair condition."
The government says it is making progress on this issue and points to urban renewal sprouting across the city.
Fikru showed CNN a construction site that when completed will contain 10,000 new homes for upwards of 50,000 people.
Another project nearby with a $4 million price tag will house a further 3,000 people.
Yet in spite of these developments, some say the authorities can't keep up with the sheer scale of demand.
The Ethiopian government "figured out very fast that (housing issues) cannot be solved by these governmental programs," said Professor Dirk Donath of the Bauhaus University faculty of architecture in Germany.
As a result, "they are looking more and more into new approaches, new technologies, and alternatives where the people are involved and placed in."
Multi-purpose homes
Donath has been working with the Ethiopian Institute of Architecture, Building Construction and City Development (EIABC) to come up with more innovative ways of plugging the housing gap.
One such project is a multi-purpose home, with more than a passing resemblance to an elaborate tree-house. It is cheap to build and can double as a workshop, rental area or small retail space.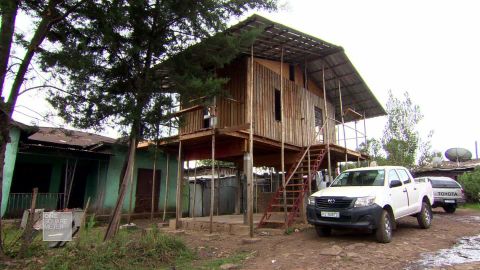 According to the EIABC architect behind the venture, Brook Teklehaimanot, shelter alone is not enough. New homes, he believes, should offer opportunities for social mobility as well.
"We need the house to raise the income level of each household, so each house is not a house. It's a house plus where people can generate income from the house itself," Teklehaimanot said.
Another positive of the EIABC project is the fact that prototype houses can be built in existing districts to test whether they are viable or not.
"This, we think, is extremely important because when you demolish neighborhoods and then dislocate people, you basically cut off ties, family ties, social ties," Teklehaimanot continued.
"And (that's) going to bring about bad social issues in the future."
Whether concepts like this are enough to solve Addis Ababa's housing conundrum will become apparent in the months and years ahead.
For now, however, the city continues to build homes just to keep up with it's turbo-speed growth.
See how Addis Ababa is coping with it's rising population by playing the video atop the page.