Story highlights
NEW: Man who coached Lamar Odom in college says, "He's awake now"
Kris Jenner says Lamar Odom is not in a coma but has serious injuries to vital organs, "Access Hollywood" reports
Odom was found unresponsive Tuesday after spending days at a legal brothel in Nevada
Former NBA star Lamar Odom woke up and spoke for the first time since he was found unresponsive at a brothel in Nevada, sources say.
It was unclear whether he remained conscious or how long he was awake.
Odom's college coach, Jim Harrick, told CNN's Anderson Cooper that Kardashian told him she reached down to Odom on Friday and told him she loved him. Odom blinked, he said.
The former Rhode Island coach said doctors were taking "some things" – Harrick implied they were breathing tubes and taking him off kidney dialysis – out of Odom on Friday afternoon.
"He's awake now," Harrick said. "So that's probably the most encouraging news we've had since it all started."
Odom is using a mask to breathe and has serious damage to his vital organs, his former mother-in-law, Kris Jenner, told "Access Hollywood."
Odom has been at a Las Vegas hospital since Tuesday, after being found unresponsive at a brothel.
Earlier a source close to the situation told CNN that Odom, 35, improved a "tiny bit" during his third night at Sunrise Hospital & Medical Center.
Odom "got a tiny bit better – emphasis on tiny – and he was responsive in the middle of the night for a moment," the source said.
Officials at Sunrise have not commented on the condition of Odom, whose medical decisions are being made by Kardashian, a source has told CNN. CNN has reached out several times to the hospital for comment and no one has returned any of the calls.
Little is known about what left him unresponsive at the brothel in Crystal, where he was found Tuesday, three days after he checked in.
Nor is much know about what is going on inside his hospital room.
The husband of a woman who is on the same floor as Odom said security is extremely tight.
George Cooper said Odom has had many visitors. "All throughout the night there is banging and clicking as his entourage, managers, basketball players and what not coming and going off the floor," he said, adding that his wife's room is right by the doors to the wing.
Tragedy and triumph: The turbulent life of Lamar Odom
Odom spent tens of thousands at brothel
Most of the information has come from Dennis Hof, owner of the Love Ranch, where the former basketball player was found.
Most of the information is coming from Dennis Hof, the owner of the Love Ranch, where the former basketball player was found.
In three days at the brothel, Odom spent $75,000, which guaranteed two women would "take care of any of his needs," Hof earlier told CNN's sister network HLN.
He used cocaine on his first day at the brothel Saturday, employees told 911 dispatchers, according to authorities. On a 911 call played at a news conference, a woman said she also saw him take 10 herbal supplement tablets over three days.
The brothel's employees also told 911 operators that when they found him Tuesday, Odom was lying in bed on his side with a pinkish fluid coming from his mouth and nose.
Nevada brothels: Things to know in wake of Lamar Odom's collapse
Odom's children speak out
His father and two children have joined Kardashian family members at the hospital, but have revealed few specifics on his condition.
In a statement released through their publicist Thursday afternoon, Destiny Odom, Lamar Odom Jr. and their family asked for prayers.
"Thanks for your outpouring of prayers and support for our dad. We are here with our family and friends," the statement said. "We appreciate everyone respecting our privacy at this time. We ask for your continued prayers."
In addition to appearing on "Keeping Up With the Kardashians," Odom and Khloe Kardashian had their own reality show, "Khloe & Lamar." It lasted for two seasons and 20 episodes.
The two signed divorce papers this year, but the divorce has not been finalized, a source told CNN.
The Rev. Jesse Jackson, who visited Odom on Wednesday morning, said the former basketball star was surrounded by loved ones.
Grandmother: 'Spotlight could have gotten to him'
Florence Odom, the former NBA star's grandmother, said she was devastated her disabilities were keeping her from being at her grandson's side.
"I know Lamar didn't do the things they are saying he did. … He's beautiful. If you ever were to meet him you would say the same. I don't listen to gossip," she said.
The pressures of celebrity could have taken their toll on her grandson, the 89-year-old said.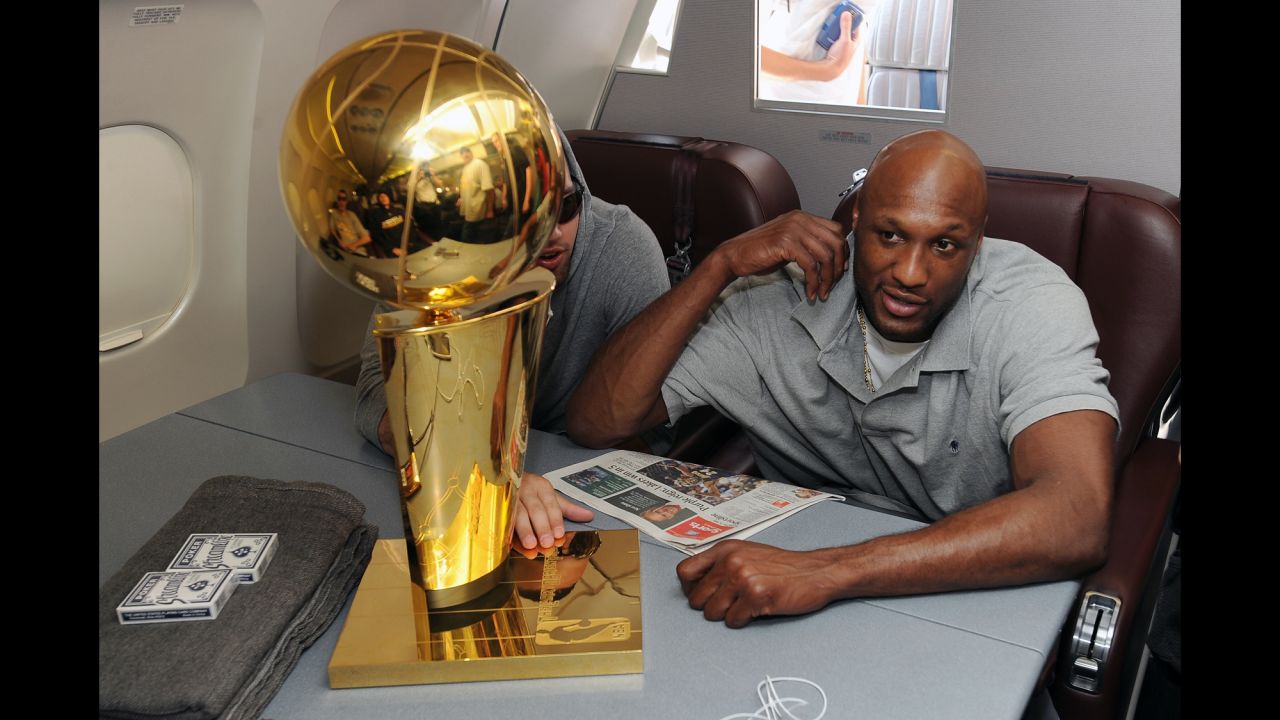 Former NBA star Lamar Odom
Four teams, 14 seasons
Odom, 35, won two NBA championships as a forward for the Los Angeles Lakers.
Odom played for four teams during his 14 seasons in the NBA and won the Sixth Man of the Year Award during the 2010-11 season.
The Los Angeles Clippers drafted Odom in 1999, and he played for the team for four seasons before signing with the Miami Heat.
After one season in Miami, Odom was traded to the Lakers and was a key part of their championship teams in 2009 and 2010.
A year later, he played briefly for the Dallas Mavericks before returning to the Clippers for one season. He has not played in the NBA since then, though the New York Knicks signed him to a two-year contract during the 2014 offseason, only to cut him three months later.
Outside of basketball, Odom has continued making headlines, including for a drunken driving charge two years ago. He pleaded no contest and received three years' probation.
Lamar and Khloe: A whirlwind romance
CNN's Lorenza Brascia, David Burgess, Cheri Robertson Mossburg, Christine Sever, Carma Hassan, Carolyn Sung and Michael Martinez contributed to this report.