Story highlights
Canadian sisters compete in freestyle moguls
Justine, 21, is world and Olympic champion
All three took part at Sochi 2014
Their parents follow them on skiing circuit
It was the feelgood moment of the 2014 Winter Olympics – two sisters holding hands on top of the medal podium in Sochi.
Justine Dufour-Lapointe, at 19 the youngest freestyle skiing champion in Games history, looked across into the eyes of runner-up Chloe, a relative veteran at 22.
Watching was their eldest sister Maxime, who also competed in their moguls event but didn't reach the final, and their parents.
"I was like, 'Chloe, I can't do this alone' – then we grabbed hands and jumped on the podium together," Justine tells CNN's Human to Hero series.
"I felt way better knowing that I can count on my sisters, that we can share that moment. We can do it together and we are way stronger as a team."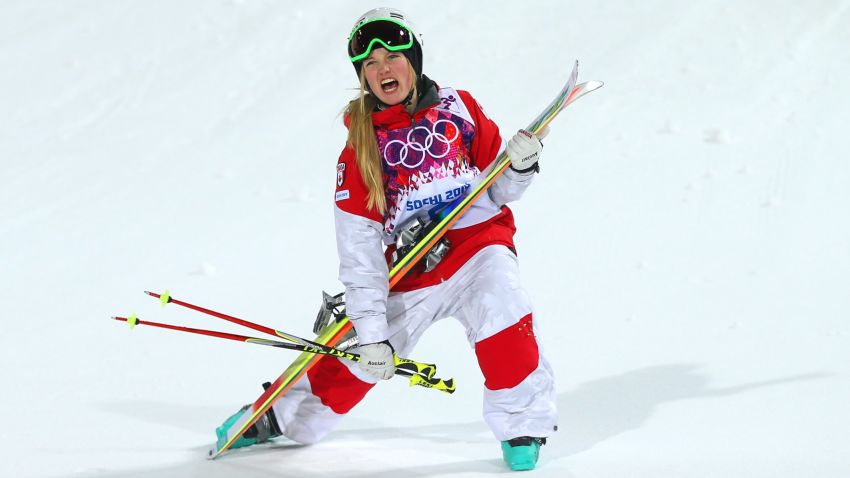 Freestyle ski star 'dances with slopes'
Some sporting siblings might suffer from rivalry, but not this Canadian family.
They grew up on the slopes, and now travel the World Cup circuit as a close-knit group, sharing in each other's successes.
"People are always asking if there is a lot of competition between us, and the answer is no," says Justine, who followed up her Olympic gold by winning the world moguls title in January 2015.
"Whatever I am doing, it's me who did it, so I can't be mad at them if they do better than me. We always respect that – my mum taught that to us. If you did your best, then the best one will win.
"Sometimes we fight – it's normal, we are sisters – but we learn how to talk about it whenever there is tension."
Chloe adds: "We compete, for sure, in training – we see one push and we want to push harder. The three of us drive each other to a higher level."
Growing up in French-speaking Montreal, Maxime – now 26 – was the first of the trio to branch out from conventional skiing and try freestyle. Moguls, a high-octane mixture of downhill bumps and acrobatic jumps, appealed to them all.
"Me and Chloe saw Maxime so happy and doing all those tricks – she looked so cool and I just wanted to follow," says Justine.
"You need to be fit and strong – it's like a gymnastic sport. You need to get loose, express your personality. I'm really a Jack Russell (terrier dog), I am intense when I am skiing.
"Chloe is precise, really into details when she skis. Maxime, she's more a perfectionist."
The other siblings both describe Justine as "like a tiger" on the slopes.
"She sees something and just goes for it – she hunts it down," says Maxime.
"Justine is the easygoing person and the smiley one, she always makes jokes," adds Chloe. "She likes to laugh and dance. She's very focused but she has fun."
Their parents, mother Johane and father Yves, made a commitment to follow their girls around the world.
"We wouldn't be where we are right now if it wasn't for our parents," says Maxime. "They never made sacrifices – they made choices based on the fact they both want to be with their children no matter what they do."
Having the whole family together in Sochi made it much easier for Justine to triumph in her Olympic debut – Chloe had already made hers on home slopes at Vancouver 2010.
"We were doing our stretching every night, writing in our journals, laughing about our day or telling jokes – it felt like home!" Justine recalls.
"Representing my country was just amazing. I've never been so proud to be Canadian. Just having my Olympic suit, I was so happy. When we first arrived in Sochi we opened the door of our room and there was that big bag of clothing – I remember just unzipping it and trying them on."
Despite her seemingly fearless nature, she says she has employed a sports psychologist for the past four years to help keep her focused on the slopes. And on that glorious night in Sochi, she indirectly enlisted the aid of pop star Katy Perry to calm her nerves.
"I was listening to "Roar" – I think I listened to that song 100 times that day. It helped me so much singing out loud."
Her post-race celebration was also musical – an air-guitar salute worthy of the "Bill and Ted" movies.
The youngest Dufour-Lapointe, now 21, will attempt to win her first World Cup title in the upcoming 2015-16 season, which starts in Finland on December 12. American rival Hannah Kearney, the previous Olympic champion, has dominated over the sisters in both the overall and moguls standings for the past half decade.
However, Justine's biggest goal is the next Winter Olympics at PyeongChang in South Korea in 2018.
"Now I know what it felt like to win a medal at the Olympic Games, and when you have it, it's like a drug – you just want more," she says.
"I want to do more tricks, to do other things. I am still young – I want to explore myself even more in my skiing, and maybe a third Olympic Games."
CNN's Human to Hero series celebrates inspiration and achievement in sport. Click here for times, videos and features.
Which athlete inspires you? Tell us on CNN Sport's Facebook page