Story highlights
NEW: The road to Iranian Embassy is closed; area residents aren't aware of an obvious airstrike
NEW: Hadi's government says a U.N. official isn't welcome due to the world body's perceived bias
Iran says Saudi warplanes "intentionally" hit its embassy in Sanaa; Saudis call the claim "not credible"
Iran's government accused Saudi Arabia of "intentionally" striking its embassy in Yemen, another incident likely to ratchet up tensions between Tehran and Riyadh and imperil efforts to forge peace in Syria and combat ISIS.
"Saudi Arabia is responsible for this action, as well as for compensating Iran for injuries to the embassy personnel and the damages to the embassy building," said Iranian Foreign Ministry spokesman Hossein Jaberi Ansari on Thursday, according to state-run IRIB News. "… Iran reserves the right to (legally) pursue this matter."
According to Ansari, the Iranian Embassy in the Yemeni capital, Sanaa, was damaged and several guards were injured in the late Wednesday airstrike.
CNN could not independently confirm whether the embassy was hit and, if so, how severely. The road to the embassy was closed down. Three witnesses in the area around it reported a small explosion Wednesday night but no obvious airstrikes.
And the Saudi-led coalition involved in the Yemeni war pushed back against the claim, with spokesman Col. Ahmed Asseri saying an investigation is needed.
"This is not credible because we have not seen any evidence," Asseri said. "But we will investigate."
Of course, it's doubtful Iran will readily accept the results of a Saudi investigation. Not in light of the longstanding tensions between Sunni-dominated Saudi Arabia and Shiite-led Iran, which have escalated in recent days, threatening an even bigger showdown that could roil not only the Middle East but the world.
Iran and Saudi Arabia at loggerheads: How we got here
Iran bans Saudi imports, pilgrimages to Saudi cities
The Sanaa airstrike, and the war of words that followed, come on the heels of Saturday's mass execution in Saudi Arabia of 47 people, among them prominent Shiite cleric Sheikh Nimr al-Nimr, on terrorism charges.
This act spurred anger in Iran, where protests quickly broke out. The Saudi Embassy in Tehran was attacked and set on fire, prompting Saudi leaders to sever diplomatic ties with Iran.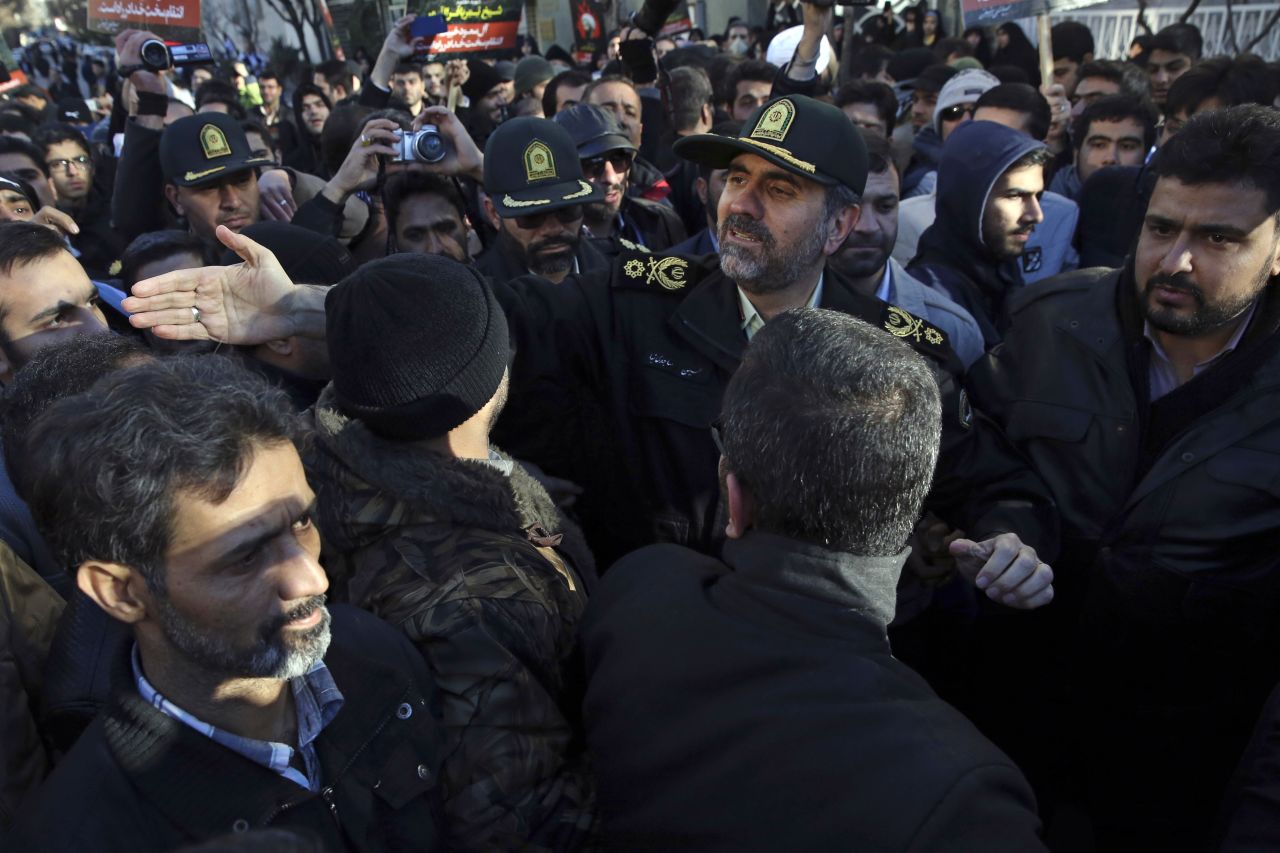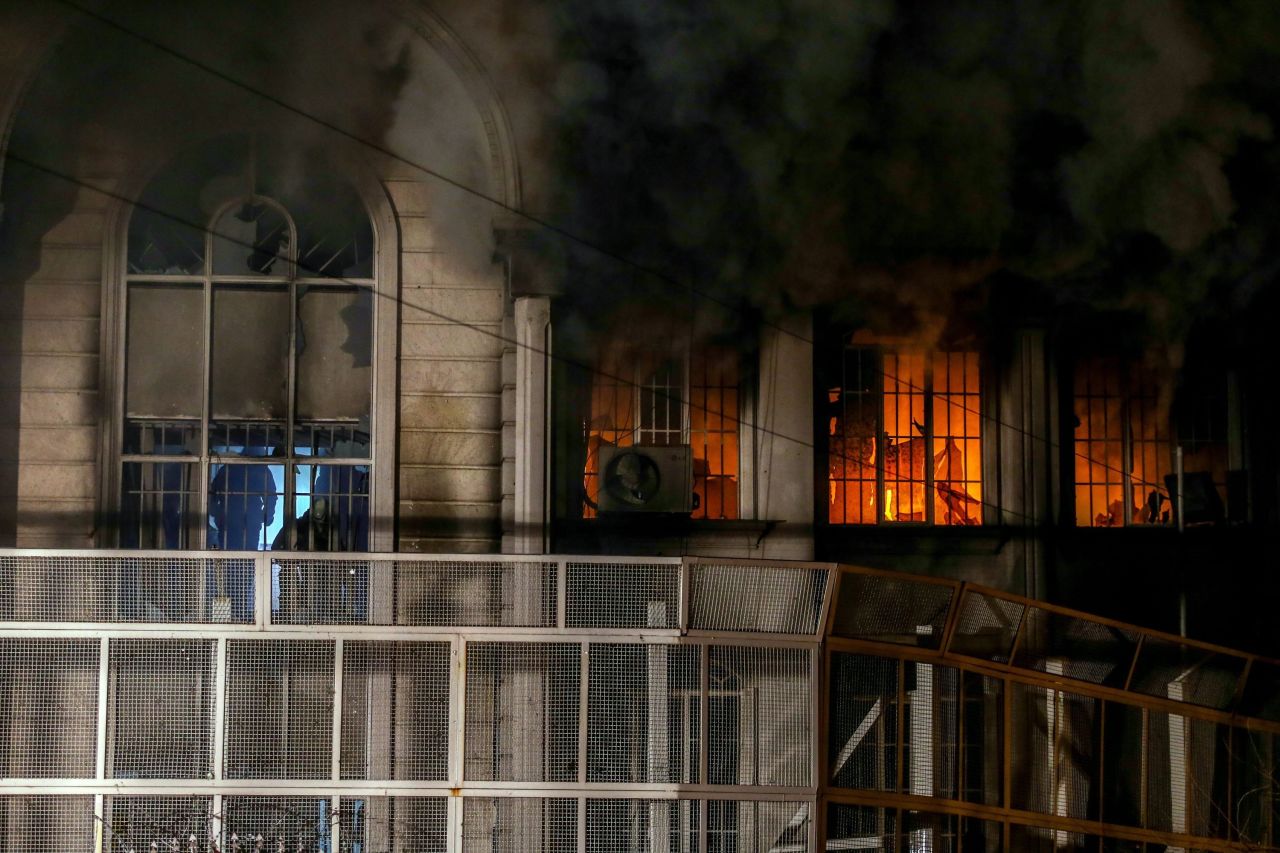 Protest in Tehran after Saudis execute cleric
Several other nations have sided with Riyadh in this growing conflict, including Bahrain – where a Sunni monarch rules over a predominantly Shiite nation – and Kuwait and the United Arab Emirates, both of which recalled their ambassadors to Iran.
Yet Iran has remained defiant, with President Hassan Rouhani on Tuesday lashing out at Saudi Arabia for cutting ties in response to an angry reaction that he called "only natural."
"Of course, the Saudi government, in order to cover up its crime of beheading a religious leader has resorted to a strange measure and has severed its ties with the Islamic Republic," Rouhani said during a meeting with Danish Foreign Minister Kristian Jensen in Tehran
"Undoubtedly, such moves will never hide that great crime," Rouhani added, according to Iran's state-run Press TV.
On Thursday, Iran acted out once more against Saudi Arabia – this time, economically.
The Iranian Cabinet passed a measure banning the import of all products from Saudi Arabia and prohibiting Iranians from making pilgrimages to the holy cities of Mecca and Medina, the semiofficial Tasneem news agency reported. Millions make pilgrimages each year to those two Saudi cities in rites of passage for Muslims worldwide.
Iran bans pilgrimages, Saudi imports
Yemen, like Syria, a proxy battleground for rivals
While Nimr's execution may have been the tipping point, it's far from the lone source of tension between Tehran and Riyadh.
In one respect, this discord dates back 14 centuries to when Sunnis and Shiites split over who should succeed the Prophet Mohammed as Islam's leader.
Today, nearly 90% of the world's Muslims are Sunni. Still, there are powerful Shiite players in the world, including in Iran and Syria, whose embattled leader Bashar al-Assad is Alawite, a Shiite offshoot.
That's one reason Iran has been one of Assad's few notable allies, while Saudi Arabia has given financial aid and weapons to rebels fighting him.
Staffan de Mistura, the U.N. special envoy on Syria, insisted Tuesday that he's gotten assurances from the Saudis "that the current regional tensions will not have any negative impact" on efforts to resolve the Syrian civil war, which has left hundreds of thousands dead and forced millions to flee. Yet such promises don't necessarily translate to actions – nor do they speak for Iran's intentions – especially given all of the other complicating factors that have derailed peace efforts.
Yemen has been another proxy battleground ever since the minority Houthis, who are Shiite, began rebelling last year against the Sunni-led government of President Abdu Rabu Mansour Hadi.
Alongside allies from the UAE, Kuwait, Bahrain, Qatar and elsewhere, Saudi Arabia got involved last March by launching airstrikes in Yemen against rebel targets in support of Hadi.
Those strikes have continued for months, as repeated attempts to forge a truce have failed.
Hadi and his Saudi allies, meanwhile, have accused Iran of giving the Houthis military aid and expertise – charges that both Iran and the Houthis denied. And on Thursday, the human rights minister in Hadi's government said a U.N. official is no longer welcome in Yemen because of that world body's alleged bias in the Houthis' favor.
"The Yemeni government (criticizes) unfair statements issued by some United Nations agencies (about) the deterioration of the disastrous humanitarian situation in Yemen," Ezzedine al-Asbahi told sabanews.net, a news agency that backs Hadi's loyalists.
CNN's Shirzad Bozorgmehr in Iran and journalist Hakim Almasmari in Yemen contributed to this report.