Story highlights
Prime Minister cancels U.S. trip, vows to avenge bloodshed
Death toll rises to at least 74, police say
Bombing happened as families celebrated Easter
Security forces, hunting for suspects in the deadly Easter Sunday bombing targeting Christians in a Lahore park, raided locations in three cities overnight and arrested suspected terrorists, a military spokesman said Monday on Twitter.
No details were given on who had been arrested or what role – if any – they may have played in the bombing, which killed at least 74 people and injured 362 others, Punjab province Chief Secretary Khizer Hyat said Monday.
At least twenty-four children were among the dead, according to Punjab province police.
A splinter group of the Pakistani Taliban, Jamat-ul-Ahrar, claimed responsibility for the attack, saying it had targeted Christians. The group vowed more such attacks.
The overnight raids by military and intelligence agencies targeted locations in three cities across the Pakistani province of Punjab, including Lahore, Faisalabad and Multan, military spokesman Lt. Gen. Asim Bajwa tweeted.
In addition to the unspecified number of arrests of suspected "terrorists and facilitators," forces also recovered a "huge cache of arms and ammunition," Bajwa said.
Operations were continuing,"with more leads coming in," he tweeted.
Pakistani Prime Minister Nawaz Sharif canceled a planned visit to the United States after the violence, telling his nation Monday in a televised address that his government would not allow terrorists to "play with Pakistani lives."
"We are keeping count of every drop of the blood of our martyrs," he said. "We will not rest until the cost of this blood is avenged."
'Dead bodies … everywhere'
Sunday's attack came at a poignant time for Pakistan's Christians, some of whom were in the city's Gulshan Iqbal Park to celebrate Easter on Sunday evening.
The religious group makes up only 2% of the population, and tensions are high between them and a hardline Muslim core that wants to see a strict interpretation of Islamic law take precedence in Pakistan's legal system.
READ: Who are the Pakistani Taliban today?
One witness named Danish was at the amusement park with his two sisters.
"It was so crowded that there was even no way of entering it," he told reporters. "There was suddenly a big blast. Everyone panicked, running to all directions. Many of them were blocked at the gate of the park. Dead bodies can be found everywhere."
He said one of his sisters died; the other was wounded.
"The object (that) hit her looks like a piece of hard iron, and it burned her in the neck," Danish said.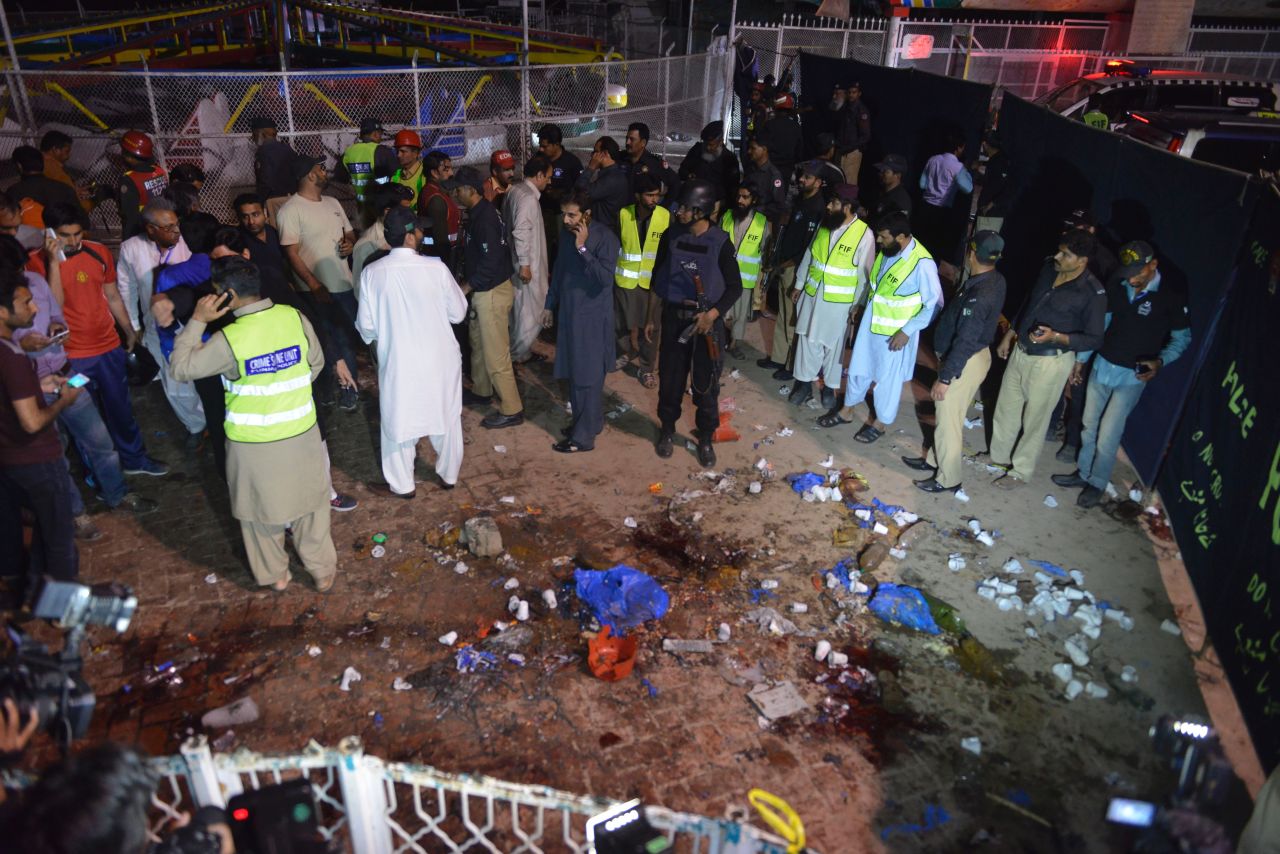 Scores killed in Pakistan blast
A Christian man named Sohail said he was there with four of his children and his wife.
"I went to get groceries, but my children insisted that it was the last day of their school holidays so I should take them to Iqbal Park, which I did," he said.
As Sohail went to get tickets for the park's rides, the blast occurred.
"My 6-year-old is in critical condition and is in surgery," he said.
Lahore's parks remained closed Monday for security reasons, the deputy commissioner of police said.
Prime Minister: 'I want more proactive coordination'
Sharif, a Lahore native, condemned the blast and met with law enforcement and intelligence officials Monday.
"Our goal is not only to eliminate terror infrastructure but also the extremist mindset, which is a threat to our way of life," he said.
"I want more proactive coordination between law enforcement and intelligence agencies. Provinces should speed up intelligence-based operations against terrorists. We must take this war to the doors of terrorist outfits before they are able to hit our innocent countrymen."
International condemnation
Indian Prime Minister Narendra Modi, who has worked to thaw the icy relations between his country and Pakistan, called Sharif on Sunday to express his grief over the bombing.
The Indian leader expressed solidarity with Pakistan, the Pakistani state-run news agency reported.
"Modi said coward terrorists had targeted females and kids which was highly condemnable and regrettable," according to the news agency, the Associated Press of Pakistan.
The United States and Australia also condemned the attack.
"This cowardly act in what has long been a scenic and placid park has killed dozens of innocent civilians and left scores injured," U.S. National Security Council spokesman Ned Price said in a statement.
Australian Foreign Minister Julie Bishop echoed the sentiment.
"As Christians worldwide celebrate Easter, a shocking terrorist attack in Lahore, Pakistan, reminds us that terrorism is a global scourge," she said Monday.
History of violence
In March of last year, suicide bombers attacked a Christian community, also in Lahore, setting off two blasts that killed at least 14 people and wounded dozens more, officials said.
The Pakistani Taliban claimed responsibility for those attacks. And they warned of more to come.
The explosions, which struck the Nishtar Colony area in the city of Lahore, wounded at least 78 people, a Lahore General Hospital official said at the time.
And in 2013, suicide bombers struck a church in the northwestern city of Peshawar, killing more than 80 people.
Journalist Daniyal Hassan reported from Lahore, CNN's Sophia Saifi reported from Islamabad, and CNN's Holly Yan wrote from Atlanta. CNN's Adeel Raja, Zahir Sherazi and Yuli Yang contributed to this report.