Story highlights
NEW: London police seek public's help in finding operator of drone that may have struck airliner
No one was hurt and the plane wasn't damaged, but authorities worry about potential for catastrophe
Did a drone hit an airliner trying to land at London's Heathrow Airport?
The pilot of a British Airways flight certainly thinks so, and now authorities would like to find out who might have been behind the weekend incident.
British Airways Flight BA727 from Geneva was approaching Heathrow on Sunday afternoon when what the pilot believed to be a drone struck the front of the aircraft, London Metropolitan Police said. The plane was 1,700 feet in the air at the time, police said.
The Airbus A320 landed safely, with none of the 132 passengers and five crew members on board injured, British Airways spokesman Michael Johnson said.
The plane was fine, too, he said.
Still, authorities worry that careless drone use will eventually lead to a catastrophe.
"Thankfully the aircraft landed safely but the incident highlights the very real dangers of reckless, negligent and some times malicious use of drones," Chief Superintendent Martin Hendy, head of Metropolitan Police Service's Aviation Policing Command said in a statement. "We continue to work with the Civil Aviation Authority and other partners to tackle this issue and ensure that enthusiasts who fly drones understand the dangers and the law.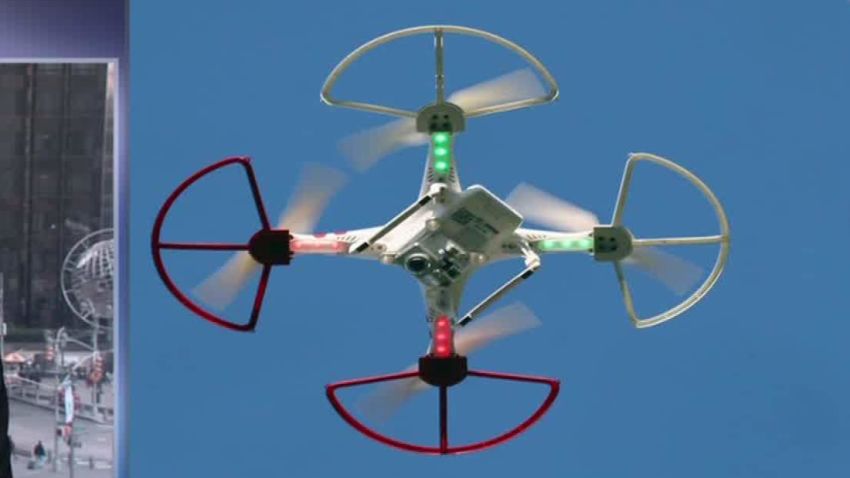 Drones facing increased regulation
No one has yet been arrested, but police think the drone in question may have been launched from southwest London's Richmond Park. They searched the area for debris but haven't yet found anything.
Authorities asked the public for help Monday, asking anyone who was at the park and might have seen anything to get in touch. They also asked anyone who finds drone debris to contact police.
Britain's Air Accidents Investigation Branch announced Monday that it was also looking into the incident.
'Totally unacceptable': Civil Aviation Authority
Star architect designs the world's first 'airport for drones'
Britain banned drones from royal parks in 2015 over terrorism concerns. Richmond Park is the largest of London's eight royal parks and the biggest enclosed space in the city, according to the royal parks' website.
Other rules for drone pilots in the UK include making sure the flying machines are always within the operator's line of sight, not flying above 400 feet (122 meters), and staying away from airports and aircraft.
"It is totally unacceptable to fly drones close to airports, and anyone flouting the rules can face severe penalties including imprisonment," said the statement.
Google exec: Drone deliveries could come in one year
Dodging drones in the sky
The rate of close encounters between drones and planes is on the upswing United Kingdom, according to the Airprox Board, which tracks airline safety.
Aircraft had 23 close encounters from April to October 2015, with 12 classed as presenting a serious risk of collision, the board said.
Drones flying too close to commercial flights pose a serious threat to larger aircraft, and can be sucked into the engine or crash into the cockpit window, injuring or killing a pilot.
In the United States, hundreds of drones have flown dangerously close to manned aircraft in U.S. airspace, forcing pilots to sometimes take evasive action, according to Bard College's Center for the Study of the Drone.
Is it OK to shoot down a drone over your backyard?
A recent report, based on the center's analysis of Federal Aviation Administration data from August 21, 2015 to January 31, 2016, said there were 519 incidents involving passenger aircraft and unmanned drones in the U.S. within that period.
That was three times as many incidents as in the same period a year earlier.
Dutch cops train eagles to hunt drones
00:51
- Source: Dutch National Police
Hundreds of drones fly dangerously close to manned aircraft
CNN's Holly Yan, Karen Smith, Mohammed Tawfeeq and Faith Karimi contributed to this report.