Story highlights
Real Madrid defeats Man City in semifinal
Own goal secures 1-0 victory in second leg
Real will face city rival Atletico in final
Milan will host final on May 28
In the end it will come down to a tale of one city.
For Real Madrid, which booked its place in the Champions League final for the second time in three seasons Wednesday, it is the chance to write yet another chapter in its illustrious history.
For AtletIco Madrid, it is an opportunity for sporting immortality. No team has enjoyed as much success as Real in this competition – victory in Milan on May 28 would secure an unprecedented 11th triumph for Europe's most successful club side.
But for the players and supporters of Atletico, this is an opportunity to bloody the nose of its neighbor and right the wrongs which still rankle to this very day.
Two years ago, these clubs met in Lisbon to decide which would be crowned champions of Europe – a night which could scarcely hold more contrasting memories for a city divided by red and white.
The memories of Real Madrid players the skipping and the dancing after securing a 10th title remain fresh in the mind, especially for those who hold Atletico in their hearts.
For all the glory of Real's "La Decima" and that magical night in Lisbon there is another tale to tell.
It is of a team, a band of brothers, which has lived under the shadow of its rich, aristocratic neighbor throughout its history and been left to strain every sinew to ensure its time in the sun.
Two years ago that light began to shine brightly upon Atletico. This was supposed to be Atletico's turn. It had won the Spanish league title after overcoming Real and Barcelona in a fairytale which seemingly promised one final chapter.
Diego Simeone, a coach who kicks every ball, makes every tackle and has the red fire of Atletico pulsing through his veins, had pushed his side to within an inch of glory.
Leading 1-0, courtesy of Diego Godin's goal, Atletico appeared set to defeat Real, ending its quest for a 10th title and in turn winning the competition for itself.
Atletico had only ever reached the final once before in its history – in 1974 – a memory which left scars which still burn bright today.
On that occasion, leading 1-0 with six minutes to go, Bayern Munich equalized in the final minute of extra time to force a replay – a game the German side won 4-0.
In Lisbon, 40 years later – lightning struck twice. First, Sergio Ramos equalized in the 93rd minute to force extra-time, then Real ran riot, scoring three times without reply to win 4-1.
As Atletico's players laid out on the field, exhausted, vanquished, bereft, those in white danced to the tune called by Cristiano Ronaldo as Real celebrated a first Champions League victory in 15 years.
Much has changed since then – not least in terms of personnel, but the scars for Atletico, remain.
The two teams are both locked in a race for the La Liga title with Atletico, in second, a point ahead of Real in third, with both of them trying to hunt down Barcelona.
But it is perhaps Atletico, despite its status as underdog to its illustrious neighbor, which may yet feel more confident having lost just one of its previous 10 games against Real since that night in Lisbon.
In Antoine Griezmann, scorer of 31 goals this season, it has a player at the height of his power, while Atletico's defense is arguably the best in European football.
Real has been warned - it was beaten 1-0 at home by Atletico in October courtesy of Griezmann's strike.
But this final will be a battle between Real's attacking intent and Atletico's unerring ability to repel any foe which dares to lay siege to its goal.
It is a final which should intrigue and excite in equal measure, and it will, almost certainly be more enthralling than Real's semifinal tie against an impotent and uninspiring Manchester City.
In truth this was the most comfortable semifinal Real could scarcely have imagined possible.
Though it lined up in luminous yellow, there was nothing bright nor eye-catching about Manchester City. Leaden footed, flat and seemingly unaware of the prize it was contesting, it rarely threatened to spoil Real's night.
For a team playing in its first ever Champions League semifinal it was a rather sorry way to exit the competition. Perhaps its players did not believe in themselves, perhaps they froze on the big stage or perhaps, they was just outclassed – a combination of the three might be the closest to the truth.
Few gave City a chance after the first leg, in which Real created a number of opportunities, finished goalless. After all, Manuel Pellegrini's side have hardly impressed in the Premier League this season, sitting fourth in the table and yet to ensure its place in next year's competition.
Defeated 4-2 at Southampton on Sunday, it at least defended better on this occasion, though it was indebted to Joe Hart, the goalkeeper, who was one of the few players to have emerged from this tie with his reputation enhanced.
Real, which took the lead in the 20th minute when Bale's effort was deflected into his own net by Fernando, could and should have won by a far greater margin. Both Ronaldo and Luka Modric were denied by the impressive Hart, while Bale also hit the post with a fine header.
City, which rarely threatened, came close to a dramatic late equalizer when Sergio Aguero, who had been anonymous for much of the contest, curled a sumptuous effort only inches over the crossbar.
As City's players slumped to the floor, Real's began to celebrate in the knowledge it will contest its second Champions League final in three years.
"It will be tough, in a final you never know what's going to happen, it is 50-50," Ronaldo told BT Sport.
"We are going to play against Atletico Madrid and I am happy because it will be special in the Champions League final."
Who will win the Champions League? Have your say on our Facebook page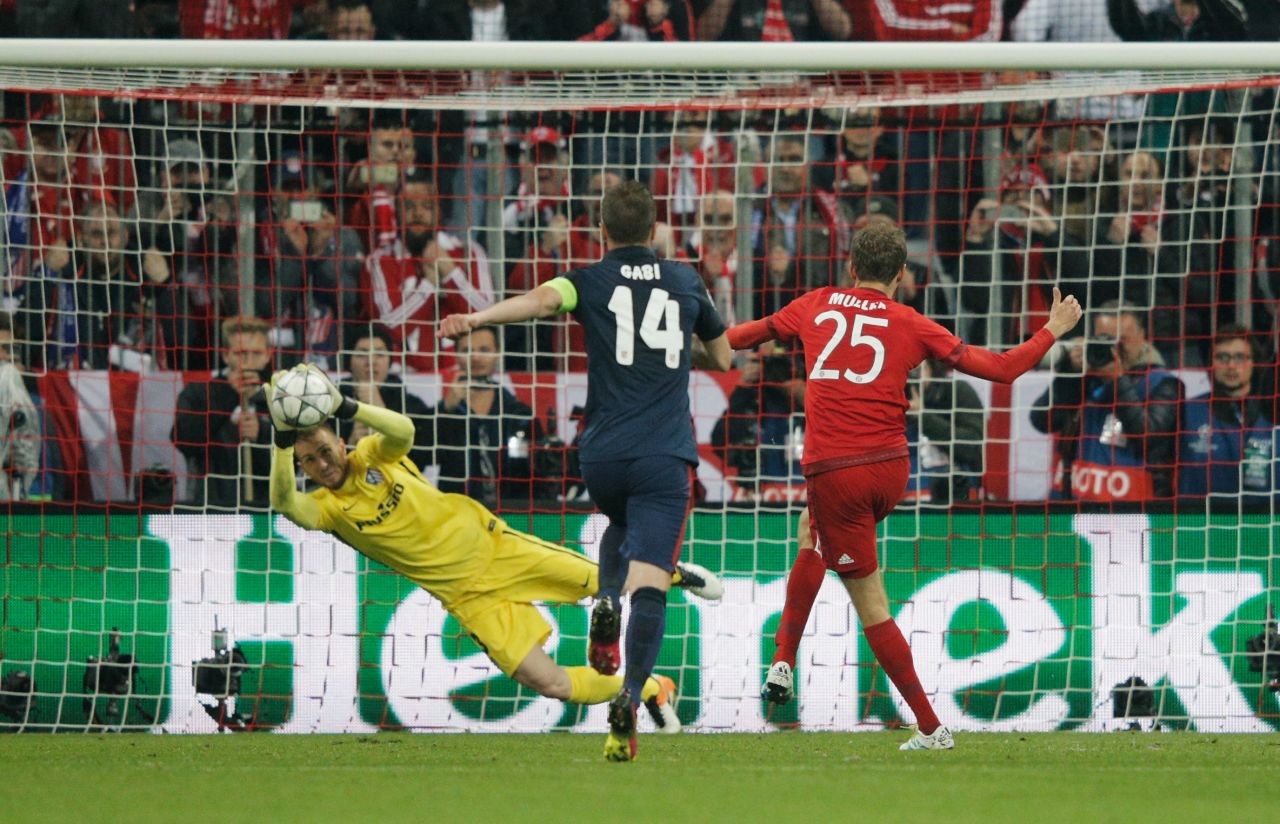 Bayern Munich dumped out of Champions League by Atletico Madrid