Story highlights
Two Australians, including 47-year-old paralympian Liesl Tesch, robbed at gunpoint in Rio de Janeiro
Australian Olympic Committee calls on Brazil to mobilize security forces immediately to protect athletes
Australian Olympic authorities say they want greater security for athletes in Rio immediately, after a gold-medal winning paralympian was mugged in the city at gunpoint.
Six-time Australian Paralympics athlete 47-year-old Liesl Tesch had her bike stolen at a bus stop near her hotel on Sunday morning by two men, who threatened her and sailing team member Sarah Ross with a pistol.
In a statement Tuesday, Australian Olympic team Chef de Mission Kitty Chiller said the mugging was a "major concern" and called for extra police and security for athletes.
"The Paralympic sailors were confronted by the men in broad daylight, it was 7.30 in the morning, and right near their accommodation. There were people around but no-one came to their assistance," she said.
Questions have previously been raised over whether Brazil is ready to host the Olympic Games in August, as violence, governmental chaos and the worries about the Zika virus continue to plague the event.
A 100,000 member security force is due to start work by the opening ceremony on August 5, but Chiller said she had written to the Rio organizers asking for them to be mobilized sooner.
"This is not an isolated incident, athletes have been mugged while training and competing in Rio test events and we want our athletes protected," Chiller said.
Also on Sunday morning, 20 masked gunmen raided Rio de Janeiro's Souza Aguiar hospital attempting to free an alleged drug kingpin. In the shootout, one person was killed and two others injured.
It is one of five designated hospitals which will treat tourists during the summer Olympics.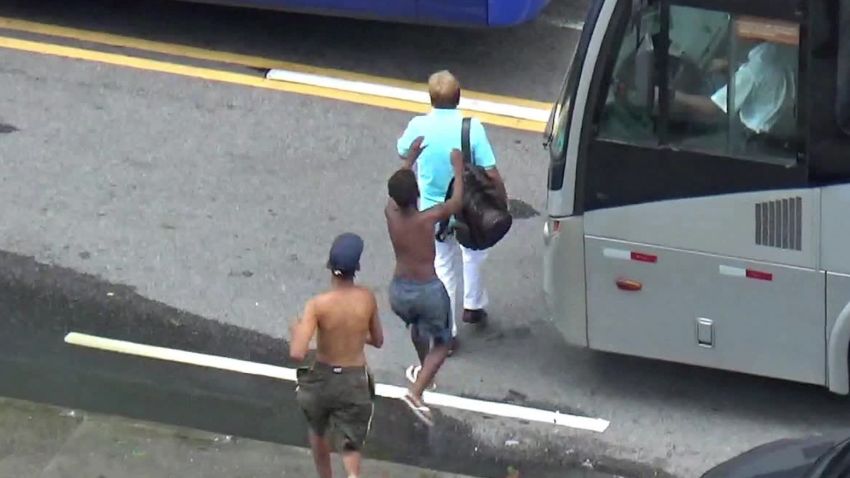 Cellphone thefts in Rio: Pickpockets eye Olympics
Athlete 'shaken' by robbery
The Australian Paralympic Committee released a statement on Monday which said both women were unharmed but shaken after the robbery, which they had reported to the police.
Speaking to Australia's Nine Network, Tesch described how she was pushed to the ground by the gunmen who then rode off on her bike.
"The guy in front of me, I think he said 'diner.' I speak sort of Spanish, so I pulled up my shirt and showed him I had no money. Then he said something else, I don't know what, and he lifted the gun up towards me," she said.
Tesch, who became an incomplete paraplegic at the age of 19 after a mountain bike accident, won a gold medal in Mixed Two Person Sailing at the 2012 London Paralympic Games.
She also won two silver medals and a bronze medal in wheelchair basketball at the Sydney, Athens and Beijing Games.
The Committee's Chef de Mission Kate McLoughlin said in a statement the Australian Federal Police had advised their athletes to exercise a high degree of caution while traveling in Rio.
"That advice is particularly important before the Paralympic Games period," she said. "We know there will be a hugely elevated level of security in place during the Paralympic Games but, for athletes and teams traveling there before the Games, there is a heightened need to be security conscious."