Story highlights
Officials say hoax 911 calls and word of mouth likely led to panic
Port Authority police evacuated Terminal 8 to be cautious
Police have given the all-clear at John F. Kennedy International Airport after reports of shots fired Sunday night inside Terminal 8, a New York law enforcement official told CNN.
Two people reported hearing what they thought were shots fired, law enforcement sources said. Police went floor to floor to clear the airport and ensure there was nothing to be found, a source said. Surveillance video from inside the terminal did not show any shooting.
Police from the Port Authority of New York and New Jersey evacuated the terminal to be cautious, spokesman Joe Pentangelo said. There were no injuries or arrests.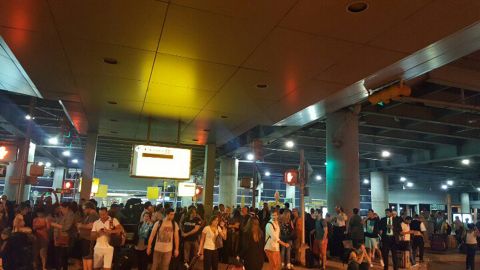 Video and photos from the scene showed hundreds of stranded passengers waiting outside the terminal.
Wenjay Sung, 37, a traveler from Arcadia, California, said he came out of a bathroom around 9:30 p.m. ET Sunday and started following a stream of people walking in one direction. An airport worker started yelling at the crowd to keep moving, Sung said.
Sung did not see any law enforcement officers until "baggage claim and then I saw some more going up an escalator with very big guns." The quick police response was reassuring, he said.
Though most people were nervous and some panicked, the scene turned into a "social atmosphere and everyone talked to everyone about the situation which made it a lot easier," he said.
Sung said he walked away from the airport around 11 p.m.
"The highway is right next to Terminal 8 and I just followed a bunch of people," Sung said. "There were cabs picking people (up) right off the highway and Uber drivers (were) everywhere."
Hundreds of bags and suitcases were left behind as passengers ran out of the airport. Law enforcement officials said it's possible that hoax 911 calls and word of mouth led to the panic. Officials are working to figure out exactly what happened, a law enforcement official said.
In addition to the Port Authority police, the New York Police Department had its Hercules Strike teams, Critical Response Command, Strategic Response Group, Emergency Service Unit and patrol cops on the scene, according to New York law enforcement officials.
CNN's Pilar Melendez reported from New York, and CNN's Emily Smith wrote and reported from Atlanta. CNN's Evan Perez, Donie O'Sullivan, Shimon Prokupecz and Aaron Cooper contributed to this report.