Editor's Note: Are you in Italy? Are you affected by the earthquake? If it's safe for you to do so, WhatsApp us on +44 7435 939 154 to share your photos, experiences and video. Please tag #CNNiReport in your message.
Story highlights
NEW: A state of emergency was declared for affected areas
Strong aftershock hits Amatrice
Rescue workers are racing to find survivors amid the rubble
A girl who endured nearly 17 hours in the rubble after this week's earthquake has undergone surgery and is doing well, Italian national news agency ANSA said late Thursday.
After mostly pulling bodies from the rubble, rescue crews in Pescara del Tronto were overjoyed Wednesday evening to hear what sounded like the cries of a survivor.
"Quiet! Quiet," they said, getting closer to the source of the sound.
The scene was captured on video by CNN affiliate Sky TG24.
A firefighter clawed at the debris, trying to get to her. "Come on. … Come on. Slowly, slowly. Mind her head," they said to one another as onlookers applauded in support.
Suddenly there was a foot, a leg, and then the other leg.
The girl, later identified as 8-year-old Giorgia, was finally pulled out with great care to a rousing cheer. The body of her sister, 10, was next to her, ANSA said.
Surveying Italy's earthquake damage
Rescuers are desperate to find anyone who might miraculously have survived this week's quake that killed at least 250 people and injured more than 360 others in central Italy.
The Italian Council of Ministers approved a state of emergency for the regions affected by the earthquake Thursday, allocating 50 million euros of emergency funding.
A 4.1 magnitude aftershock on Thursday shook aid workers as they sorted through debris in the afternoon sun in the town of Amatrice, one of many tremors to have followed Wednesday morning's 6.2-magnitude quake that reduced villages to rubble.
A CNN crew in Amatrice was filming in front of a house when the structure partially collapsed, and others around it were completely flattened.
"People were just running onto the roads away from buildings in a panic. We saw our cameras shaking, and journalists here too were panicking," said CNN producer Margot Haddad.
It was more bad news for rescuers, who have been desperately combing through mountains of rubble for a second day. Wednesday's quake blocked off narrow streets in ancient towns, making the rescue operation extremely difficult.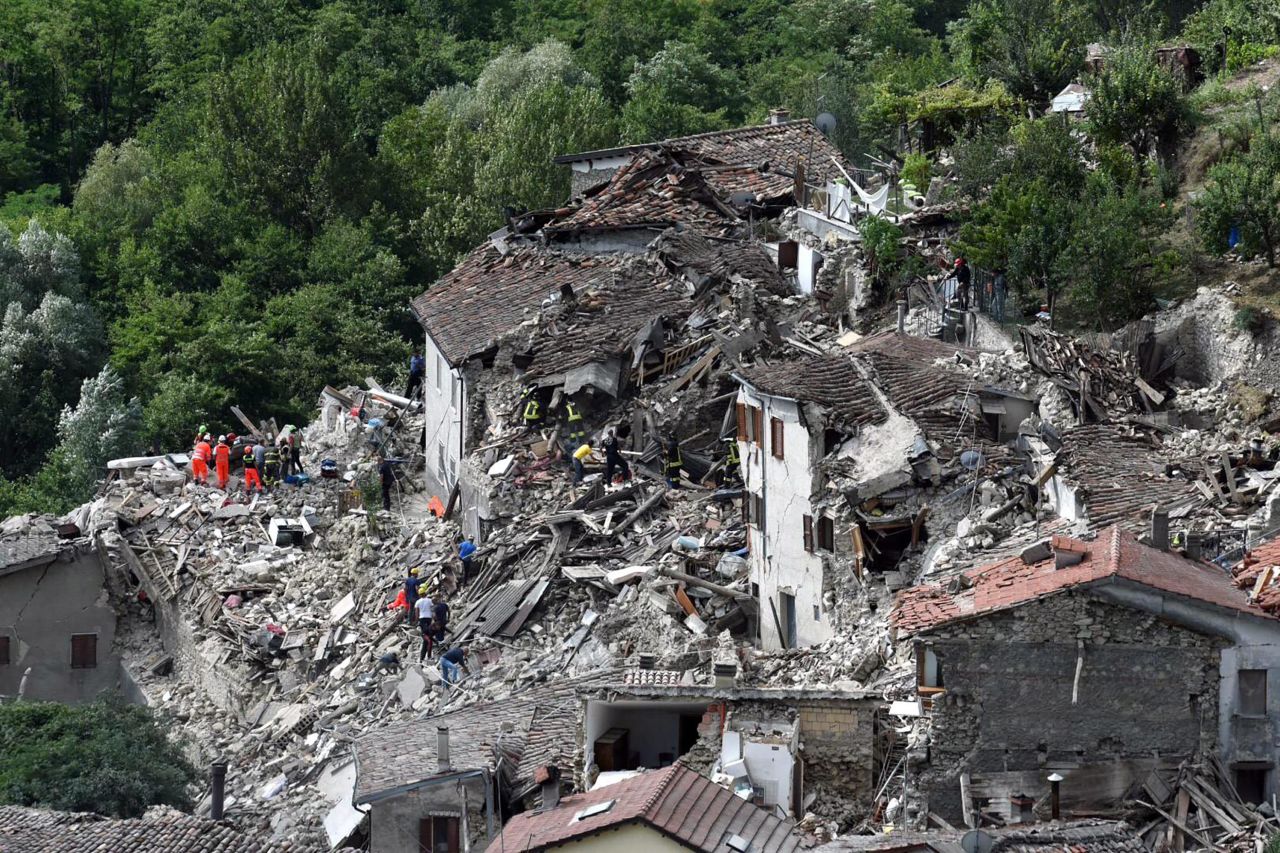 Earthquake strikes central Italy
With heavy lifting equipment just starting to reach isolated villages and towns that were cut off by landslides and building debris, people used tractors, farm equipment and simple hand tools to break through what was left of old stone villas.
Fast facts: All about earthquakes
"Many cases have shown in the past that even after two days, people can be rescued alive," said Luigi D'Angelo from Italy's Civil Protection agency. "So we want to continue."
CNN correspondent Frederik Pleitgen saw machinery moving in through the narrow lanes in Amatrice and rescuers using sniffer dogs to help find more bodies.
But rescuers, including foreign search crews, were also using sound detectors, hoping to find more survivors.
"They know right now it's a race against time. They believe it's about 72 hours those people would be able to survive," Pleitgen said.
"In most cases, unfortunately, the only thing they're able to retrieve is their bodies and that's one of the reasons why we've seen the death toll rise so much overnight."
No happy stories here
Giorgia's survival is sadly an anomaly so far in the massive rescue operation, which involves more than 5,400 rescuers from Italy's Civil Protection agency, and many more from outside groups.
In Saletta, a town of just 20 homes less than a mile from the quake's epicenter, an eerie quiet has taken over.
"We saw unfortunately only bodies pulled out," CNN contributor Barbie Nadeau said from the village, where 22 people were killed.
"We didn't see any happy stories here," she added.
More: Chefs rally to help Italy earthquake victims
Nadeau and her crew narrowly escaped injury when a home collapsed behind her in Saletta as she did a Facebook Live session Wednesday.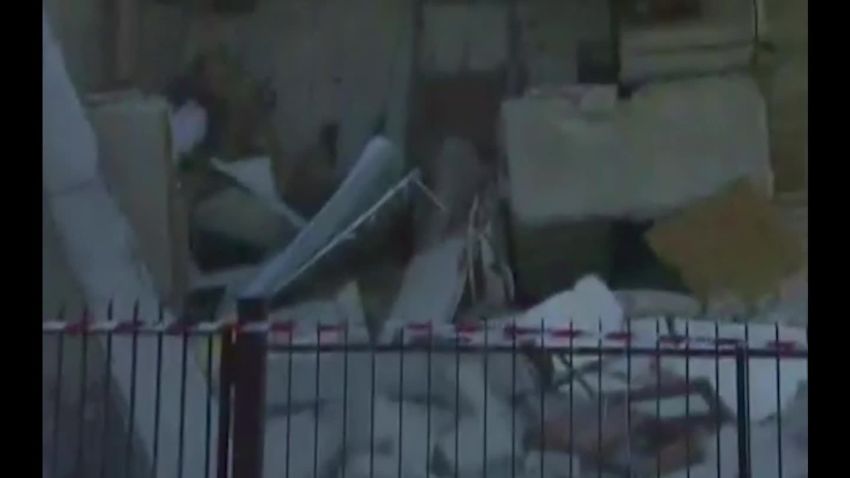 Building collapses live in Italy
More than 1,200 people have been displaced by the quake, and Italy's Civil Protection agency said no residents were allowed to sleep in the devastated town of Amatrice on Wednesday night.
'We lost everything'
One of Thursday's aftershocks was another blow for Davide D'Angelo, a 78-year-old retired railroad worker who survived Wednesday's quake with his wife and two visiting adult daughters.
The aftershock knocked over what was left of his Amatrice-area home. D'Angelo and his family had escaped the house a day earlier, having been jolted awake by the main quake.
Before Thursday's collapse, a fireman had entered the damaged home to collect clothes, documents and the family's cat.
"I spent the best years of my life in these mountains," he said Thursday at a camp for displaced residents in Amatrice, holding back tears. "We lost everything."
He and his wife are not planning to rebuild. They intend to move to Aprilia, south of Rome, where his wife has property.
"There is nothing left here," he said. "There is no reason to stay."
Banding together
Home rental website AirBnB has offered a free service for those affected, displaying two options: "I need a place to stay" or "I can offer my place for free."
Some people on Facebook were independently offering up their homes for free, while an Italian report said that 75 refugees living in Calabria had made a donation to the relief effort.
Most survived the quake in the village of Sant'Angelo, which is home to just 300 people in the summer and fewer than 100 in the winter. But one mother and her child didn't make it, killed when the tremor hit as they slept.
On the balconies, bedsheets tied together in thick knots hang down – they were used as escape routes after homes partly crumbled.
A group of teenagers here were listening to music in a field when the ground beneath them began to shake early Wednesday. Among them was Matteo Spuri, 19, who normally lives in Rome but was visiting with friends for a summer holiday.
"We looked back at the village and saw a cloud of dust, and we realized the village was destroyed," Spuri said.
The group set up a first-aid area in the field, and gave blankets to the elderly.
Valentina Gianni, a 16-year-old among them, said the teenagers had worked all through the night.
"We didn't know how long it was until … we suddenly realized it was 7 a.m. We have been out helping people throughout the night and we're so tired," she said.
"What would really help is if all the damages here were recognized [by insurance companies]. To have [it] recognized 100% so that people can begin to rebuild."
Amatrice 'is no more,' says mayor
Italy is no stranger to deadly quakes.
In May 2012, a pair of earthquakes killed dozens of people in northern Italy, while in April 2009, a magnitude-6.3 earthquake hit the Aquila region of central Italy, killing 295. The earthquake Wednesday struck an area close to the 2009 disaster.
The towns at the epicenter of the quake – Amatrice, Accumoli and Arquata del Tronto – are scenes of devastation, with what were once charming three-story buildings pancaked by the disaster.
The Civil Protection agency said of the people killed, 193 were in the village of Amatrice and 11 in the nearby village of Accumoli. In Arquata del Tronto, which includes Pescara del Tronto, at least 46 were killed.
"The town is no more," Amatrice Mayor Sergio Pirozzi told Rai.
Amatrice: The town at the quake's epicenter
The towns, situated amid remote, mountainous terrain, are particularly popular in the summer with tourists seeking a scenic getaway from the heat of the city.
Amatrice, known for its traditional all'amatriciana pasta sauce, had been gearing up to hold a festival celebrating the pork jowl, chili and pecorino recipe this weekend, with many visitors expected.
CNN's Ray Sanchez, Vasco Cotovio, Tim Hume, Joshua Berlinger, Atika Shubert, Frederik Pleitgen, Madison Park, Bianca Britton, Alla Eshchenko, Faith Karimi, Steve Almasy, Yazhou Sun, Begona Blanco Munoz, Livia Borghese and Carol Jordan contributed to this report. Journalist Angela Dewan wrote from London.