Editor's Note: Are you in Italy? Are you affected by the earthquake? If it's safe for you to do so, WhatsApp us on +44 7435 939 154 to share your photos, experiences and video. Please tag #CNNiReport in your message.
Story highlights
Officials hope to relocate people as weather cools in mountain area
Death toll climbs to 281 as aftershocks continue
Desperately needing food and shelter, more than 2,000 Italians are taking refuge in makeshift camps after this week's powerful earthquake killed at least 281 people and flattened entire villages.
Camps have been set up in several affected areas, including Amatrice, the hardest-hit town, where hundreds of people were killed and buildings – many from the 14th century – crumbled in the aftershocks.
Italy's civil protection agency told CNN that 2,100 people were living in the camps and said that more would be built to accommodate those in need.
Images from an Amatrice camp showed displaced people lining up for pasta and an elderly couple sitting on the edge of mattresses on a gym floor, having a meal as those around them hug and console one another.
Fast facts: All about earthquakes
'So many dead, so many children'
At a camp in Sant'Angelo, northeast of Amatrice, people gathered and shared their stories of loss.
One woman, Angelina Leone, could not hide her devastation.
"There is no hope, too many people dead. And Amatrice doesn't exist anymore. Amatrice has disappeared, and there are so many dead, so many children," she said, holding back tears.
At yet another camp, in Accumoli, Anna Maria Volpetti, 52, told CNN she had been visiting her hometown with her family when the quake hit.
"We are lucky," she said. "The earthquake was brutal. It came in waves."
Giampiero Antonetti of the civil protection agency in the Abruzzo region said that teams were trying to relocate people out of the camps as the weather in the mountainous area cools.
"We will look for places for them to stay – hotels, with relatives. Yesterday during the night it almost reached freezing, so people cannot be here for a long time."
72-hour window
The death toll is steadily creeping up. It is unclear how many people remain trapped under the mounds of concrete, brick and stone. The rescue mission entered its third day Friday – still within the crucial 72-hour window, after which the likelihood of survival drops.
"Rescuers are very much aware they're in a race against time," said CNN correspondent Frederik Pleitgen, describing the disaster response as swift and well-organized.
But officials' hopes of finding more survivors were fading, he said.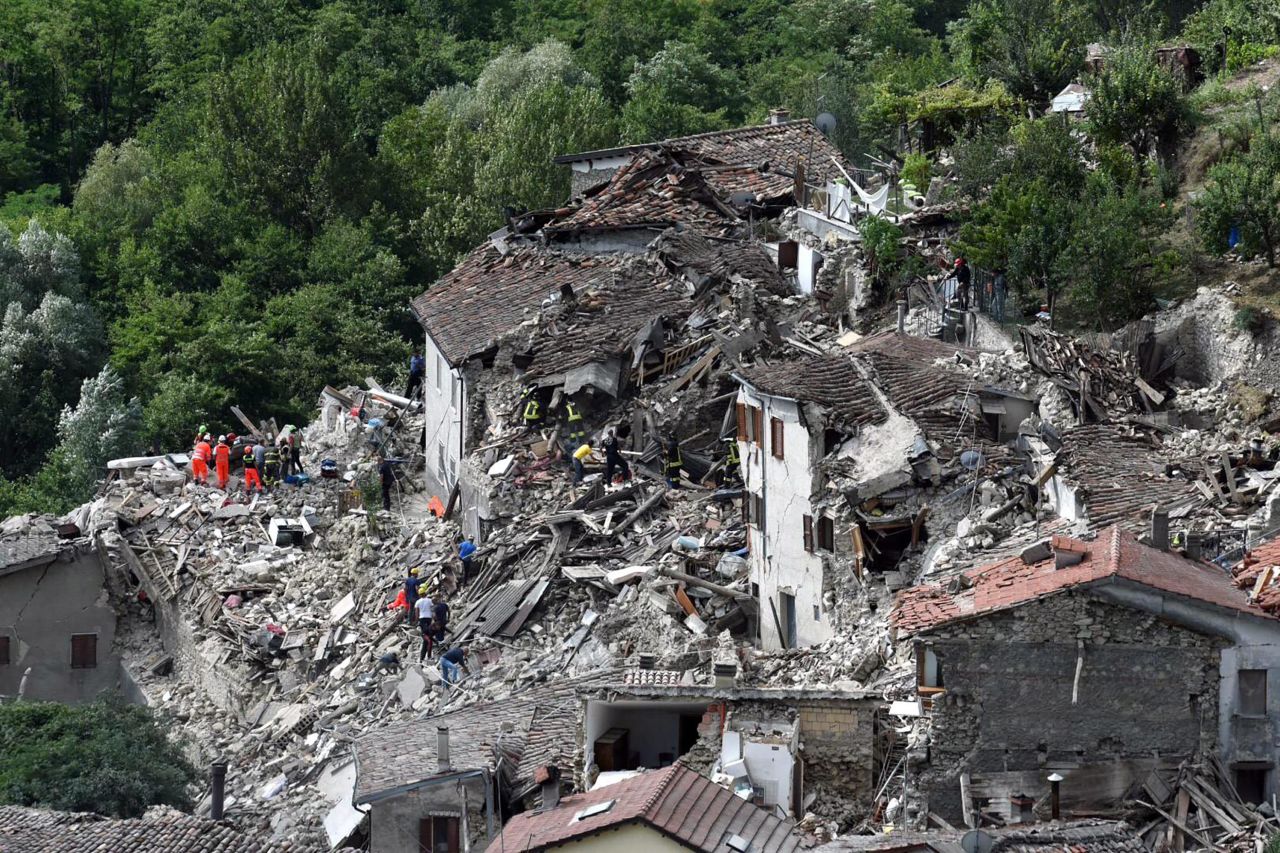 Earthquake strikes central Italy
Aftershocks continue to rattle the region, making the tough rescue mission even more trying.
Italian police on Twitter said the first funeral had held for a man named Marco Santarelli, the son of a police official. Other victims will be buried in a state funeral Saturday, with Prime Minister Matteo Renzi attending, the Italian government said.
Among the dead were three British nationals.
Britain's Foreign Office said in a statement: "We are providing support to the families of Marcos Burnett and Will and Maria Henniker-Gotley following their tragic deaths in the earthquake in Italy. Our thoughts are with them at this incredibly difficult time.
"British Embassy staff will continue working with local authorities regarding any further British nationals that may require our assistance."
A reason for hope
A firefighter who said he pulled a young girl from the rubble said rescuers "exploded with joy" after finding her alive.
Angelo Moroni described to Italian ANSA news agency the moment he and other firefighters rescued a girl that he said was named Giorgia after digging through mountains of debris with their bare hands for hours.
"At times like that you don't think, you go on for hours without feeling thirst or tiredness. We were sure she was safe only when we put her on a stretcher and doctors carried her away. Then we exploded with joy for this great result," he said.
"The joy was huge."
The ANSA report said the girl's her older sister, who was next to her, was killed but that the girls' parents were pulled out alive.
"I hope Giorgia remembers little of this place, rather I hope she forgets everything," Moroni told ANSA.
National police confirmed Friday that Giorgia was not the girl in a widely shared video also being pulled from rubble Wednesday in Amatrice.
That girl's name was Giulia, 10, police said, without giving the last names of either girl.
Girl pulled from earthquake rubble
01:17
- Source: SKY TG24 Italia
The rescues are among the few stories of hope since the 6.2-magnitude quake struck Wednesday.
'The earthquake was brutal'
The Italian Council of Ministers approved a state of emergency Thursday for the regions affected by the earthquake, allocating 50 million euros (about $56.5 million) in funding, while the displaced took refuge in the camps.
Residents gathered at a square in Amatrice, some of the women crying and hugging to console each other, with dust still lingering in the air. Men stood in silence, too upset to speak to reporters.
One man from Rome, who traveled to Amatrice to check on relatives after the quake, gave a harrowing account of how he and his aunt saw two hands sticking out of the rubble.
"This is something I will remember forever," Francesco Miglio said, adding that his aunt identified the woman as her neighbor.
"And the thing that I will remember for the rest of my life was she had nice hands. I didn't know the lady, but she had nice hands with nail polish on," he said.
He and his aunt called out to the woman to move a finger if she could hear them.
"She was gone," he said.
Destruction of heritage
Central Italy is home to many historic buildings, which are the backbone of the region's tourism industry.
Earthquakes here not only bring a tragic loss of life but also leave cultural structures damaged or completely destroyed.
CNN affiliate RAI reported damage to 293 pieces of cultural heritage, including 50 that were destroyed.
A Roman Catholic cathedral in Urbino sustained small cracks in its internal structure.
The Monastery of St. Chiara in Camerino, the Basilica of St. Francesco and the church of Sant'Agostino in Amatrice have partially collapsed.
Historic buildings and city walls in Nursia and a cathedral in San Giuliano also were damaged.
Italy is no stranger to deadly quakes.
In May 2012, a pair of temblors killed dozens of people in northern Italy, while in April 2009, a magnitude-6.3 earthquake hit in the central L'Aquila region, leaving more than 300 people dead. Wednesday's quake struck an area close to the scene of the 2009 disaster.
CNN's Livia Borghese and Lauren Said-Moorhouse reported from Amatrice, while journalist Angela Dewan wrote from London. CNN's Atika Shubert, Faith Karimi, Elaine Ly, Laura Perez-Matestro and Mahatir Pasha contributed to this report.