Story highlights
Mayor: Police are searching for suspects; the motive is unknown
Authorities are investigating whether a suspicious device found nearby is connected
An explosion in the heart of New York's Chelsea neighborhood sent dozens to the hospital Saturday night. Shortly after the blast, investigators found a suspicious device a few blocks away, placing much of the city on edge.
Authorities know the bombing was intentional, violent and criminal, New York Mayor Bill de Blasio said.
But what we don't know about the explosion, the mayor said, is just as important.
Here's the latest, based on details authorities have revealed so far.
What happened in Chelsea?
Video shows explosion outside fitness center
What we know: Around 8:30 p.m. Saturday night, an explosion occurred at 23rd Street and 6th Avenue on Manhattan's west side. A law enforcement source, speaking with CNN on the condition of anonymity, said the blast came from an explosive device planted near a dumpster. Shortly afterward, another suspicious device was found four blocks away on West 27th street: a pressure cooker with dark-colored wiring, according to law enforcement officials.
Surveillance footage of the explosion, including video from cameras at Orangetheory Fitness in Chelsea, captured bystanders running through the streets, ducking from debris as windows shattered all around.
What we don't know: Why did the bomb go off in that location? Where did the explosive come from? And who was behind the blast?
How many people were hurt?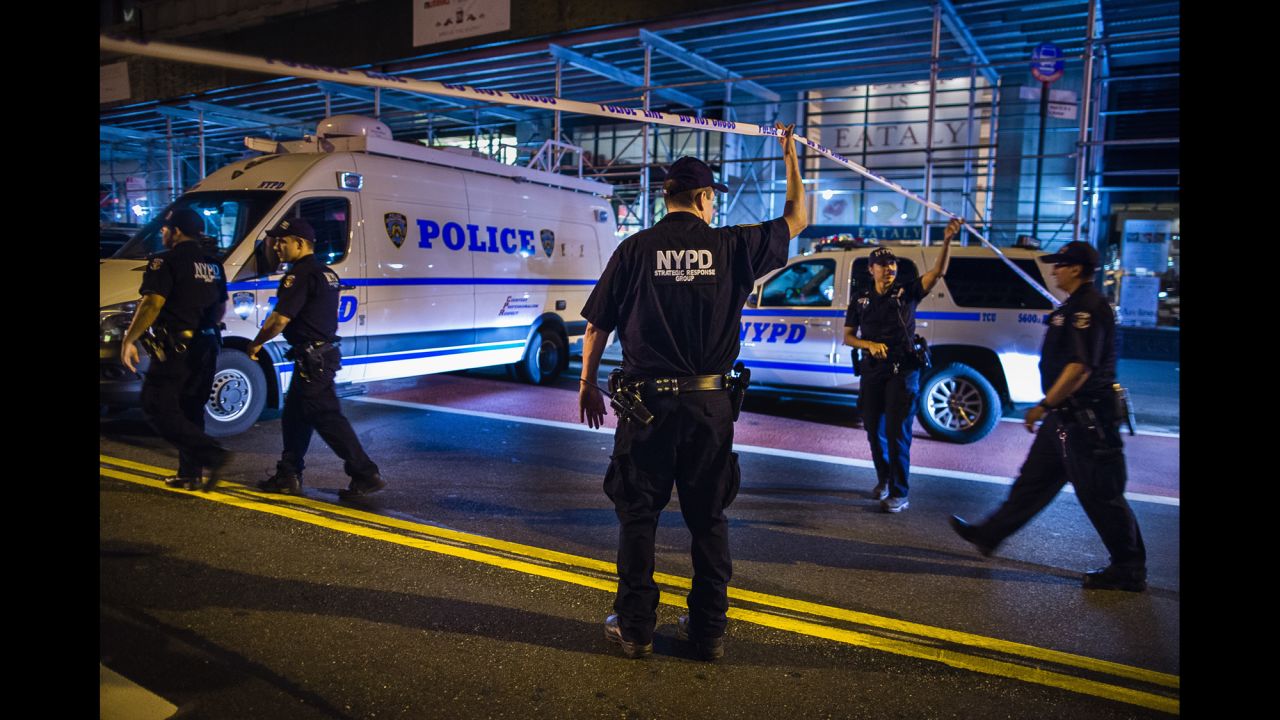 Explosion in Manhattan
What we know: There were 29 victims injured in the explosion. Of those, 26 people were taken to a hospital. Armed guards stopped incoming vehicles to the hospital, including ambulances, to make sure none posed a threat to the medical facility.
By Sunday morning, all 26 patients had been released from hospitals.
What we don't know: Some of the victims closest to the explosion were at a loss for how the blast occurred. This was the case for David Martinez, one of the 29 injured, who said he was "traumatized" after seeing his life flash before his eyes.
"I blacked out, and the next thing you know I'm in an ambulance," he said.
What's the latest on the investigation?
What we know: Surveillance videos show the same man in both locations under investigation.
The man is seen dragging what appears to be a duffel bag with wheels near the site of the West 23rd street explosion about 40 minutes before the blast, according to multiple local and federal law enforcement sources. About 10 minutes later, surveillance video shows the same man with what appears to be the same duffel bag on West 27th street, multiple law enforcement sources said.
In the video, the man leaves the duffel bag where police later found the unexploded pressure cooker. After he leaves, the video shows two men removing a white garbage bag believed to contain the pressure cooker from the duffel bag and leave it on the sidewalk, according to a senior law enforcement official and another source familiar with the video.
Otherwise, officials are working to determine if there's any connection between the New York bombing and an explosion that occurred in a trash can near a Marine Corps charity race route in New Jersey earlier Saturday. Officials told CNN explosives in both incidents apparently used cell phones as timers.
What we don't know: Investigators have not determined if the two men who picked up the duffel bag are connected to the man initially seen on both streets, the sources said.
As for the pressure cooker, the NYPD and FBI Bomb technicians rendered the device safe. A forensic examination of the device and its components will be conducted at the FBI Laboratory at Quantico, Virginia.
Despite some similarities between the explosions in New York and New Jersey, authorities haven't concluded if they're connected.
"Think of a jigsaw puzzle out in the street right now," NYPD Chief of Detectives Robert Boyce said Sunday afternoon. "Do we think they're related? Yes, we have to move in that direction, but right now we're not ready to make those calls yet."
So, what actually caused the explosion?
What we know: Investigators found "some components indicative of an IED" at the explosion site, New York Police Commissioner James O'Neill said.
The explosion was so loud that it reverberated across the Hudson River all the way to Hoboken, New Jersey, according to social media users.
"We smelled something, like an intense sulfur smell, and saw smoke coming out of this building," said Chelsea resident Danilo Gabrielli. "I saw pieces of metal – not large, but not small either. A few friends of mine saw glass there."
What we don't know: At the moment, NYPD has not provided many details about the device responsible for the first explosion.
Who's responsible?
What we know: No one has claimed responsibility for the blast.
What we don't know: Officials say they haven't discovered any connection between the bombing and international terror groups, but they've offered different assessments about whether the explosion should be described as terrorism.
"A bomb going off is generically a terrorist activity. That's how we'll consider it. And that's how we will prosecute it," New York Gov. Andrew Cuomo said.
De Blasio and city law enforcement leaders said more needs to be known about the motive behind the blast before calling it a terror attack.
"We have a lot more work to do to be able to say what kind of motivation was behind this," de Blasio told reporters Sunday. "Was it a political motivation? Was it a personal motivation? We do not know that yet."
CNN's Evan Perez and Shimon Prokupecz contributed to this report.