Story highlights
The King's body arrives at the Grand Palace
Mourners line the route of the procession
King Bhumibol Adulyadej ascended the throne 70 years ago
Thais were bidding a final farewell to their revered King Bhumibol Adulyadej as his funeral procession made its way through Bangkok on Friday.
His body was transported from Bangkok's Siriraj Hospital to the Grand Palace, where his funeral rites will be carried out.
Here's the latest:
• The King's body and his family traveled by motorcade to the Grand Palace, where mourners had claimed spaces to watch the historic event. Many had been camped out since midnight.
• Grieving Thais and Thai military personnel put their hands together in a sign of respect as the vehicle carrying the procession passed them.
• Media broadcasts ceased while the King's body underwent a bathing ceremony.
• 100 monks are due to chant special prayers during a religious ceremony, taking place at Dusit Maha Prasat Throne Hall inside the Grand Palace.
Thais line route for procession
Thailand begins year of mourning for late king
The procession left the hospital at 5:34 p.m local time with Somdej Phrawannarat, a much-revered monk, in the first vehicle. Phrawannarat is a leader at a Buddhist temple that is important to the King's Chakri Dynasty. A line of nurses pressed their hands together and bid the King a final farewell as his body was transported to the Grand Palace.
Thousands of Thais dressed in black thronged the streets as the funeral procession – consisting of several vehicles flanked by security personnel – made its way to the Grand Palace. A police spokesman told CNN that he estimated over a hundred thousand people had showed up at the Grand Palace to witness the King's funeral ceremony. The vehicle transporting the King arrived at the Grand Palace at 5:59 p.m local time.
At the palace, the King's body was due to undergo a funeral bathing ceremony – a traditional rite in Buddhist culture – attended only by members of the Thai royal family.
Earlier in the day, Thais had also lined up for the opportunity to pour water on a portrait of the King inside the palace grounds – a way for the masses to simulate the symbolic royal bathing of the King's body.
"This is an important moment in my country's history," said 36-year-old Anon Pairot, who was one of those that attended the public gathering.
"I wanted to be a part of it and join other Thais as we mourn our King."
Others had camped out even earlier to witness the historic procession.
"I couldn't sleep and I didn't want to sit around at home, I had to do something as I was feeling so sad," says Patarapong Chankaw, 28, who had been at the Grand Palace since 5 a.m local time. "So I came to the grand palace to be with other mourners."
Sun rises without a King
As dawn broke Friday, the streets were awash with grief as the reality of the Thursday evening passing of the King began to set in.
The tide of pink and yellow of the past few days, worn as a show of support for his majesty, has now made way for a sea of black.
Friday has been declared a public holiday for government offices by the Thai cabinet, according to an announcement on state television.
Some of the normally bustling streets of Bangkok were quiet as somber Thais set out on their morning commutes.
Hundreds of people had for days gathered at Bangkok's Siriraj Hospital where the king was being treated, and as the sun began to set, the crowd swelled into the thousands.
READ MORE: Tributes pour in for Thai King
Nearby Charoen Krung Road, one of the city's oldest thoroughfares, was packed with mourners.
Janet Osbourne, who was visiting Bangkok from the UK, told CNN she thought the scene was "remarkable to witness."
"It's quite sad to see, clearly the people of Thailand had so much respect for their king," she said. "As as tourist, I think it's important to respect the nation as it grieves."
On Bangkok's Skytrains, digital screens which normally show loud advertisements were turned off.
But Bangkok is carrying on with its regular routines as much as possible.
READ MORE: King was peacemaker at times of crisis in Thailand
Many businesses are operating as normal – the public holiday is discretionary for private companies. Open restaurants have their televisions tuned to royal documentaries, which are airing on all channels.
What comes next
Crown Prince Maha Vajiralongkorn was appointed the King's successor in 1972, but exactly when the Crown Prince will ascend to the throne is yet to be announced.
Thai Prime Minister Prayut Chan-o-cha said "he needs time to jointly mourn with Thai people."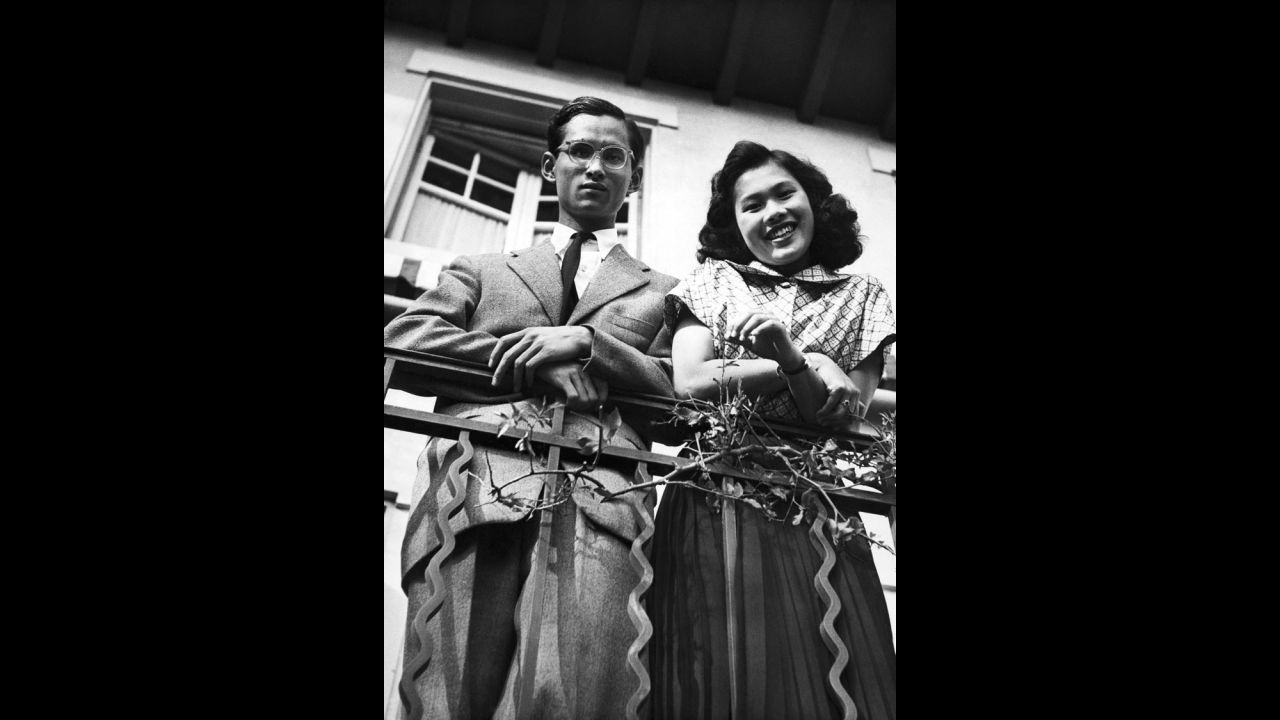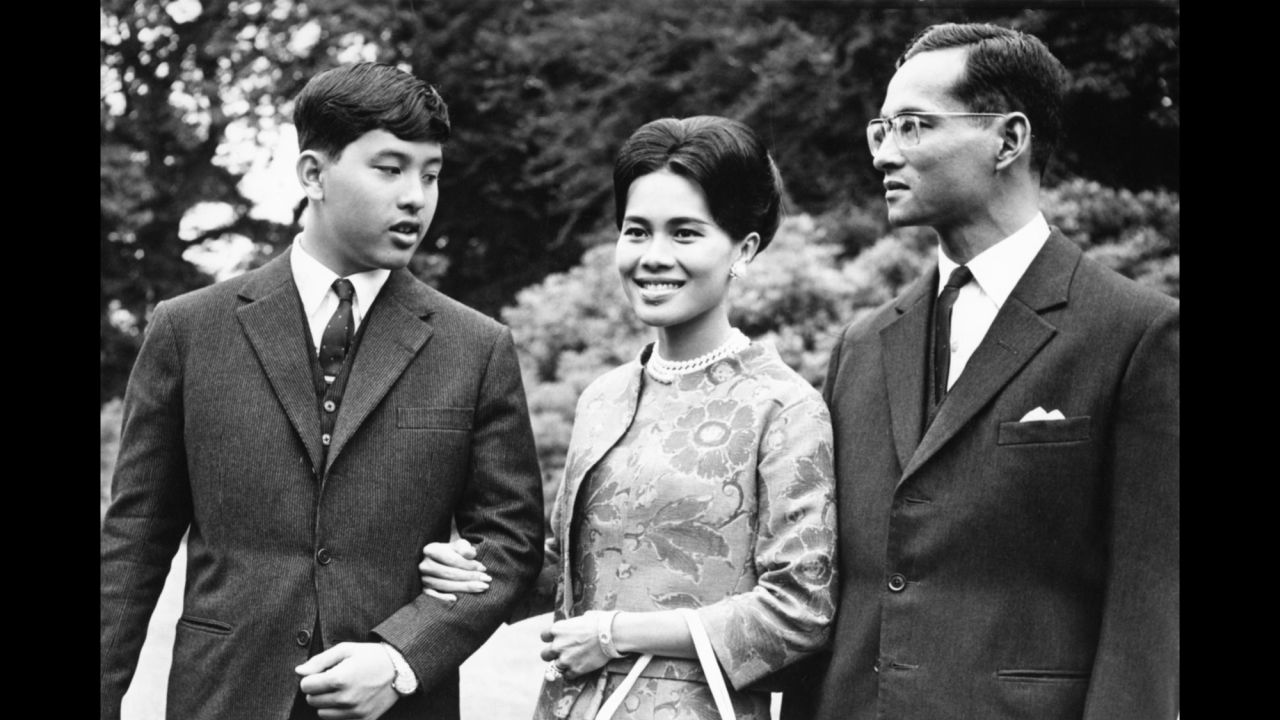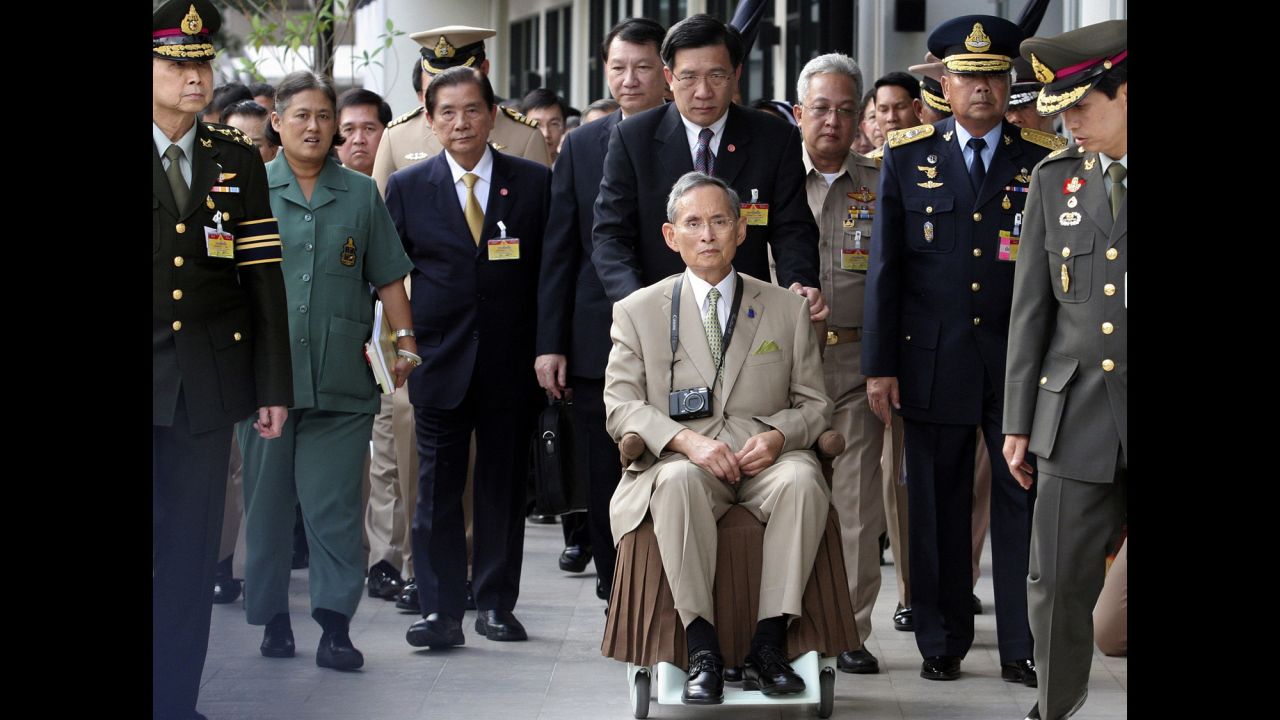 According to a palace statement, all government buildings will fly the Thai flag at half-staff for 30 days starting October 14, and all civil servants have been ordered to wear black clothing for a year as a sign of mourning.
READ MORE: Crown Prince says he 'needs time to mourn'
The Thai cabinet is also asking the public not to hold any "entertainment activities" for a month, according to an announcement on state TV.
The prime minister urged citizens to remain calm, for the sake of the country's stability, and said soldiers would be stationed in "every area throughout the kingdom" to boost security in preparation for the funeral.
CNN's Karla Cripps, Will Ripley and Kocha Olarn reported from Bangkok. Joshua Berlinger, Emiko Jozuka and Katie Hunt reported from Hong Kong, while Angela Dewan reported from London. Journalist Noppamat Sirilert in Bangkok contributed to this report.