Story highlights
Demonstrations lead to highway closure for a time
Protesters, law enforcement accuse each other of aggressive tactics
Activists and law enforcement clashed this weekend in North Dakota over construction of the Dakota Access Pipeline, leading to dozens of arrests and a temporary road closure as protesters set up camp near the pipeline's proposed path.
About 300 protesters trespassed Saturday on private property three miles west of State Highway 1806, along the pipeline right of way, the Morton County Sheriff's Department said. At least 127 were arrested on various charges, including reckless endangerment, criminal trespass, engaging in a riot, assault on a peace officer and resisting arrest.
The activists, who call themselves "water protectors," said they were staging a peaceful procession in honor of sacred sites already destroyed in construction. They accused law enforcement of spraying them with Mace and throwing people to the ground "without provocation" as they attempted to leave, according to a joint statement from three groups.
The demonstrations continued Sunday as activists set up road blocks on Highway 1806, leading to its closure for several hours. Organizers said they were taking back land based on treaty rights for a camp. The highway later reopened after protesters removed a blockade, officials said.
Amid the activity, law enforcement shot at a drone camera activists were using to document police encounters, the group said. Morton County Sheriff Kyle Kirchmeier confirmed the incident, saying the drone endangered a law enforcement helicopter flying over the area.
The tense encounters marked the latest chapter in the months-long standoff between opponents of the pipeline and law enforcement, with each side accusing the other of increasingly aggressive and unlawful tactics. About 20 protesters, including "Divergent" actress Shailene Woodley, were arrested October 10 in the same area
"I am taking this action to stop the Dakota Access Pipeline from plowing up sacred sites that are here, near the Missouri River," activist Michael Bowersox said in a statement. "I hope other people will step up to stop this pipeline from being built; we can't be dependent on fossil fuels if we expect the children seven generations from now to have a healthy earth, environment and clean water to drink."
What each side wants
The 1,172-mile pipeline would stretch from the oil-rich Bakken Formation – a vast underground deposit where Montana and North Dakota meet Canada – southeast into South Dakota, Iowa and Illinois.
Tribe fights construction of pipeline
After the pipeline is completed, it would shuttle 470,000 barrels of crude oil a day, according to the developer, Energy Access Partners. From Illinois, the oil could go to markets and refineries across the Midwest, East Coast and Gulf Coast.
Protesters say the pipeline will damage the environment and affect historically significant Native American tribal lands. The Standing Rock Sioux tribe, whose reservation in North Dakota is near the pipeline route, and other tribes oppose the project.
Demonstrations began to grow in size in late summer, becoming more consistent. The standoffs between law enforcement and demonstrators have led to allegations from both sides that the other is using increasingly aggressive tactics to make their point.
Pipeline project: What's at stake?
'This protest is not peaceful or lawful'
Saturday's arrests were the latest examples of an escalating pattern of abuse of power on the part of law enforcement, Standing Rock Chairman Paul Archambault said.
"The intimidation by militarized police in riot gear and unlawful arrests are an attack on the First Amendment rights of the protectors, and we again ask the Department of Justice to send observers to the area to ensure that constitutional rights are protected."
"Police are also routinely strip searching protesters, even when they have only been charged with a misdemeanor offense. Like days of old, this is a thinly veiled attempt to dehumanize and degrade Native people. Thousands of people have come to Standing Rock in prayerful protest of the pipeline and millions more support the Tribe in our efforts to protect our sacred places and water."
Sheriff Kyle Kirchmeier saw the arrests in another light. Some protesters used bicycle locks and makeshift handcuffs to attach themselves to construction equipment and vehicles, the department said. Some cut holes in doors and put their arms through them covered in concrete casts, fusing their arms to the door.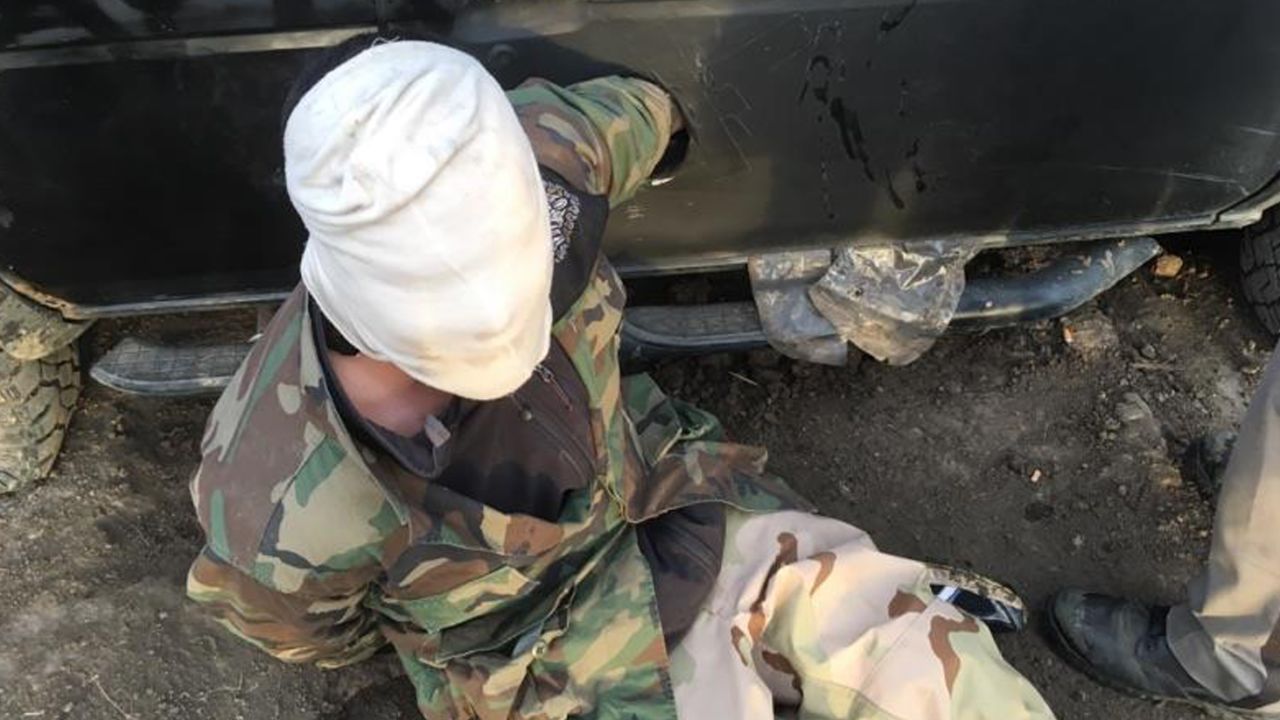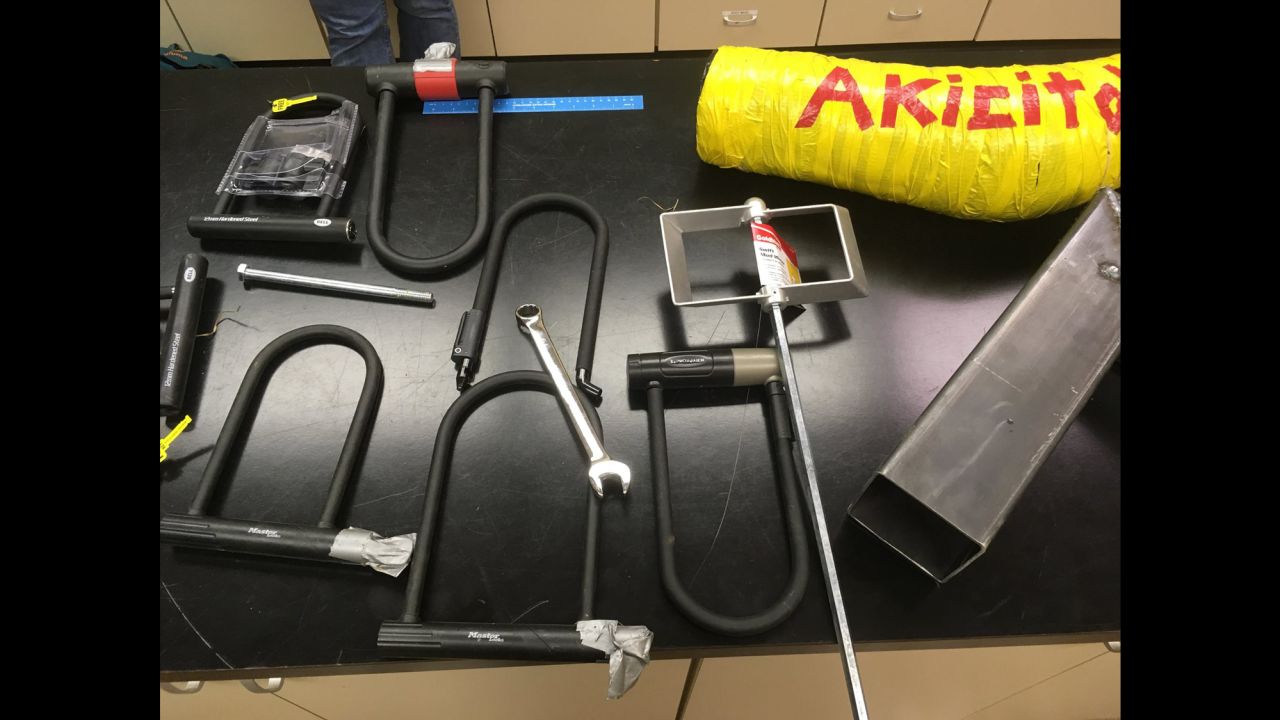 "Today's situation clearly illustrates what we have been saying for weeks: that this protest is not peaceful or lawful," he said. "This protest was intentionally coordinated and planned by agitators with the specific intent to engage in illegal activities."
Drones fly, highway closes
Activists awoke on Sunday with the goal of taking back "unceded territory" as sovereign land under the control of the Oceti Sakowin for a frontline camp.
The camp is located on the last three miles of the proposed pipeline route, before it connects with the drill pad that will take the pipeline beneath the Missouri River, the group said. It's across the road from where protesters said reps from the Dakota Access Pipeline Company attacked them with dogs in September. Hundreds of people flocked to the site east of Highway 1806 to set up structures and tipis on the property.
They said they set up two blockades on Highway 1806 and another on county road 134 to protect the camp from militarized law enforcement.
Sheriff's spokeswoman Donnell Preskey said protesters blocked traffic with vehicles, rocks and hay bales and other items. At least one person was arrested for trespassing as the situation escalated, Preskey said.
They removed the blockade once officials told them "the liability they would incur should an emergency take place within the camp," authorities said.
Meanwhile, law enforcement shot a drone camera after it flew at a law enforcement helicopter "in a threatening manner," Sheriff Kirchmeier said. The drone was flying directly above officers in violation of Federal Aviation Administration rules, he said.
The helicopter was assisting surveillance of protests near Highway 1806. A sheriff on board said "the drone came after us," making the pilot and passengers fear for their lives.
CNN's Tony Marco contributed to this report.