Story highlights
Russian Defense Ministry claims Syrian government now controls 93% of eastern Aleppo
Some civilians trying to flee have reportedly been blocked by rebel fighters, a UN spokesman said
Hundreds of men are allegedly missing after crossing from rebel-held eastern Aleppo in Syria to the government-controlled west, the United Nations said Friday, as it voiced fears for the fate of some 100,000 civilians still trapped in the east.
The plight of eastern Aleppo's civilian population has worsened in recent days as Syrian government forces have pushed into besieged areas previously held by opposition groups.
Rupert Colville, spokesman for the UN High Commissioner for Human Rights, said the body was "gravely concerned" both for those "being squeezed into ever-shrinking areas" as government forces advance, and for those who have fled.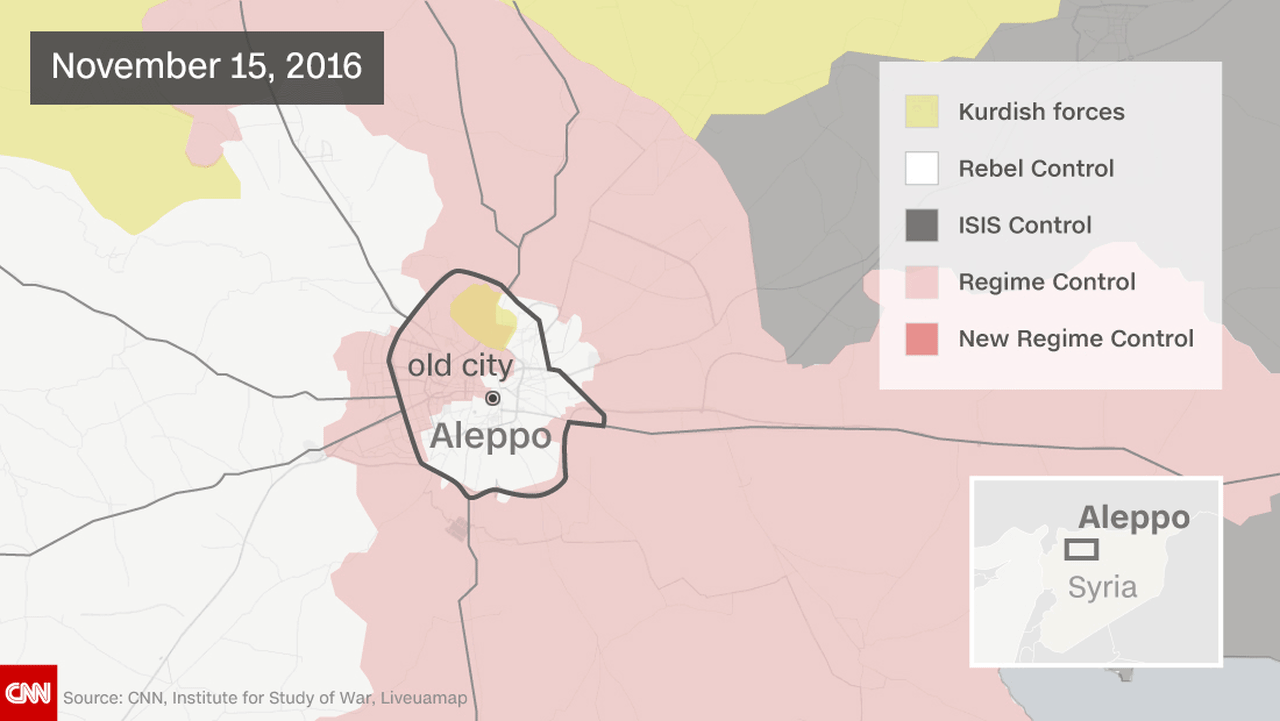 "We believe there may currently be around 100,000 civilians in areas under the control of armed opposition groups in eastern Aleppo, with another 30,000 believed to have fled to areas under government control," he told reporters in Geneva, Switzerland.
Colville cautioned, however, that the situation was fluid and numbers unclear. Before the latest government offensive began, about 250,000 people were thought to be in eastern Aleppo.
Family members say they lost contact with the missing men, aged 30 to 50, after they fled as Syrian army troops pushed into rebel-held neighborhoods 10 days or a week ago, Colville said.
At the same time, some civilians trying to escape the fighting have reportedly been prevented from leaving by armed rebel groups, he said.
"During the last two weeks, Fatah al-Sham Front (formerly al-Nusra Front) and the Abu Amara Battalion are alleged to have abducted and killed an unknown number of civilians who requested the armed groups to leave their neighborhoods, to spare the lives of civilians," he said.
The United Nations is also deeply concerned for the fate of about 150 activists still in rebel-held areas of Aleppo, Colville said, "given the terrible record of arbitrary detention, torture and enforced disappearances by the Syrian government."
He also expressed concern for 500 people in need of urgent medical evacuation from rebel-held areas where no fully equipped hospitals are functioning and all available doctors are reported to be at the front lines treating wounded fighters.
Both sides "appear to be operating in flagrant violation of international humanitarian law" as they attack civilian areas and use civilians as pawns, he said. "The war crime of hostage-taking is also possibly being committed," he added.
On Friday, UN General Assembly voted 122 to 13 to demand a pause in the hostilities to allow civilians to leave and humanitarian aid access in Syria.
Aleppo girl: 'Our neighborhood has fallen'
Russia: Syrian regime holds 93% of east Aleppo
A Russian military spokesman, Lt. Gen. Sergey Rudskoi, said Friday that Syrian government forces now control 93% of eastern Aleppo.
CNN is not able independently to confirm this claim, but on Wednesday residents and activists inside the city told CNN that the rebels still held about a quarter of eastern Aleppo.
Rudskoi also said 10,724 civilians and 1,096 opposition fighters had left eastern Aleppo in the past 24 hours, although CNN could not verify these numbers either.
In response to media reports of continued shelling and mortar rounds being fired, he said Russian planes had not operated over Aleppo in support of Syrian forces since October 18.
Shelling continues
Shelling and mortar fire continued to pound rebel-held areas of eastern Aleppo overnight into Friday, witnesses said.
Russian Foreign Minister Sergey Lavrov said Thursday that the Syrian army had stopped fighting and was focusing its efforts on the "largest ever evacuation of eastern Aleppo residents" from the besieged area.
But speaking to reporters Friday in Hamburg, Germany, Lavrov said: "After a humanitarian pause, the strikes have resumed and will continue for as long as the bandits are still in Aleppo."
A resident and activist in the rebel-held area of Monther Etaky told CNN: "Since the announcement by Lavrov, the shelling didn't stop or reduce. I am talking to you right now and there are two helicopters in the sky."
A CNN team in Aleppo said there had been intermittent mortar shelling and gunfire overnight, followed by heavy gun fire, mortar fire and artillery shelling Friday morning.
The team saw big plumes of smoke over the east of the city, where opposition fighters cling on to pockets of territory despite a push by government forces that has seen most old city neighborhoods return to regime control.
The Syria Civil Defence volunteer group, also known as the White Helmets, tweeted that 46 people had been killed and more than 230 injured in Aleppo on Thursday after hundreds of aerial and artillery attacks.
Later, the group said that 25 people had been killed by barrel bombs dropped in the rebel-held al-Jalloum area of the city. Its volunteers managed to rescue 10 injured people, the group said.
Opinion: After Aleppo falls, Syria's bloodshed may continue
Displaced families seek shelter
A UN official told CNN on Friday that the total number of people displaced by the fighting in eastern Aleppo had risen from an earlier reported number of 31,500 to 40,000.
Many of them have arrived at the Jibreen cotton factory on the southeastern outskirts of the city, one site that is being used to house the displaced.
The official said the 40,000 figure includes everyone who has left their home because of the fighting – those who have left rebel-held areas to government control, those who have found their areas now taken by the government, and also those who have moved between areas still held by the rebels.
In an interview Thursday with Syria's al-Watan newspaper, Syrian President Bashar al-Assad rejected the offer of a humanitarian ceasefire by the rebel opposition, according to Syrian state media.
CNN's Frederik Pleitgen reported from Aleppo and Eyad Kourdi from Gaziantep, Turkey, while Laura Smith-Spark wrote from London. CNN's Jill Dougherty, Nick Paton Walsh, Milena Veselinovic and Alex Felton contributed to this report.