Story highlights
Steve Ludwin milks snakes for their venom and injects himself out of curiosity
Scientists hope antibodies in his blood could be used to create anti-venoms
As he approached his 50th birthday, Steve Ludwin felt like he might finally be growing out of his long-term habit.
For nearly 30 years, he has been injecting himself with snake venom out of sheer curiosity, despite receiving multiple warnings from researchers and medical experts that this practice was extremely dangerous and could endanger his life.
It instead took some severe bites from a snake – two in the past year – for Ludwin to begin understanding just how reckless his pastime could be.
"The pain is like someone has taken a sledgehammer, smashed it on your hand and then holds a flame underneath," Ludwin explained. "It's evolution telling you to stay away from these things."
The London-based musician, however, has spent his entire life doing exactly the opposite.
'I just thought that was incredible'
Ludwin not only surrounds himself with an array of poisonous snakes, but he injects their venom regularly – as a hobby.
Between his apartment and a storage closet down the hall, Ludwin owns 17 snakes – 15 of which are poisonous – from all over the world: a Costa Rican coffee palm viper, a Mexican west coast rattlesnake and a green tree python, to name a few.
Ludwin explained that he has always been fascinated by snakes – drawing pictures of them as a toddler and soon after that, taking care of a pet boa constrictor. His dangerous pastime, however, came to him a few years later.
The idea to inject venom – namely for self-immunization – came to Ludwin after meeting Bill Haast at the age of 10. His encounter with Haast, a snake venom researcher and tourist attraction owner, at Miami Serpentarium Laboratories in the US left a lifelong impression.
Since 1948, Haast had run an immunization program in which he explored whether he could build up immunity to snake venom, leading a young Ludwin to wonder whether his own exposure to small amounts of venom could ultimately lead to protection against their poison.
"At a very early age, I just thought that was incredible. I'd never heard of such a thing … and it always stuck in my mind."
Over the past few decades, Ludwin has alternated between daily doses of poisonous venom and just one injection every few months. He led this sole endeavor on his belief that injections would not only lead to immunity, but improve his health and make him feel younger – despite no evidence in scientific literature to support his theory.
"People are like – you don't seem like you're almost 50," he said. "I really do believe that I've stumbled upon something."
But experts in the field disagree, citing a lack of research. Not to mention the fact that it is extremely dangerous.
"I'm fairly unconvinced," explained Wolfgang Wüster, a senior lecturer in zoology at Bangor University in Wales. "He says he's looking really young and everything, but of course, he's a sample size of one."
Today, Ludwin has started putting his unusual pastime to some scientific use.
A new form of anti-venom
Many health experts and organizations identify snake bites as a neglected public health issue. At least 100,000 people die annually from snake bites, and 300,000 more are permanently disfigured, according to the World Health Organization.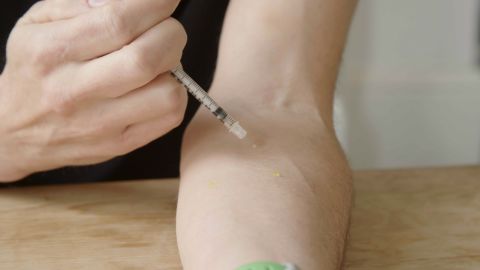 In 2010, one of the world's leading anti-venom manufacturers, Sanofi Pasteur, ceased production of their main anti-venom due to a "steep drop in orders and a lack of visibility on future demand evolution," they said in a statement.
The cost of similar drugs has been rising since, meaning that people in developing countries, where most snake bites occur, either can't find these drugs or can't afford them.
Manufacturers today make anti-venoms using a specialized technique that dates back more than a century. They begin by milking snakes for their venom and injecting a small amount mammals. Horses are more commonly employed, but goats and sheep are also used.
Several weeks later, these animals are bled to collect antibodies that their immune systems will have created to fight the poisons.
But three years ago, researchers from the University of Copenhagen contacted Ludwin in hope of developing a new process to create anti-venoms to treat bite victims. Brian Lohse, an associate professor in chemical and molecular biology wants to change this procedure by replacing the animal blood with Ludwin's.
"Steve is a production facility. He has been like the horse, producing antibodies against all these different venoms," said Lohse, who is leading the research."He's the key to everything."
If the researcher is successful, Lohse would like to team up with a nonprofit organization or charity to distribute a new remedy at a lower cost.
"Without Steve's DNA, it wouldn't be possible to do what we want to do," he said.
The secret formula
Since 2013, Ludwin has been flying to Copenhagen four times a year to give blood and bone marrow samples. In between, he keeps detailed records of the types and quantities of venom he injects.
Lohse believes this is the first time anti-venom production is being trialed with human blood, largely because of the risks involved. And although he's grateful for Ludwin's contributions, he doesn't promote the practice.
"Under no circumstances do we encourage him," Lohse explained. "It's dangerous. It's clear that he can die from this."
Experts like Wüster, who has dedicated his career to the study of venomous snakes, remain skeptical of the process.
"I fail to see the point of it," he said. "There is a danger to it, and I'm not convinced that's where the future lies."
The researchers in Copenhagen hope to start seeing results next summer. The first phase has involved collecting Ludwin's blood and bone marrow over time, as regulations prevent researchers from withdrawing too much at once. Once they have a sufficient amount, Lohse and his team will try to extract antibodies and then test whether those antibodies will neutralize different venoms.
Until then, Ludwin will continue his regular immunization schedule with the team in Copenhagen, but he plans on slowing things down to prevent future painful accidents.
"I feel like a cat and I've had my eight lives taken. I've got one more accident, and that's it," he said, citing a particularly bad accident 10 years ago, in which he injected more venom than intended and landed in intensive care.
"I will keep using (venom) for my own personal views and beliefs, but I can definitely retire and slow down."