Story highlights
NEW: Turkish FM says his nation will respond with "10 times more action"
The Turkish President has provoked controversy by comparing allies to Nazis
Protests broke out in Rotterdam and in front of Dutch diplomatic missions in Turkey on Saturday after the Netherlands barred a plane carrying Turkey's foreign minister from landing to stop him from addressing a political rally in the port city.
The Dutch government announced that Foreign Minister Mevlut Cavusoglu's flight permit was revoked amid concerns over public order at the expected large gathering of Turkish expatriates.
Turkish President Recep Tayyip Erdogan reacted angrily to the news, comparing the Dutch government to Nazis.
Addressing crowds at an opening ceremony in Istanbul, Erdogan said: "They are timid and coward. They are Nazi remnants and fascists."
Earlier this week, Erdogan angered German Chancellor Angela Merkel by making similar remarks about Nazism in her country.
Turkish Prime Minister Binali Yildirim said they will not take it lightly.
"We protested that situation heavily and we told our Dutch counterparts that we will respond in the heaviest way," he said in a statement.
Turkish referendum
Cavusoglu was due to address Turkish expatriates in Rotterdam to win support for an April 16 referendum vote on the Turkish Constitution.
Pushed by Erdogan's ruling Justice and Development Party, or AKP, these sweeping constitutional changes would grant new powers to Turkey's President and transform the way the country is governed.
Erdogan: Germany using 'Nazi practices'
Turkish politicians have sought to address rallies in European cities and towns that have large populations of Turkish expatriates – around 1.5 million Turkish nationals living in Germany are eligible to vote in the referendum, according to Turkish news agency Anadolu.
But the authorities in several countries have blocked their plans.
Saturday, the Turkish family affairs minister was prevented by Dutch police from entering the Turkish consulate in Rotterdam. Minister Fatima Betul Sayan Kaya tweeted: "Netherlands is violating all international laws, conventions and human rights."
Cavusoglu told Turkish broadcaster TRT that Turkey would respond strongly.
"Which steps they take, we will take 10 times more action. We are not afraid of this, but their doings are really inhuman," he said, according to Anadolu.
The Dutch ambassador who is home was asked not to return to Turkey "for a while," Anadolu reported.
Large protests broke out Saturday night in Rotterdam and in the major Turkish cities of Ankara and Istanbul. Demonstrators waved Turkish flags and blocked the entrances to the diplomatic buildings.
Increased tensions
In the latest twist in the row, Cavusoglu angered the Dutch by threatening "severe sanctions" if he were banned from traveling to the Rotterdam rally.
"If the Netherlands cancels my flight, we will impose severe sanctions on them that will affect it economically and politically," the foreign minister said in remarks in a TV interview on CNN Turk.
He added, "If tension will increase (between the two countries) because of my visit, then let it increase."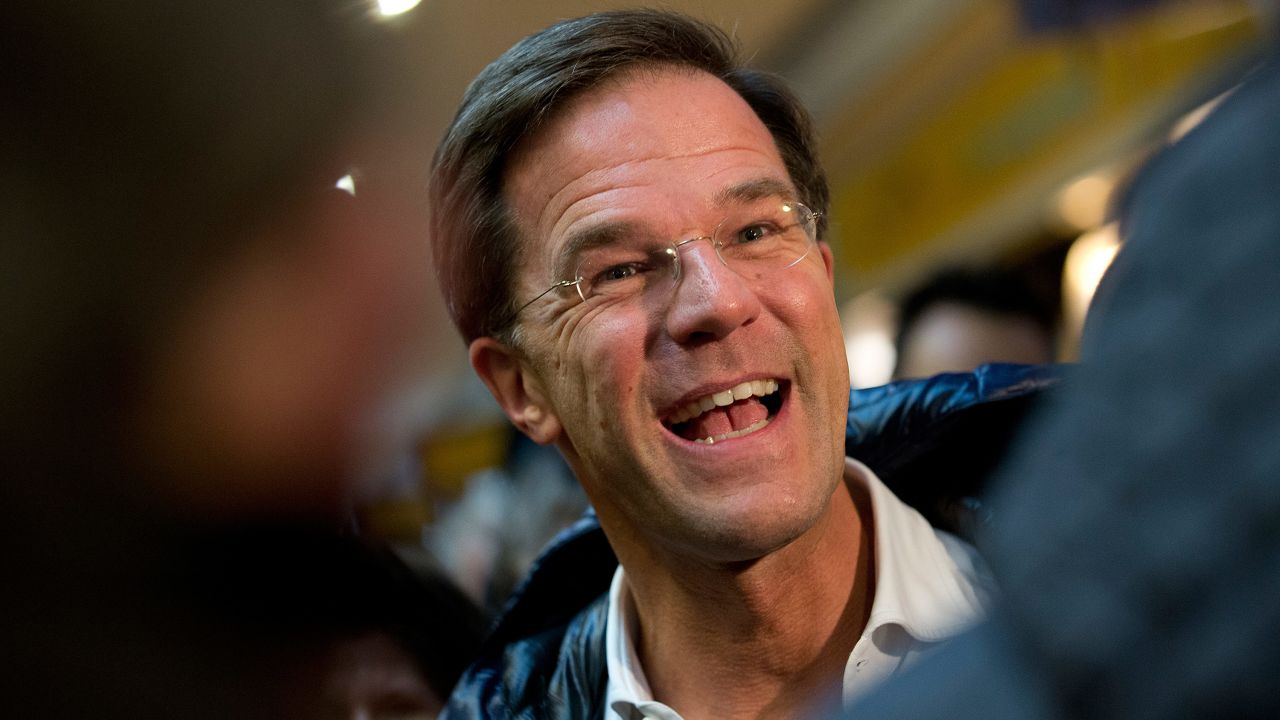 In a statement posted on his Facebook page, Dutch Prime Minister Mark Rutte said: "Many Dutch people with Turkish heritage are voting in the referendum on the Turkish constitution. The Dutch government has no objection to meetings in our country in order to inform them about that.
"But these meetings cannot contribute to tensions in our society and everyone who wants to contribute to an event must comply with instructions from the authorities so that public order and security can be guaranteed. It should be noted that, in this respect, the Turkish government does not want to respect those rules."
Election concerns
The Dutch will vote Wednesday in national elections in a campaign that has focused heavily on the issue of immigration from Muslim countries.
Far-right politician Geert Wilders praised the decision to bar the Turkish minister from speaking in Rotterdam, taking credit due to the influence of his party, the Party For Freedom, or PVV.
"Great! Thanks to heavy PVV- pressure a few days before the Dutch elections our government did NOT allow the Turkish minister to land here," Wilders wrote.
The decision by the Netherlands was driven by concerns that Wilders might win next week's election, according to Enes Bayrakli, an assistant professor of political science at the Turkish-German University in Istanbul.
Bayrakli told CNN: "I think it is a quite a serious diplomatic scandal because Turkey and Holland are allies in NATO and the EU. They have very good relations, and I think the Dutch government took this decision in order to give a message to Geert Wilders in the election. It's a right-wing populist message. The government is quite concerned it will lose to Geert Wilders, but I think this is a wrong step."
Bayrakli said: "This shows how ridiculous the action of the Dutch government is. In the EU there are no borders between countries. You cannot prevent people traveling from one country to another."
Wilders later tweeted that Turkish people "have no business" in the Netherlands.
Correction: A previous version of this story misstated the nature of Dutch far-right Freedom Party leader Geert Wilders' campaign. He is campaigning in the Netherlands' general election for greater party representation in the House of Representatives.
CNN's Schams Elwazer, Sara Mazloumsaki and Mick Krever also contributed to this report.