Story highlights
New report reveals details of the largest and most damaging coral bleaching event on record
Global warming is the main cause of coral bleaching, which eventually kills reefs
Over 90% of the Great Barrier Reef now shows evidence of bleaching
Global warming has severely damaged huge sections of Australia's Great Barrier Reef, according to a new paper published Wednesday in the journal Nature.
The paper's authors warn that the resilience of the planet's largest living structure is waning rapidly.
Data from a series of aerial and underwater surveys shows that a heatwave in summer 2016, which saw sea temperatures in Australia reach record levels, triggered the most damaging and widespread coral bleaching event on record.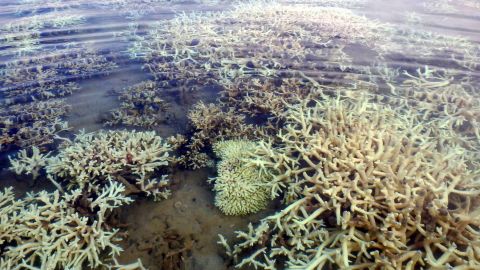 Almost 50% of the reef is now "extremely" bleached and 91% shows at least some signs of bleaching, Sean Connolly, program leader of a government-funded coral reef center at James Cook University, Queensland and the paper's co-author told CNN.
"Coral cover [on the Great Barrier Reef] has halved over the last 27 years," Connolly said.
"[In the last three decades] coral cover went from 28% to 13%. Preliminary estimates [from last year's disaster] are saying we've lost half that amount again. To have that kind of mortality on that kind of scale is unprecedented," said Connolly.
Ship crashes into 'pristine' coral reef
Rising temperatures, diminished responsibility
Coral bleaching happens when an increase in sea temperatures causes the expulsion of algae that grow inside coral, turning the reefs white and eliminating their main energy source. It's directly linked to global warming.
Sustained bleaching will result in coral death. The bleaching during last year's heatwave was worse than expected and the episode's severity has raised serious concern for the future of the reef ecosystem.
The study pointed to the bleaching of hardy, century-old reefs as a particular red flag.
"The severity and frequency of these [bleaching] events means slow-growing corals won't have time to come back," said Connolly.
"If all the coral bleaches and dies, it's no longer a coral reef. The coral skeletons are quickly colonized by algae which turns them dark in color," said David Baker, assistant professor at the University of Hong Kong's Swire Institute of Marine Sciences.
Australia's Great Barrier Reef suffers 'extreme' coral bleaching
Eventually those skeletons collapse, he added, and the natural habitat for fish and other marine life is completely lost.
The paper's authors also concluded, whether bleached or not, the reef had not acclimatized or adapted to high temperatures over time.
Connolly said that, as temperatures increase, reefs would eventually die off and be replaced with more stress-tolerant species such as seaweeds.
"We have known that things would go in this way for decades and unfortunately … our international system of government and policy has utterly failed to take relatively inexpensive action to head off what could be potentially catastrophic climate change – not just on reefs, but on other ecosystems we depend on."
Around 275 million people globally directly rely on reefs for livelihood and sustenance, and globally reefs form the nurseries for around a quarter of the world's fish, according to the UN.
The Great Barrier Reef is worth $3.7 billion annually to the Australian economy through fishing and tourism, and provides around 70,000 jobs, Connolly said.
"You're looking at some potentially unfolding human tragedy over the decades if reefs cannot provide the same source of livelihood," he added.
Ongoing damage
Last year's disaster was the third major mass coral bleaching of the Great Barrier Reef on record, and scientists suspect that – less than a year on – a fourth is already underway.
The Great Barrier Marine Park Authority is currently conducting aerial surveys of the reef and, last week, Greenpeace released photos and video footage highlighting the ongoing damage.
"Greenpeace has just been on the Great Barrier Reef with a marine biologist to document the situation and it is heartbreaking," said Alix Foster Vander Elst, Campaigner for Greenpeace Australia Pacific.
"We should know in the coming days or weeks the exact impact of this year's disaster."