Story highlights
Four people, plus the attacker, were killed in Wednesday's attack in central London
Keith Palmer was stabbed by the attacker who was then shot by police
Keith Palmer's 15-year career as a London police officer was brutally ended Wednesday by a terrorist's knife.
"He was someone who left for work today expecting to return home at the end of his shift, and he had every right to expect that would happen," Metropolitan Police Acting Deputy Commissioner Mark Rowley said in an evening press conference.
Palmer, a 48-year-old father, was one of four people killed in Britain's most lethal terror attack since the 2005 public transit bombings.
The assailant drove a car through crowds of people, injuring dozens before crashing into a fence near London's Houses of Parliament.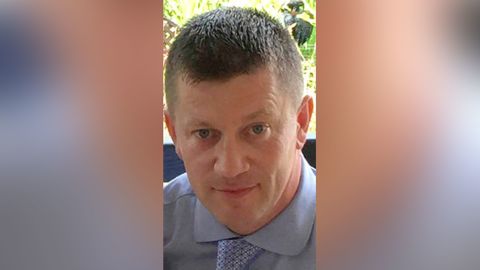 Witnesses said the attacker then got out of his car, brandishing the knife that he used to fatally stab Palmer.
A member of the parliamentary and diplomatic protection command, Palmer was not carrying a gun, said Rowley, Britain's most senior counterterror police officer.
Rowley added that authorities believe they know the attacker's identity but are not releasing it, and are operating on the assumption the incident was "Islamist-related terrorism."
'A lovely man'
Bystanders rushed to Palmer's aid as he lay bleeding on the cobblestone street, including Conservative Member of Parliament (MP) Tobias Ellwood. But there was nothing they could do.
"Keith Palmer was killed while bravely doing his duty, protecting our city and the heart of our democracy from those who want to destroy our way of life," London Mayor Sadiq Khan said.
"He personifies the brave men and women of our police and emergency services who work around the clock to keep us safe – tonight all Londoners are grateful to them."
At Scotland Yard, headquarters of London's police force, flags were flying at half-staff on Wednesday evening, in honor of Palmer and the other victims.
His death drew tributes from politicians including Conservative James Cleverly, who said he served with Palmer in the Royal Artillery before he became a "copper."
"A lovely man, a friend. I'm heartbroken," Cleverly said on Twitter.
The remaining victims have not been identified, other than that they were described by Rowley as "members of the public."
French, South Koreans among injured
Three French students, one Australian and a group of South Korean tourists were among those hurt in Wednesday's attack, which took in a popular location for sightseers.
In total, police said about 40 people had been injured.
The three students were from Saint-Joseph school in Concarneau, in Western France, according to the French Foreign Ministry. They were on a school trip to London. There was no word on the extent of their injuries.
"(Foreign Minister) Jean-Marc Ayrault supports the families of our compatriots concerned in this difficult time," the statement said.
Five South Korean sightseers were also injured, the country's foreign ministry said. One man and three women in their 50s and 60s suffered fractures, while another women in her 60s needed surgery after sustaining a serious head injury.
In Australia, Attorney General George Brandis told the Senate a female permanent resident from South Australia had been hospitalized after the attack, while Chinese Foreign Ministry Spokeswoman Hua Chunying said a Chinese tourist was slightly injured.
This story has been updated to reflect the latest number of fatalities from London Metropolitan Police.