Story highlights
Karim Baratov is accused of working with two Russian agents and another accused hacker
Parents don't believe he was involved; they say he would not flee
Karim Baratov's parents want him back home, sitting at the dining table where they shared dinner nearly every night as a family of four, and where they now sit to make the case publicly that the young man accused of hacking emails for Russian agents is not a flight risk.
Baratov's father, Akhmet Tokbergenov, and mother, Dinara Tokbergenova, spoke exclusively this week to CNN in their Hamilton, Ontario, home, just one mile away from Baratov's tony residence.
"We are just four of us. He would never leave us. Because he always feels like he is responsible for us," his tearful mother says. "And he knows I would die if he would go somewhere."
Authorities in the United States say her son has the skills and money to go somewhere – and escape justice.
Federal prosecutors in northern California, where an indictment was issued last month, say that Baratov worked with three other people – including two Russian intelligence officers – to get names, email addresses and passwords from at least 500 million Yahoo accounts. That allegedly helped them to gain access to accounts from other Internet companies, such as Google.
The Tokbergenov family says Baratov is innocent – and falsely portrayed.
When news of the indictment came out, news articles featured photographs and videos Baratov posted on social media.
One shows him posing with an Aston Martin and Mercedes parked in his driveway. Another shown on his YouTube channel features someone in a Lamborghini Gallardo doing donuts in a snow-covered field.
How could such a young man acquire all of these toys, plus a home?
A post on Baratov's Facebook page, which has been made private since his arrest, says as a student he found ways to achieve success after he was suspended from high school for a few weeks for "threatening to kill my ex-friend as a joke."
He wrote that the time off gave him a chance to focus on "online projects" and "really move my business to the next level," adding that as a high schooler, he was able to afford driving a BMW 7 series and pay off a mortgage.
His parents are unhappy with the implication that their son, 22, leads an extravagant life.
That's not the case, they say.
"Young men (are) always trying to show their success and to appear like they (are) successful more than they are," said Akhmet Tokbergenov.
Baratov took out car loans and mortgages just like anyone else, they said.
"Yeah, he was creating an image, I think," his mother said. "But in reality, he's a different person. He's so kind and he's so quiet."
'We're not Russians'
Karim Baratov was born in Kazakhstan, a Central Asian country and former Soviet republic. His parents have different last names from Baratov, who was given his grandfather's name to honor him – a common custom among Kazakhs.
In 2007, the family pulled up stakes and emigrated to Canada in pursuit of a better life. Karim was 12, his sister was 17.
"Canada can give the best opportunity for the young generation and that's why we moved to Canada," Akhmet Tokbergenov said.
Karim found friends and transitioned well into his new life, his father said.
The family eventually settled in the quiet, posh town of Ancaster, about an hour outside of Toronto, where rows of beige townhouses are lined up in neighborhoods and BMWs and Mercedes are a common sight.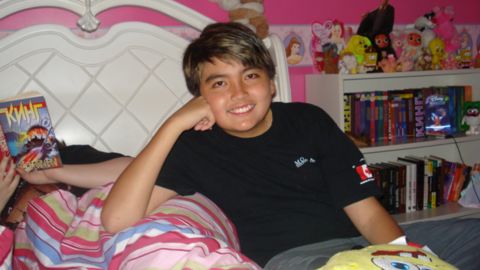 The family speaks Russian fluently, as well as Kazakh, and identify as ethnic Kazakhs.
While Baratov has never been to Russia, according to his parents, his father – an agricultural consultant – travels there three times a year to meet a business associate who owns a Kazakh company. And though the history of his homeland is deeply intertwined with Russia, Tokbergenov emphasizes: "We're not Russian, we're Kazakh people, and Kazakh people is so very different than Russian."
The allegation that his son communicated with Russian intelligence agents and was part of a hacking scheme is unsettling to Tokbergenov.
"It's bad. It's not my son," Tokbergenov said. "And personally, I prefer to stay (away) from Russian government, from those implicated officers, from that organization I don't even want to mention."
An unknown career
The Tokbergenov family said Baratov never interacted with the other men named in the indictment and that they have no idea who the three men are.
The February indictment, filed in San Francisco near Yahoo's headquarters, alleges that two of the men, Dmitry Dokuchaev and Igor Sushchin, are officers of the Russian Federal Security Service, a government intelligence and law enforcement agency.
Dokuchaev and Sushchin allegedly contacted Baratov and the fourth suspect, Alexsey Belan from Latvia, and directed them to steal information about users' information from email providers. The FBI is seeking all three, saying they were last known to be in Russia.
Baratov, the indictment claims, was given information taken from the Yahoo hack, to be able to get email account passwords from providers, including Gmail.
The US arrest application says payments were made from Dokuchaev to a PayPal account registered to a Karim Baratov with a matching date of birth and addresses – one that corresponds to Baratov's home address, the other to his parents'.
In court documents, US authorities say, "The investigation to date has not revealed any legitimate employment for Baratov."
Amedeo DiCarlo, Baratov's attorney, has called his client an "entrepreneur."
When asked, the family would not elaborate on what kind of business Baratov ran.
"I know that he was good in computers and he's operated computer business," Akhmet Tokbergenov said. "He was very good in web creating. That (is) all I know."
A significant flight risk?
Baratov remains in Canadian custody while his attorney fights a US extradition request and plans to seek bail at an April 5 hearing.
If he is released on bail, US authorities contend, Baratov could flee the country and continue to conduct his business and destroy evidence against him. Documents cite liquid assets, allegations of working with the Russian government – which has shielded a co-conspirator indicted in the scheme – and his ability to work from anywhere in the world.
Baratov allegedly received more than $200,000 in payments to a PayPal account, but court documents also show that he has accounts with the online payment service WebMoney, which allows users to withdraw money in 90 countries.
Authorities also describe a July 2015 trip to Jamaica that Baratov took that was documented on social media. In the application for arrest, they claim Baratov used a Jamaican IP address to access an account he used to hack into email accounts.
According to his family, Baratov is solely a Canadian citizen and only has a Canadian passport. US authorities describe him as also being a Kazakh citizen.
When making the case as to why Baratov should not be granted bail, US prosecutors point to the case of his alleged co-conspirator, Alexsey Belan.
Belan was arrested in Greece in 2013 on a separate hacking allegation. Belan was released on bond and fled to Russia, benefiting from "the protection afforded by Russian government officials, and from US law enforcement's inability to reach him in Russia," the arrest application states.
CNN asked DiCarlo, Baratov's attorney, about the US claims that his client "presents a significant flight risk" and is documented to have received PayPal payments for his work.
"The public will know the truth of such allegations from the court proceedings," DiCarlo replied. "All their evidence is unfounded and completely exaggerated."
His family stands behind him
Baratov's father says "it's impossible" that Baratov would leave Canada if granted bail, and points to the fact that Baratov's cars and home are all still here, though the latter is up for sale.
Akhmet Tokbergenov and Dinara Tokbergenova live within minutes of Baratov, and share stories of him cooking and buying groceries for them when they were sick, and of him waking up to take his mother to work at 5 a.m. so she wouldn't have to take a cab.
"We're very close to each other, we don't have anybody else," Tokbergenova said, through tears. "When (all this) happened, it just destroyed our life."
CNN's Sonia Moghe wrote and reported from Ancaster, while Phil Gast wrote from Atlanta.