Story highlights
Rex Tillerson arrives in Moscow Tuesday
The US secretary of state is seeking to leverage international condemnation of the chemical weapon use
What a difference three months makes.
Secretary of State Rex Tillerson – a one-time recipient of the Russian Order of Friendship from Russian President Vladimir Putin whose appointment as top US diplomat was seen as a nod to the Trump administration's pro-Russian inclinations – arrives Tuesday in Moscow amid seething tensions over the ongoing conflict in Syria.
The trip is the most sensitive to date for Tillerson. The secretary of state is seeking to leverage both international condemnation over the Syrian regime's alleged use of Sarin gas against civilians and President Donald Trump's recent display of American military might to weaken Russia's support for President Bashar al-Assad.
Haley thinks 'regime change' coming to Syria
Several State Department officials told CNN Tillerson's strategy for the trip is to highlight Russia's responsibility and culpability for Assad's actions in an effort to shame Putin into doing more to end the conflict and drive a wedge between Moscow and Damascus.
"I'm hopeful that we can have constructive talks with the Russia government, with Foreign Minister (Sergey) Lavrov, and have Russia be supportive of a process that will lead to a stable Syria," Tillerson said on ABC's "This Week" ahead of the visit.
"Clearly, they are Bashar al-Assad's current ally," he added. "They should have the greatest influence on Bashar al-Assad, and certainly his decisions to use chemical weapons. They should have the greatest influence on him to cause him to no longer use those."
Tillerson's predecessor John Kerry held months of talks with Lavrov, Russia's foreign minister, in an fruitless effort to find agreement on a ceasefire between the regime and the Syrian opposition, which could lead to a political process. Kerry and his aides often lamented President Barack Obama's stated unwillingness to use military action weakened his hand in those talks.
Now, the Trump administration's decision to undertake a retaliatory strike in response to the chemical weapons attack could give Tillerson leverage in his talks in Moscow.
"Secretary Tillerson's visit to Moscow before our military action in Syria was already heavy-laden with issues, including Crimea, Ukraine, all different types of issues on the agenda," former US ambassador to Syria Edward Djerejian told CNN's Fredricka Whitfield Sunday.
"But now with this issue also on the table, I think, frankly, my own judgment is that Tillerson goes to Moscow more emboldened because the Russian President Putin, who makes the decisions, now sees that this administration will take military actions when it thinks certain lines have been crossed," he added.
Tillerson, who has shied away from the limelight since taking office, has been front and center this week defending the strikes.
Tillerson: No doubt Assad is responsible
When the US fired 60 Tomahawk missiles at the airbase from which the attack was allegedly launched, it was Tillerson, along with national security adviser H.R. McMaster, who initially briefed reporters at Trump's Florida resort, Mar-a-Lago.
No 'hard evidence'
Tillerson has been pointed in his criticism of Moscow since the attack, but has so far stopped short alleging complicity.
In his ABC interview, Tillerson said he had not seen any "hard evidence" connecting Russia directly to the attack, despite the fact that Russian troops were present at the Syrian air base during that time and a Russian drone flew over the hospital treating victims from the chemical attack. Hours later, the hospital was bombed, but it is unknown if the bomb was from a Russian or Syrian aircraft.
"I don't draw conclusions of complicity at all," Tillerson said. "But clearly, they've been incompetent, and perhaps they've simply been out-maneuvered by the Syrians."
He's also been more restrained in his calls for Assad's removal than other members of his party, including Trump's United Nations Ambassador Nikki Haley.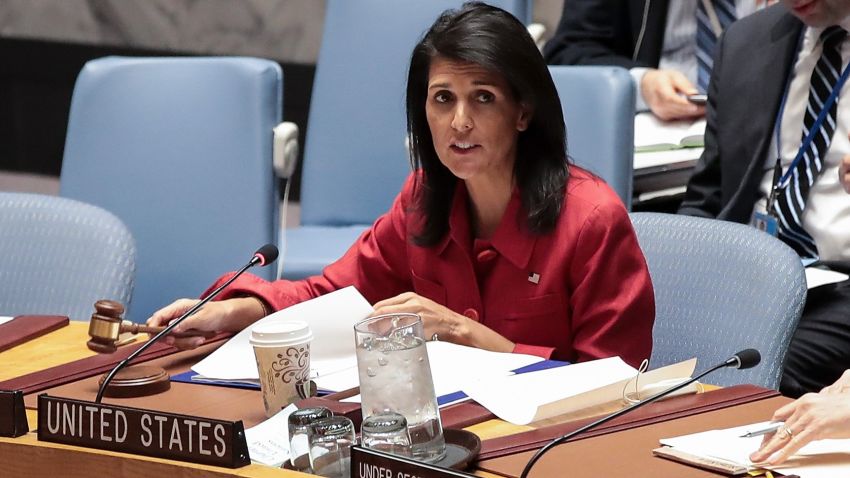 Haley: 'Amazing' how Russia covers for Assad
"Regime change is something that we think is going to happen, because all of the parties are going to see that Assad is not the leader that needs to be taking place in Syria," Haley told CNN's Jake Tapper Sunday on "State of the Union."
It's a view echoed by Sen. Marco Rubio, R-Florida, who sits on the Senate Foreign Relations Committee.
"You cannot have a stable Syria without jihadist elements on the ground as long as Bashar al-Assad is in power," Rubio said on ABC's "This Week." "And the quicker (administration officials) realize that, the better our strategy's going to be."
Position of strength
Tillerson comes to Moscow directly from Lucca, Italy, where he met with key counterparts, including United Kingdom Foreign Secretary Boris Johnson, who canceled his own planned trip to Moscow in the aftermath of last week's attack.
Speaking from Lucca on Monday, Johnson said the western powers were working to give Tillerson "the clearest possible mandate" to enter into talks with Russia on Syria from a position of strength.
The Trump administration has found itself increasingly at loggerheads with Putin's government over the past month, as expectations of a second relationship "reset" dim.
As a presidential candidate, Trump signaled he was open to a new era of friendly relations with Moscow. But in the months since the inauguration, his administration has been embroiled in controversy over campaign official's ties to the Russian government.
The two countries also remain at odds over Russia's support for separatist elements in Ukraine, and annexation of the Crimean peninsula. Until Russia shifts course in the region, the Trump administration has made clear it will not lift the series of related sanctions imposed by the Obama administration in 2014.
Last week, a senior State Department official briefing reporters ahead of Tillerson's visit said the administration is still hopeful it can expand cooperation with Moscow on issues such as counter-terrorism, but officials are realistic in their expectations.
"The secretary's role is to explore those opportunities and then report back on whether he thinks the Russians are prepared to address some of the issues of concern, or whether they're not," the official said. "And I think that's what he'll be reporting back to the President."
CORRECTION: This story has been corrected to accurately reflect the Russian drone activity. It flew over the hospital.