Turkish voters will cast their ballots on Sunday in a referendum that could radically alter the way the country is governed.
If Turkey backs the referendum, the country's parliamentary system will turn into a presidential one, effectively consolidating the power of its legislative bodies into one executive branch with President Recep Tayyip Erdogan as its primary executor.
Significantly, it would also allow Erdogan – who served as Prime Minister from 2003 to 2014 before becoming President – to stay in office until 2029.
Those opposing the vote say the proposed constitutional changes give carte blanche to a President already pushing the boundaries of his power.
"I'm worried because they are already ruling like a dictatorship," said 39-year-old Ebril Ozdemir about the ruling Justice and Development Party (AKP).
"If the yes vote wins, what they are doing will be legal. Then we are going to see real fascism."
Erdogan has displayed an increasingly authoritarian streak since a failed coup attempt in 2016, which led to an intense crackdown that has prompted the arrests of 47,155 government critics, academics, journalists, military officials and civil servants.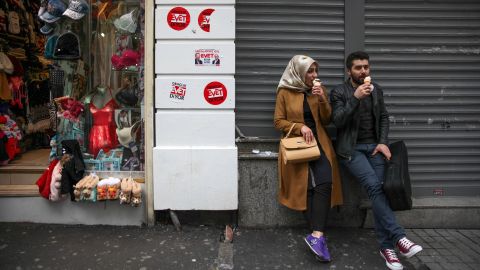 Last month, the proposed amendments being voted on in the referendum were described as a "dangerous step backwards" for democracy by the Council of Europe's Venice Commission.
With days to go until the vote, Istanbul is covered in referendum propaganda. The ruling AK Party's "Evet" ("Yes") campaign banners are plastered on nearly every corner, high-rise and billboard, and gargantuan head shots of Erdogan and Prime Minister Binali Yildirim line the streets.
A vote for yes, it seems, is a vote for AKP.
The "Hayir" ("No") campaign's logo comes in a strong second in terms of its visual representation across the city.
The banner – a white flag with a young girl's face – was designed by the main opposition Republican People's Party (CHP).
'There are too many voices'
On Saturday, thousands of Erdogan supporters gathered in Yenikapi Square to rally in support of the referendum.
Municipal buses transported supporters to the demonstration free of charge. Complimentary water and juice drinks were handed out to attendees, while vendors hawked their Erdogan-themed wares.
Lokman Dilbirim, a 30-year-old textile worker, told CNN he would be voting yes on Sunday so that the President could expedite complicated political processes.
"In a system like ours now, there are too many voices that confuse the situation when changes are presented. If there is only one voice, it would be more clear."
"There can only be one driver in the car," he added with a smile.
38-year-old housewife Esma Eren was taking selfies with campaign posters of Erdogan after the rally.
"Erdogan always wants to push the country forward, but too many people want to block him," she told CNN.
Asked about the extrajudicial imprisonment of dissident voices, Eren defended the President.
"They are not imprisoned because they criticized him, they are there because they are insulting him. There is a difference."
She said voting for the referendum would enable Erdogan to stabilize a nation with a sluggish economy, a refugee crisis on its borders and a brewing resurgence of a 30-year conflict with militants from the Kurdistan Workers' Party (PKK).
"He wants to create a system which can't be demolished by anything."
As she pulled her hand over her chest, Eren welled up.
"He is in my heart," she said.
But the show of numbers at the "Yes" rally, the emotional overtures and family-friendly atmosphere doesn't speak to the pulse of at least half of the Turkish electorate, according to opposition activists.
'There is no future'
Earlier on Saturday, at a market off a major highway on the Asian side of Istanbul, Turkey's pro-Kurdish political opposition party, the Peoples' Democratic Party (HDP), held a demonstration, which was smaller in size.
Some HDP supporters wore colorful costumes while others donned berets, leather jackets and hipster piercings.
The outwardly jubilant scene didn't mask the anxious undertones of this opposition party – a traditional voice of the dissenting Kurdish population that has been historically marginalized.
"If we give all authority to one person, there is no future," 23-year-old Berfin Yavas told CNN at the demonstration.
"There's no free speech, our lawmakers have been arrested, even under a constitutional system right now. With a yes vote and a move to the new presidential system, it will be even worse."
"Show me only one country who stands with a system like this that works and I will say yes," another demonstrator, 28-year-old Bunyamin Altin said.
HDP MP Hasip Kaplan told CNN that the party hasn't been given a fair platform to campaign for a "No" vote.
"The song of the HDP was forbidden, the buses used for our party members weren't allowed to route near the demonstration area far from the city center, while the AKP is using all the possibilities of the state to propagandize for the referendum by using state cars, public transport, and our taxes," Kaplan said.
The party, which is supported by other minorities including the Alevis, Armenians, Assyrians, Azerbaijanis, the LGBT community and the Roma, made significant gains in the 2015 elections, when it won 13% of the vote.
But shortly after, the party was beset by problems.
Erdogan accused the HDP of supporting the PKK, which is designated by the US and the European Union as a terrorist organization.
Five thousand HDP supporters were jailed, including their leaders, Selahattin Demirtas and Figen Yuksekdag, who have been imprisoned since November 2016.
"We forgot what normal is"
On Sunday afternoon, in an upscale café in Istanbul, opposition Republican People's Party (CHP) member of parliament Selina Ozuzun Dogan told CNN that some of the AKP's success could be attributed to its divide-and-conquer tactics.
"They have split society in half like a fruit," she said.
She claims Erdogan's party has "artificially manufactured" problems in parliament as justification for the referendum, a strategic move which has caused people to lose faith in the constitutional process.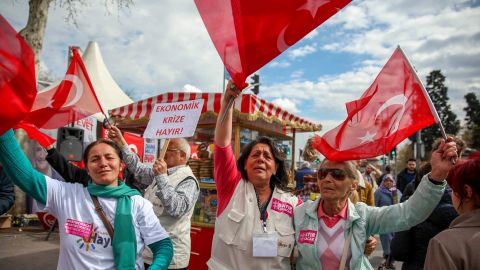 Whatever the outcome, the "No" campaign remains steadfast.
"If the vote is yes, I'm not scared. We've already lived through the worst. Thousands of our members are already in prison," former HDP MP Hasip Kaplan said.
"It's not an apocalypse; we will go on. We're going to strengthen our faith in democracy."
Pinar Yurtsever contributed to this report.