Story highlights
Trump fired Comey last week
A special counsel was appointed Wednesday
A bad day for the White House could turn out to be a good day for justice and democratic accountability and institutions.
Robert Mueller's appointment Wednesday as special counsel to probe Russian election meddling and any collusion by Trump campaign aides elevates the investigation clear of partisanship and the threat of White House interference.
It therefore may offer the best chance for a politically bulletproof accounting of the guilt or innocence of members of the President's inner circle.
Deputy Attorney General Rod Rosenstein's decision to opt for a special counsel is also an antidote to fears that the US political system still has the capacity to investigate itself and its most powerful players.
A presidency that had seemed in danger of slipping legal restraints – for example after Trump's firing of FBI Director James Comey in an apparent bid to shut down the FBI Russia investigation – now appears constrained by the rule of law.
"I think it in one sense it is bad news for Trump and it is good news for people who want a robust investigation because Mueller is definitely a straight shooter and he has a good reputation as an FBI director," said Jens David Ohlin, a Cornell University law professor. "It means that the investigation goes on. It is not going to be stopped and it also means that the Deputy Attorney General doesn't want to do Trump's bidding on this."
The checks and balances of democracy, in other words, hold.
Wednesday's announcement might also be remembered as the moment that the norms that apply to other politicians finally also ensnared Trump. For so long, the President has broken rules that govern public life.
So confident was he of his own immunity to convention that he once boasted he could shoot someone in the middle of New York's Fifth Avenue and wouldn't lose voters. But as President, that impunity has been challenged and Trump's behavior became a liability. Ultimately, had he not fired Comey in a fit of pique about the Russia investigation, it might never had emerged that he reportedly asked the FBI chief to cool it in his investigation. And Rosenstein's hand may not have been forced and Trump may not have faced a special counsel.
Whatever Mueller eventually concludes, his reputation for fairness, reflected by the high praise that showered him from both sides of the aisle Wednesday, may ensure, crucially, wide acceptance of his eventual conclusion.
"I think we are going to see justice. If crimes were committed we will find that out. If no crimes were committed we are going to find that out, too," said senior CNN legal analyst Jeffrey Toobin. "That's all you can ask of a criminal justice system."
If there was wrongdoing, that gives the President plenty of cause for concern.
But it also means Trump's critics, who have confidently predicted his guilt in the Russia episode, will have little choice but to accept any finding by Mueller that no indictments are necessary – a fact that Trump, given his insistence that the Russia meddling story is a big hoax, should welcome.
"When (Mueller) says we don't have probable cause to pursue this – there are no charges that are going to be put forth, I think that will be a good thing for the Trump administration," said Trump supporter Kayleigh McEnany on CNN.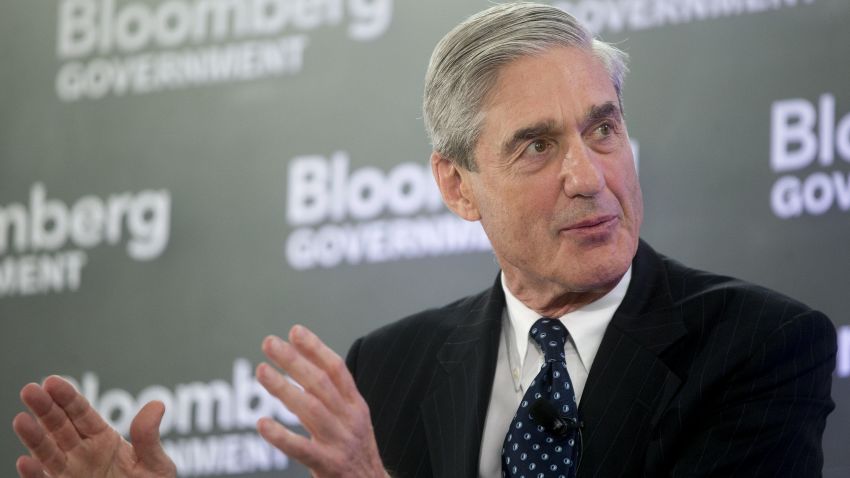 Toobin: Robert Mueller a brilliant choice
Political ramifications
But there are broad political ramifications that flow from Wednesday's announcement.
The appointment represents a significant loss of control of the Russia story for the administration. Previously, it appeared that the administration sought to influence the course of a House intelligence committee inquiry. Trump told NBC News that he was thinking of the Russia probe when he fired Comey. And The New York Times and then CNN reported Tuesday that he had asked the former FBI director to drop the probe into former national security adviser Michael Flynn before he fired him.
Mueller's arrival on the scene represents another learning experience for a President determined to wield wide executive power but who has been thwarted by checks built into the nation's political infrastructure, for example, the courts that blocked his travel ban for people from Muslim nations.
"They fired Comey because they wanted the Russia investigation to go away. It backfired. Now they have a special counsel and they have got someone who is going to be even less susceptible to pressure than Comey was," said Ohlin. "Their ability to influence and manage this situation has gone out of the window. Things have definitely gotten worse for the White House."
Mueller will also have discretion to take the investigation where he sees fit and will likely be well resourced, in terms of manpower and his own vast experience, and will be able to convene a grand jury and lay indictments.
"He will have the powers of a United States attorney, he will be able to issue subpoenas, get access to all the documents, potentially interview the President himself," said Susan Hennessey, managing editor of the Lawfare blog and a CNN national security and legal analyst. "He is going to be incredibly empowered. Bob Mueller has a remarkable, impeccable reputation."
Most concerning for the White House may be Mueller's investigative freedom. He could for example subpoena the President's tax returns, which Trump has refused to release publicly, and which his critics say could contain evidence of exposure to Russian debt or investments that could pose a conflict of interest or cloud his judgment. The White House would likely fight such a step in court, triggering what would be a damaging showdown that would have damaging political reverberations.
One early sign of trouble could come if Mueller seeks to block the release to congressional investigators memos written by Comey after Trump reportedly asked him to steer clear of Flynn. That could indicate that he is probing alleged interference in the FBI's Russia investigation by the President.
Past presidents have chafed at the way independent counsels and prosecutors have taken their probes well beyond their initial bounds. In theory that could mean that Trump and his aides could find their past lives, as well as their present arrangements, open to investigation.
David Gergen, an adviser to multiple presidents and a CNN senior legal analyst, noted how former President Bill Clinton was "investigated on Whitewater and it ended up way over with Monica Lewinsky. Presidents and White Houses really, really don't want to go here but they have to now learn to live with it."
The impact of a special counsel investigation is almost certain to sap severely drained morale in the White House.
Already, the West Wing mood was desperately grim. One White House official told CNN's Jim Acosta staff were exhausted by days of devastating reversals.
"It's just been three days straight of these 5:45 pm announcements," the official said.
Staffers now face the prospect that they will be examined by Mueller's probe and will worry about their own potential legal jeopardy, and must cope with the corrosive reality of working in an administration that will now be under a dark cloud of investigation and uncertainty for months or even years to come.
Schiff: Comey memo allegations disturbing
Chaotic storm of allegations
It is not just at 1600 Pennsylvania Avenue where the political impact of Mueller's arrival will be felt.
For Capitol Hill Republicans, who have been whiplashed by the chaotic storm over allegations of wrongdoing by Trump and the White House, there was an audible sigh of relief.
GOP leaders have been caught between the White House's increasing exposure on Russia and a desire not to offend the President's voters, who represent a substantial portion of their party's base and impatience that his troubles are slowing their best chance in decades to enact a conservative agenda.
Now, when House Speaker Paul Ryan is asked whether he will do more to investigate Trump, he can refer to the credible investigation that is being undertaken by Mueller. The GOP may get some space to push ahead with key goals like tax reform and hope for some insulation if Trump remains unpopular ahead of the midterm elections next year.
For Democrats, the announcement of Mueller's new job represented good news and bad news. On the one hand it is a validation of weeks of demands and pressure for a special counsel to investigate the Trump White House.
"A special counsel is very much needed in this situation and Deputy Attorney General Rosenstein has done the right thing," said Democratic Senate Minority leader Chuck Schumer. "Former Director Mueller is exactly the right kind of individual for this job. I now have significantly greater confidence that the investigation will follow the facts wherever they lead."
But conversely, the Mueller probe could slow other congressional investigations or deprive them of key witnesses and evidence, as Democrats seek to use the investigations to pressure and discredit the Trump administration.
It seems unlikely, for instance, that Comey will now testify in public in what would have been one of the most significant congressional hearings in recent times. There is also no guarantee that if he does not decide to recommend criminal prosecutions, Mueller will feel the need to release a report into his investigation. That is one reason why Democrats will continue to press the case for sweeping congressional probes.
"The appointment of a special counsel is not a substitute for a vigorous investigation in Congress and the House intelligence committee will take steps to make sure our investigations do not conflict and ensure the success of both efforts," said Rep. Adam Schiff, the top Democrat on the House intelligence committee.
CNN's Pamela Brown, Evan Perez, Dana Bash, Jeff Zeleny and Jim Acosta contributed to this report