Story highlights
Driver tested positive for PCP and told police God made him do it, source says
NEW: Four people at Bellevue hospital are in critical condition, facility says
An 18-year-old woman was killed and at least 22 people injured Thursday when a speeding car plowed into pedestrians in Manhattan's bustling Times Square, city officials said.
Police identified the woman as Alyssa Elsman, a resident of Portage, Michigan.
The driver of the 2009 Honda Accord – Richard Rojas, 26, of the Bronx – tested positive for PCP and told police that God made him do it, a law enforcement source told CNN.
The suspect, who suffered from "psychological issues," told police he expected officers to shoot him, according to the source.
Rojas has been arrested twice in New York – in 2015 and 2008 – for drunken driving, New York Police Commissioner James O'Neill said.
There is no indication the incident, which unfolded just before noon, was an act of terrorism, New York Mayor Bill de Blasio and other officials said. It is being investigated as an accident, a police official said. Charges against the driver are pending.
One of the hospitals treating the injured said four patients were in critical condition Thursday night. Two were in serious condition.
NYC Health + Hospitals Bellevue said it received 13 patients, 10 adults and three teenagers. The serious injuries included pelvic fractures, internal bleeding and head injuries.
Car was 'out of control'
Before striking pedestrians, the car was "out of control," an emergency management official said. Four people were critically injured but are expected to survive, officials said.
The speeding car jumped the sidewalk on the west side of 7th Avenue at 42nd Street and barreled into pedestrians for three blocks before crashing at the northwest corner of 45th Street, police said.
Witnesses described a harrowing scene that started with screeching tires and ended with screams, panic and a fiery crash at one of the world's most visited sites.
"A woman in front on the sidewalk was hit and tossed before then car reached 44th st, continued plowing people down at full speed up to 45th street, where it was stopped after crashing into more people and the light post," posted Instagram user Ed G Val, who from across the street "saw the car speeding north on the west sidewalk of southbound 7th Ave."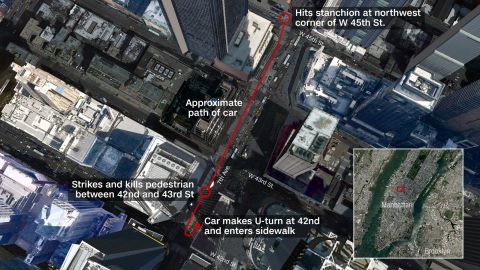 Harlem resident Tyezhane, 20, who would only give her first name, said she was walking to work at a shoe store when she saw the car on the sidewalk. She bolted across the street.
"There were a lot of people out, enjoying the good day, and then I heard screaming and the car running over bodies," she said. "I didn't know what was going on. At first, I thought someone was intentionally doing it. I was scared for my life."
Social media images show injured people on the street, a car upended at an angle and crowds gathered in the heart of the tourist hub.
'More of a surreal thing'
Elizabeth Long, of Dayton, Ohio, told CNN she was walking to the Hard Rock Cafe when she saw a maroon car heading toward her on the sidewalk. She heard screaming. Fearing the car would hit her, she ran to a nearby building's revolving door.
"I wasn't even all the way in when the car sped by," perhaps 10 feet behind her, said Long, a 54-year-old who was in town to see a musical.
When Long went outside and looked in the direction the car had gone, she saw at least six people lying on the ground, including a woman lying face-down with blood pouring from her head.
"I'm shaken," said Long, who wasn't injured. "Two of the people I saw that were really hurt. People were beside them, … we were trying to tell (police) they were hurt."
"I felt so bad … standing there," not being able to do anything more to help, she said.
Annette Proehl, of Pennsylvania, was in Times Square with children on a field trip when she heard the screeching tires of the vehicle and people screaming. She watched the car slam into a steel divider and catch fire, she said.
Proehl was hit by a piece of gravel but otherwise was not injured, she said.
"It was more of a surreal thing," she said. "We initially thought they were filming something."
Patsy Sciutto, who works in Times Square, said she was meeting someone for lunch when an announcement came over a loudspeaker that the building was on lockdown because of an incident outside.
Principal says victim was thoughtful, bright
Elsman was in New York with her sisters, mother and a friend, CNN affiliate WOOD reported.
She graduated from Portage Central High School.
"Alyssa was a really thoughtful, really bright, very pleasant young lady. Every interaction I had with her was positive," school principal Eric Alburtus told the Grand Rapids station.
Among world's most popular spots
Officers there told her there was an "unknown speeding car," Sciutto said.
Within moments of the incident, New York Gov. Andrew Cuomo and de Blasio rushed to the scene. President Donald Trump, whose home at Trump Tower is one mile from the crash scene, was made aware of the incident almost immediately and given updates, White House Press Secretary Sean Spicer tweeted.
The sidewalks around Times Square are secured with more than 200 steel bollards intended to prevent accidental or criminal vehicle intrusions, said Rob Reiter, chief security consultant for CalPipe Security Bollards. The bollards are designed to stop vehicles going about 30 miles an hour, he said.
Times Square averaged about 360,000 daily visitors in April, according to a tally by the Times Square Alliance, making it one of the most visited locations in the world.
CNN's Shimon Prokupecz, Eric Levenson, Jason Hanna, Lawrence Crook III, Sonia Moghe, Linh Tran, Brynn Gingras, Alison Kosik, Brian Vitagliano, Anne Woolsey, Ellie Kaufman and Evan Simko-Bednarski contributed to this report.