Story highlights
After a chemical attack on a rebel-held town in April, the US retaliated with a missile strike
Trump said in April it was in the "vital national security" of the US to prevent use of chemical weapons
The White House has warned there are "potential preparations for another chemical weapons attack" by the Syrian regime and told the country's president, Bashar al-Assad, he would face a "heavy price" if one is carried out.
The announcement comes amid rising tensions in Syria between the US-led coalition and Russia, which is backing the Assad regime.
The US launched a fierce riposte in the aftermath of the chemical attack launched by Assad's forces in April – which was condemned across the world – and says it will not hesitate to take action should another similar strike take place. Assad dismissed allegations of the chemical attack as "100% fabrication."
Suspected chemical attack in Syria
"The United States has identified potential preparations for another chemical weapons attack by the Assad regime that would likely result in the mass murder of civilians, including innocent children," according to a White House statement released Monday night.
"The activities are similar to preparations the regime made before its April 4, 2017 chemical weapons attack," the statement added. "As we have previously stated, the United States is in Syria to eliminate the Islamic State of Iraq and Syria. If, however, Mr. Assad conducts another mass murder attack using chemical weapons, he and his military will pay a heavy price."
The statement tweeted by White House Press Secretary Sean Spicer did not offer any further details about what the "potential preparations" and "activities" were.
The Kremlin told CNN: "We strongly condemn the use of chemical weapons. We consider it unacceptable."
Spokesman Dmitry Peskov said the Kremlin "deems unacceptable" threats posed to the "legitimate leadership" of Syria."
He said Moscow was unaware of the basis for the White House assertion that Syria was planning another chemical attack, adding it was incorrect to blame the Syrian government for previous attacks without an investigation.
Two events in the past month -- the shooting down by a US plane of a Syrian Su-22 and the use of ballistic missiles by Iran against ISIS targets – are evidence of a scramble in eastern Syria that's been gathering pace since the beginning of the year. Then there was the incident where a US fighter jet shot down a pro-regime drone in the country's southeast.
Life in Syria: Scenes beyond belief
Russia responded last week by warning that aircraft operating where the drone incident occurred would be considered "air targets" for its forces in Syria.
But another chemical attack would take the conflict to a new level.
Chemical attack
After an April 4 airstrike on a rebel-held town of Khan Sheikhoun in Idlib province, horrifying images and videos emerged showing Syria's civilians – including children – struggling to breathe, foam coming from their mouths as they appeared to die of asphyxiation.
Gasping for life: Syria's merciless war on its own children
Three days later, the US launched a military strike in response to the chemical weapons attack. US warships launched 59 Tomahawk cruise missiles at the airbase that was home to the warplanes that carried out the chemical attacks, officials said.
The strike was the first direct military action taken by the US against the regime of Assad in the country's six-year civil war.
In April, international chemical weapons inspectors found what they called "incontrovertible" evidence that Sarin gas, or a similar substance, was used in the chemical attack that killed 89 people. Syria blamed terrorist groups for the attack.
Immediately after the White House issued its warning to the Assad regime on Monday, US Ambassador to the United Nations Nikki Haley tweeted: "Any further attacks done to the people of Syria will be blamed on Assad, but also on Russia & Iran who support him killing his own people."
Russia and Iran are both staunch backers of the Assad regime.
British backing
On Tuesday, UK Defense Secretary Michael Fallon said his country had backed Trump's response in April over a chemical attack and would do so once again if required.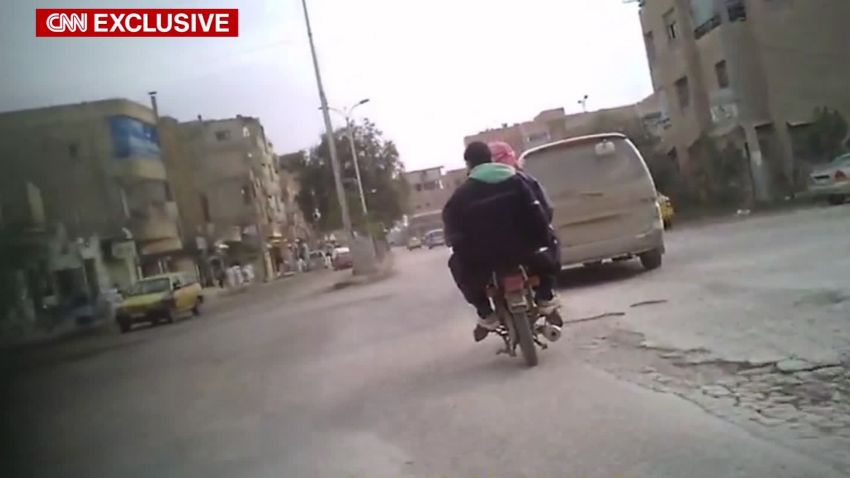 CNN obtains undercover video from Raqqa
"As always in war, the military action you use must be justified, it must be legal, it must proportionate, it must be necessary. In the last case it was," he told the BBC on Tuesday.
"If the Americans take similar action again, I want to be very clear – we will support it."
Tensions have heightened between key players – especially between the US and Russia – over Syria as the conflict there has transformed from a civil war to a complex battle involving international players and their proxies.
While some international players are focused on targeting ISIS, many are maneuvering to either prop up or depose Assad and his regime.
The US-led coalition is focusing on ousting IS from Raqaa, its last bastion in Syria, as well as ISIS-held pockets of Mosul in Iraq.
Russia, meanwhile, is concentrating its efforts on defeating the rebels and ensuring Assad remains in power.
CNN's James Masters reported from London. Jill Dougherty in Moscow contributed to this report.