For a look into Russia's efforts to influence the US election, tune in to the CNN Special Report: "The Russian Connection: Inside The Attack On Democracy," Tuesday, June 27 at 10 p.m. ET.
Story highlights
Politics of another kind is now influencing Trump's response to Russian election hacking
Former CIA spy warns national security is now at stake
Russia's alleged role in the 2016 presidential election is turning into a stark lesson about how America's political dysfunction is becoming a glaring national security threat.
Debate stirred by new Washington Post reporting that linked interference in last year's election more directly than ever before to Russian President Vladimir Putin has revealed how political considerations for two administrations have allowed Moscow to avoid paying a significant price for an attempt to manipulate the US election on an unprecedented scale.
The Post said the Obama administration felt its hands were tied when Russian hacking first came to light because it did not want, itself, to be accused of interfering in an already turbulent campaign, in which Donald Trump was already claiming the election was rigged against him.
As President, Trump's claims that the Russian hacking accusations, validated by US intelligence agencies, and allegations of collusion between his campaign and Russians are just a big hoax perpetrated by Democrats upset about losing the election have cast doubt on whether the White House intends to take any muscular action to punish the Kremlin or to shore up US electoral defenses.
Trump used the weekend to deliberately stoke the partisanship around the alleged Russian interference in the election, apparently seeking to deflect calls for his own administration to address the issue and instead focusing attention on the Obama administration's failure to stop it in the first place.
"Since the Obama Administration was told way before the 2016 Election that the Russians were meddling, why no action? Focus on them, not T!" Trump wrote in a tweet Saturday.
Trump also skewered former President Barack Obama in an interview on "Fox and Friends" broadcast on Sunday.
"It's an amazing thing. To me – in other words, the question is, if he had the information, why didn't he do something about it?" Trump said.
The comments reflected the President's skill in using a rival's vulnerability to blur questions about his own conduct or policy stances. He was seizing on a quote in the Post report that revealed many Obama administration officials now believe that their own response to Russia hacking was insufficient.
"I feel like we sort of choked," one former senior Obama aide told the Post.
WaPo: Putin directed US election hacks
Michael Hayden, former head of the CIA and the National Security Agency, said that while US intelligence agencies treated the situation with sufficient urgency last year, the policy officials in the White House did not do enough to meet the threat, even if the political reasons were understandable.
"I think the Obama administration was light in its response, it's not that it didn't do anything … I think in retrospect even the Obama team thinks they should have done more," Hayden said on CNN's "Smerconish" on Saturday.
"One of the reasons they were reluctant to do more was the narrative that then-candidate Trump had that the election was going to be rigged. … Even candidate Trump bears some responsibility here."
Since Trump became President, he and his aides have repeatedly suggested that the hacking effort may have been the work of Russia or another nation or that allegations were blown out of proportion by Democrats. The President has often not been critical of the alleged Russian cyber operation unless he has been asked about it. And a response to the issue has not seemed a priority for his administration at a time when a special counsel is investigating whether there was any collusion between Trump campaign aides and Moscow.
Last week, White House spokesman Sean Spicer told reporters that he had not had the chance to sit down with the President to ask him whether he agreed with his intelligence agencies about Russian interference in the election.
Pushed on Friday, Spicer said that Trump stood by a comment in January this year when he said: "I think it was Russia." Spicer also said Trump was concerned about election interference by "any actor." "
'All a big Dem HOAX'
The Post reported that the CIA gave top-secret information to the White House last August showing direct involvement by Putin in ordering an effort to damage or defeat Democrat Hillary Clinton and to help elect Trump – though the paper did not reveal specifics of that information.
The material was so sensitive that its distribution was limited to Obama and three senior officials, and was left out of the President's intelligence briefing, officials told the Post.
Officials considered how to respond, including whether to launch retaliatory cyberattacks on Russia. They also pondered releasing intelligence that would be damaging to Putin or sanctions that would "crater" the Russian economy, the Post said.
In the end, the White House opted not to go that far, and imposed sanctions including the closure of several Russian compounds on the east coast, and as the Post reported for the first time, the insertion of cyberweapons inside Russia's critical infrastructure that could be activated at a future point.
Obama also personally delivered a warning to Putin at the G-20 summit in China, and his administration later used the "red phone" channel set up to avoid inadvertent nuclear exchanges between the US and Russia to reinforce his concerns.
The then-President also made a veiled threat of more robust US action to Putin – in public – that was cryptic at the time – but now appears understandable in retrospect.
"Frankly we've got more capacity than anybody, both offensively and defensively," Obama told reporters at the G-20 summit.
Obama: I told Putin to cut it out on hacking
The Post said that the administration response was tempered by fears that Putin would react to harsher measures by escalating the crisis.
But Obama and other top officials were also wary of giving the impression to Americans they were trying to influence the US elections themselves.
The Post also reported that White House officials went to Republican leaders on Capitol Hill to try to get bipartisan political cover to warn about the impact of Russian hacking, but they ran into partisan opposition. GOP leaders argued that talking publicly about the issue would sap confidence in the electoral system and cast doubt on whether the intelligence backed up White House claims, the paper said.
"Coming out of that meeting you now have the administration pulling back … again, to avoid the appearances that they were partisan and they were trying to rig the election," Hayden said on Smerconish.
Obama's former Deputy Secretary of State Antony Blinken told CNN Friday that the Post's assessment of the political pressure facing Obama was accurate.
"Given everything we were dealing with, the perception of Russia's main objective, which was to undermine confidence in the elections – that was one thing that motivated us to be careful how we played it in public," Blinken said.
"It turned out, it was really only later, there was consensus they were trying to undermine the elections, they were trying to defeat Hillary Clinton and get Donald Trump," Blinken said. "Now if that picture had been clearer sooner, maybe we would have done more."
Obama & Trump's very different Putin approachs
Too little, too late?
That failure to act more aggressively caused some prominent Democrats to engage in rare open criticism of their former leader.
"I think the Obama administration should have done a lot more when it became clear that not only was Russia intervening, but it was being directed at the highest levels of the Kremlin," Adam Schiff, the top Democrat on the House intelligence committee said on CNN's "State of the Union" Sunday.
"I think they were also concerned about not wanting to play into the narrative that Donald Trump was telling, that the election was going to be rigged."
The Obama administration finally did make public in-depth details of the Russian hacking effort in January in a declassified intelligence report that was released shortly before the inauguration.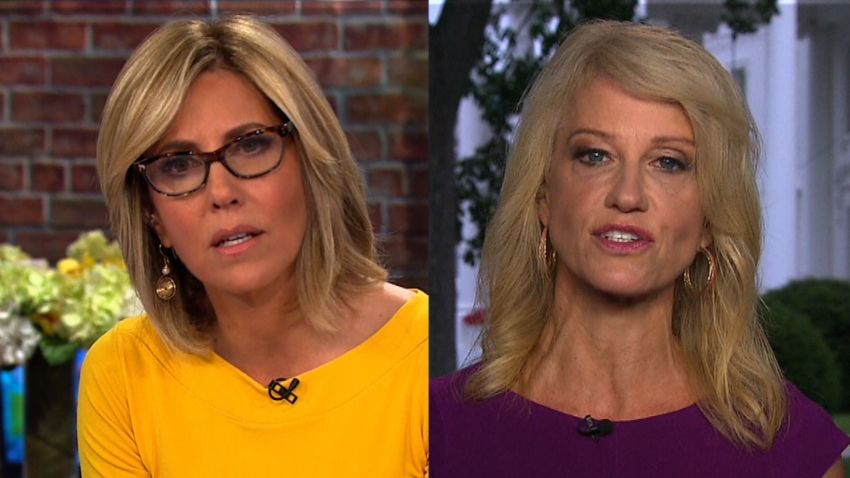 Conway defends Trump's Russia response
Blurred lines
But Trump aides have repeatedly tried to blur the issue, and some still seem unwilling in public to even admit the election meddling took place – often equating such questions with an attempt to delegitimize Trump's election.
"I think it's very important to show no nexus has been proven between what Russia or any other foreign government tried to do and the actual election result," Trump's White House counselor Kellyanne Conway told CNN's Alisyn Camerota on "New Day" on Friday.
"Really the only person making that case prominently is Hillary Clinton," she said. "We know that Donald Trump won fairly and squarely 306 electoral votes. It had nothing to do with interference."
But Conway declined to say exactly what Trump was doing to ensure that election hacking by Russia would not threaten future elections.
It has been left to senior Republican senators such as John McCain of Arizona and Lindsey Graham of South Carolina to rally support for measures to punish Russia. The Senate this month passed new sanctions against Russia, making it difficult for Trump to lift them. The measures are pending in the the House.
Republican Rep. Adam Kinzinger of Illinois said Friday that letting political motivations stall action against Russia would be a mistake for his party.
"I don't think Vladimir Putin elected Donald Trump, but I think we also have to recognize the fact that this happened," Kinzinger said on CNN.
"The reality is in two or four years it will serve Vladimir Putin's interest to take down the Republican Party. If we weren't upset about it, we have no right to complain in the future," he said.