Story highlights
Scaramucci era might bring a different relationship with press corps
The White House is seeing a chill after Trump's New York Times interview
Talk of a potential "Rexit" at Foggy Bottom, new tests for President Trump on immigration, tax reform and media relations and a big challenge for the nation's oldest civil rights organization – it's all part of our Inside Politics Forecast.
1) A chill across the executive branch – and new rumblings from State Department
There was a decided chill across the executive branch as last week came to a close after a tumultuous series of events that rattled worker bees and caught the attention of Cabinet secretaries.
A large part of that dynamic was the result of the White House staff shakeup – which saw President Trump overruling top advisers to hire Anthony Scaramucci as communications director, and the resignation of press secretary Sean Spicer.
Bigger, though, were the continuing conversations about The New York Times interview in which Trump sharply criticized his attorney general and longtime supporter – Jeff Sessions – saying it was "unfair to the President" that Sessions recused himself from any decisions related to the Russia election meddling investigation.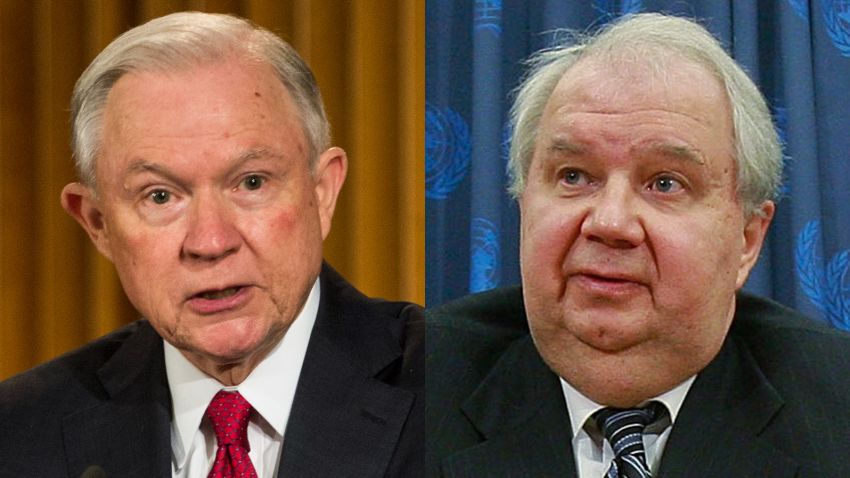 WaPo: Sessions discussed Trump campaign with Russian Ambassador Kislyak
Among those who viewed the President's public rebuke of Sessions as unprofessional, according to several sources, is Secretary of State Rex Tillerson, the former Exxon-Mobil CEO.
Tillerson has a growing list of differences with the White House, including a new debate over Iran policy and personnel. His frustration is hardly a secret and it has spilled out publicly at times. But friends sense a change of late.
For weeks, conversations with Tillerson friends outside of Washington have left the impression that he, despite his frustrations, was determined to stay on the job at least through the end of the year. That would allow time to continue efforts to reorganize the State Department and would mean he could claim to have put in a year as America's top diplomat.
But two sources who spoke to CNN on condition of anonymity over the weekend said they would not be surprised if there was a "Rexit" from Foggy Bottom sooner that that.
Both of these sources are familiar with Tillerson conversations with friends outside Washington. Both said there was a noticeable increase in the secretary's frustration and his doubts that the tug-of-war with the White House would subside anytime soon. They also acknowledged it could have been venting after a tough week, a suggestion several DC-based sources made when asked if they saw evidence Tillerson was looking for an exit strategy.
2) Tax reform next? White House nervous as it eyes clock
Trump pushed again Saturday for GOP senators to resolve their differences and settle on an Obamacare repeal and replace package. The White House wants a win, and worries failure will further damage the President's political standing.
Some top Trump aides are worried about the calendar — believing all this time spent on health care, without success, might have a domino effect on another top White House priority.
Julie Hirshfeld Davis of The New York Times detailed the anxiety over finding a path toward tax reform.
"What we're seeing, what we're hearing, from these meetings that have been going on behind the scenes with Steven Mnuchin, the treasury secretary, Gary Cohn, the National Economic Council director and the top congressional leaders on the Republican side is that they're sort of starting to think about potentially trimming their sales and not doing a big massive tax reform but instead a tax cut," Davis said. "There is a lot of uncertainty about whether they're even going to be able to get that this year."
Why tax reform is so hard
3) A reset – with the media?
New White House communications chief, Antony Scaramucci, is a feisty defender of President Trump
But even as he echoes the President in tossing around the "Fake News" label, he also says he is looking to rebalance the White House relationship with traditional or mainstream media outlets.
The timing, Michael Shear of The New York Times suggests, could at least present a genuine opportunity.
"There could be an opportunity for a press reboot over some of the issues that the press corps has been arguing with the White House for: access to the President, press conferences, on-camera briefings," Shear said.
"There is a new White House Correspondents' Association president who is coming in, as it happens, at exactly the same time that we have a new communications director and head of the communications shop."
The moral of that story? It'll be a wait-and-see moment for White House reporters.
Scaramucci: Trump unsure of Russia meddling
4) DREAM Act push – lost cause or a chance for clarity?
Trump has sent mixed signals about policy toward so-called Dreamers – undocumented workers who came to the United States illegally but at an age when they were too young to be responsible for that decision.
During the campaign, he at times promised to reverse Obama administration protections extended to them. He has not done so as President, and he has on several occasions discussed how difficult it is for him to square his tougher views on immigration with understanding and compassion for a group that is otherwise law-abiding and did not make a decision to break the law.
A new push in Congress could offer a chance to bring some clarity to the Dreamer question. The Atlantic's Molly Ball discussed the possibility of a revised version of the so-called DREAM Act, and its bipartisan sponsors: Democratic Sen. Richard Durbin of Illinois and Republican Sen. Lindsey Graham of South Carolina.
"It might seem like a strange time to be doing that. But this administration has sent very conflicting signals about DACA," Ball said.
"There are some state attorneys general that have imposed a deadline on the administration to basically tell them whether this is going to go or stay. They have been issuing work permits. And so Lindsey Graham at the press conference introducing this said, you know, President Trump, you can really sort of act against type, you can solve this problem."
5) NAACP meets this week – no presidential visit – but a Democratic parade
The nation's oldest civil rights organization – the NAACP – holds its annual meeting this week amid a host of questions about how to navigate American politics and policy in the Trump years.
Trump declined an invitation to attend Several Democrats thinking about the 2020 presidential campaign are scheduled to speak. CNN's Nia-Malika Henderson shared her reporting on how this legacy organization is trying to modernize its approach.
"The question there, how does this very old, the oldest civil rights organization in the country, reboot and re-imagine themselves in the Trump era and the era of Black Lives Matter? And in the era of resistance? They invited Donald Trump. He said 'no,' he wasn't going to come," Henderson said.
"Eric Holder will be there. He'll be talking about gerrymandering – something that's very important to Democrats particularly. Also, it's being looked at as something of a 2020 cattle call. Also in attendance, Cory Booker, Kamala Harris and Bernie Sanders. Bernie Sanders, of course, struggled a bit with getting African-American support when he ran last go around. So we'll see what those folks have to offer."