When TV producer Dilek Mayaturk decided to marry her long-time partner, journalist Deniz Yucel, it wasn't a dream wedding.
"It was not a celebration," she told CNN. The couple's nuptials took place inside a high security prison outside Istanbul where German-Turkish citizen Yucel is being held on suspicion of spreading anti-government propaganda and inciting violence.
"We had two witnesses and an officiate," Mayaturk recalls. "It was in the 'open visitation area' so we could hold hands, but there was nothing more than that. We said our vows. And then I had to let my husband go."
Yucel was arrested in February and has been held in solitary confinement for more than 150 days.
Turkish authorities have accused him of spreading propaganda for the Kurdistan Workers Party, or PKK, a Kurdish separatist group that the Turkish government has branded a terrorist organization.
He's also said to have incited violence in support of a movement that the Turkish government refers to as the Fethullah Gulen Terrorist Organization (FETO). Gulen is the reclusive Muslim cleric accused by Turkey of hatching last year's failed military coup attempt.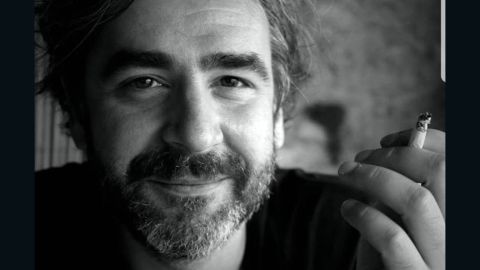 And he's not the only German national facing similar charges.
In July, Turkish authorities arrested German human rights activist Peter Steutdner and nine others, charging them with "committing crimes in the name of a terrorist organization without being a member."
The high-profile arrests have stoked fears that Turkey is holding Germany citizens as "political hostages," according to Germany's Green Party co-chair Cem Ozdemir.
Related: Erdogan says 'behead traitors'
Germany is demanding the unconditional release of both Yucel and Steudtner, threatening travel and trade restrictions in retaliation. In June, the German Foreign Ministry issued a warning to its citizens to exercise caution while traveling in Turkey, a popular destination for German tourists.
Last month, Germany's Foreign Minister Sigmar Gabriel interrupted his own vacation plans to address the situation: "We need our policies towards Turkey to go in a new direction … we can't continue as we have done until now," he told reporters.
"We need to be clearer than we have been until now, so those responsible in Ankara understand that such policies are not without consequences."
A complex relationship
Turkey's relationship to Germany is complex. Around three million Turkish nationals live in Germany. Supporters of President Recep Tayyip Erdogan have demonstrated en masse on German soil, but several Turkish NATO military personnel have also sought asylum in Germany since the failed coup attempt against Erdogan last year.
Turkey is an important NATO ally and is a key partner in Germany's strategy to restrict the number of refugees from Syria's ongoing conflict spilling into Europe.
Yet Turkey has recently denied German parliamentarians from visiting troops, stationed in Turkey, who are participating in NATO operations in Syria.
German authorities also prevented top politicians, including President Erdogan, from addressing Turkish rallies in the country in the lead up to the April 2017 referendum, a vote that handed Erdogan sweeping powers.
These latest arrests may be a tipping point in the two nations' increasingly fraught relationship.
Opinion: Erdogan will regret alienating Angela Merkel
A bond of resilience
Dilek Mayaturk moved from Munich to Istanbul to be closer to Yucel. She now sees her husband once a week, but is only able to communicate with him through a thick pane of glass. Once a month he is allowed an "open visitation" – the only time the two are able to embrace one another and hold hands.
Although the visits are exhausting, Mayaturk says they are the happiest part of her week.
She says she takes time to check on her husband's physical and mental health during their strictly-controlled visits.
"It's a very alienating place," she says. "More than that, I use that time to observe him: Does he look okay? Is he keeping healthy?"
"He doesn't see anyone else. He can't exercise. Today, he's strong and patient. But tomorrow? Isolation is meant to break you in the long term."
As evidence of "propaganda" in his case, Turkish authorities have presented the newspaper articles Yucel wrote for Germany's respected Die Welt newspaper.
According to Die Welt, Yucel was initially detained after he reported on a series of hacker-released emails that demonstrated alleged Turkish government support for Syrian jihadist rebel groups and state attempts to control the media.
Last week, Die Welt's publisher filed a complaint to Turkey's constitutional court to challenge his arrest.
Mayaturk says the allegations against her husband are "absurd."
But through his isolation, Yucel's resilience has shone, she says.
"Deniz said from the start: 'I went in as a journalist. I want to come out as a journalist.'"
"I expect a fair trial. As absurd and fantastic as the accusations are, we are not going to answer them with anger, because we are in the right," she said.