Story highlights
Virginia governor says white supremacists divide America
NEW: More than 100 marches around US on Sunday night
Charlottesville, Virginia
CNN
—
Virginia Gov. Terry McAuliffe, speaking Sunday at a prayer rally in Charlottesville, renewed his calls for white supremacists to leave the city in the wake of violence that saw one person killed and troopers assigned to the governor's travel detail killed in a helicopter crash.
McAuliffe denounced the people who had come to this college town for a "Unite the Right" rally, saying they weren't the patriots they make themselves out to be.
"They get out of bed every day to hate people and divide our country," McAuliffe said.
On Saturday, McAuliffe told the demonstrators to go home. On Sunday he went further.
"Let's be honest, they need to leave America, because they are not Americans," he said.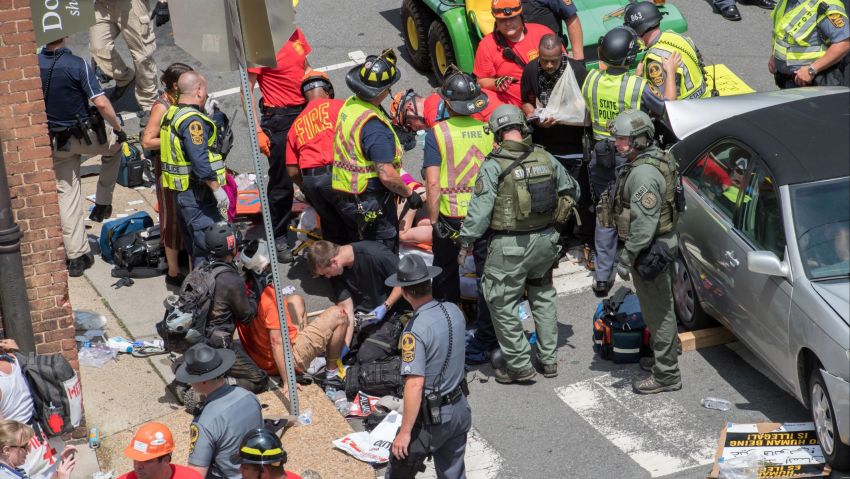 Videos show car crash into protesters
Earlier, rally organizer Jason Kessler blamed law enforcement officers for the violence over the weekend in which a woman was killed and more than 30 people were injured.
He then tried to give a news conference at city hall but was chased away by counterprotesters, who all but drowned him out as he tried to speak.
McAuliffe said he had just visited with the families of the two state troopers – one his pilot, the other a member of his protection detail – who were killed in a helicopter crash Saturday as they helped monitor the situation in Charlottesville.
The governor also praised Heather Heyer, a 32-year-old woman who was killed Saturday when a car slammed into a crowd of counterprotesters.
"She was doing what she loved," McAuliffe said. "She was fighting for democracy, (for) free speech, to stop hatred and bigotry."
Messages from the top
Vice President Mike Pence condemned the violence in Charlottesville while on a trip abroad.
"We have no tolerance for hate and violence from white supremacists, neo-Nazis or the KKK," the vice president said while in Cartagena, Colombia. "These dangerous fringe groups have no place in American public life and in the American debate and we condemn them in the strongest possible terms."
Pence's remarks come after critics blasted President Donald Trump for not specifically mentioning white supremacists or other groups during Trump's remarks Saturday.
White House aides who appeared on Sunday morning political talk shows tried to walk the line between condemning a terrorist attack at the hands of a suspected white nationalist and denying that the President failed to go far enough with his words on Saturday.
Sunday night Pence said, "The President also made clear that behavior by others of different militant perspectives are also unacceptable in our political debate and discourse."
The vice president criticized the media, saying it devoted more time to what Trump said than the people who engaged in violence.
Earlier the governor joined other state leaders to preach about unity at a historically black church in Charlottesville.
"We come to you this morning to reassure you that the Commonwealth of Virginia and all of us that are in this together will not and do not condone white supremacists that brought their hatred and bigotry to the Commonwealth of Virginia," Lt. Gov. Ralph Northam told Mount Zion First African Baptist Church, to roaring applause.
"That's not what we're about. So I am here this morning, as your lieutenant governor, and also as a doctor, to start the healing process."
Less than 24 hours had passed since a driver plowed into demonstrators protesting against white nationalists in Charlottesville.
McAuliffe asked the congregation for a moment of silence to honor Heyer and the troopers, "who lost their lives yesterday doing what they loved doing – fighting for freedom."
"I feel right at home here at the Mount Zion church," the governor said. "I was invited today to go on a lot of TV shows. I turned them all down, because I needed to be where I should be, here in this beautiful church here today."
The racial divides that fueled Saturday's violence were replaced by unity Sunday as one white elected official after another received standing ovations from the black congregation at Mount Zion.
"We will get through this stronger than we were yesterday," Charlottesville Mayor Michael Signer told the crowd.
People around the nation marched Sunday in support of Charlottesville. There were more than 130 rallies from Maine to California, according to a CNN tally of events posted to social media.
Here's the latest on what happened, the victims, the suspect and the investigation:
What happened
Counterprotesters met white nationalists and other right-wing groups at the site of Saturday's "Unite the Right" event hours before the rally was set to start.

Clashes broke out, and police began to disperse crowds.

Local officials declared the rally an "unlawful assembly," and the governor declared a state of emergency.

About two hours later, a gray Dodge Challenger rammed into a crowd of counterprotesters walking down a street in downtown Charlottesville.

The driver slammed the car in reverse and fled the scene backward. The suspected driver was arrested later that afternoon.
The victims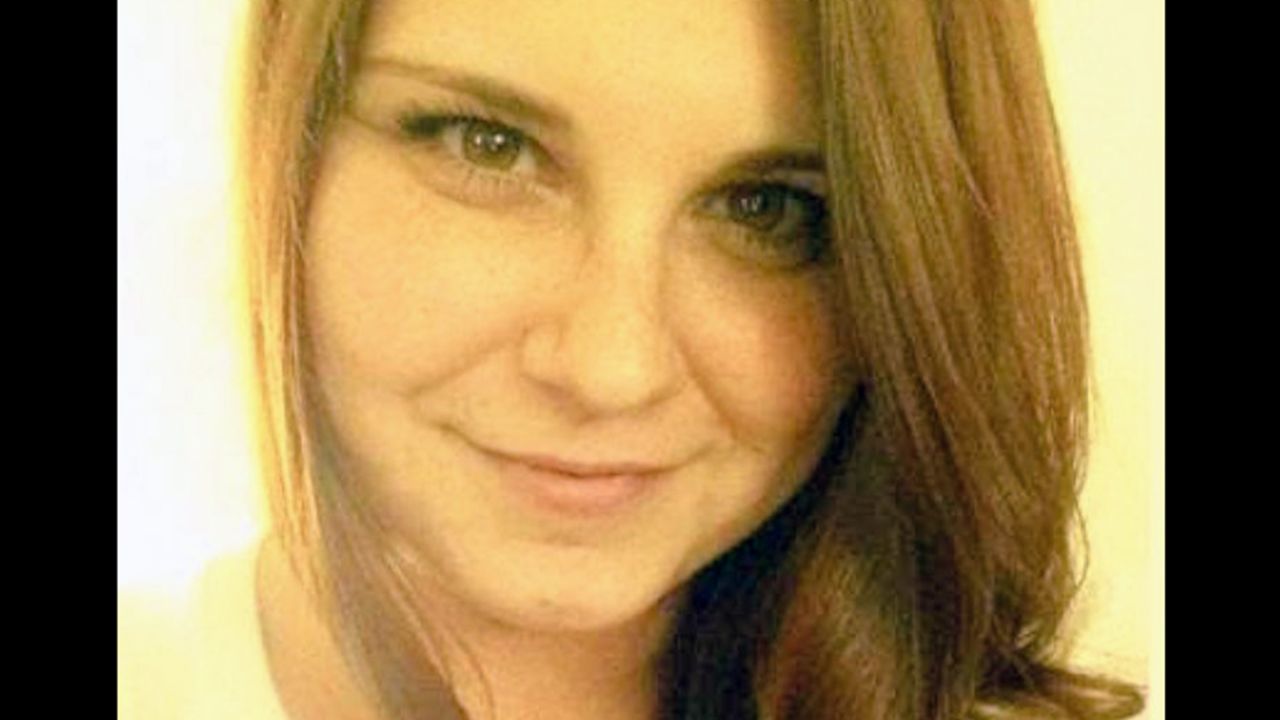 Thirty-two-year-old Heather Heyer was killed in the car crash. Her father, Mark, told CNN: "She was always passionate about the beliefs she held. She had a bigger backbone than I did and I'm just proud of her for standing up for those who needed help."

Another 19 people were injured, 10 of whom were listed Sunday in good condition by the University of Virginia Health System. Nine patients were released.
Two Virginia State Patrol troopers died when a helicopter crashed in a wooded area near Charlottesville after monitoring Saturday's events. The pilot, Lt. H. Jay Cullen, 48, and Trooper Berke M.M. Bates, who would have turned 41 on Sunday, were killed. Authorities are investigating the cause of the crash.
The suspect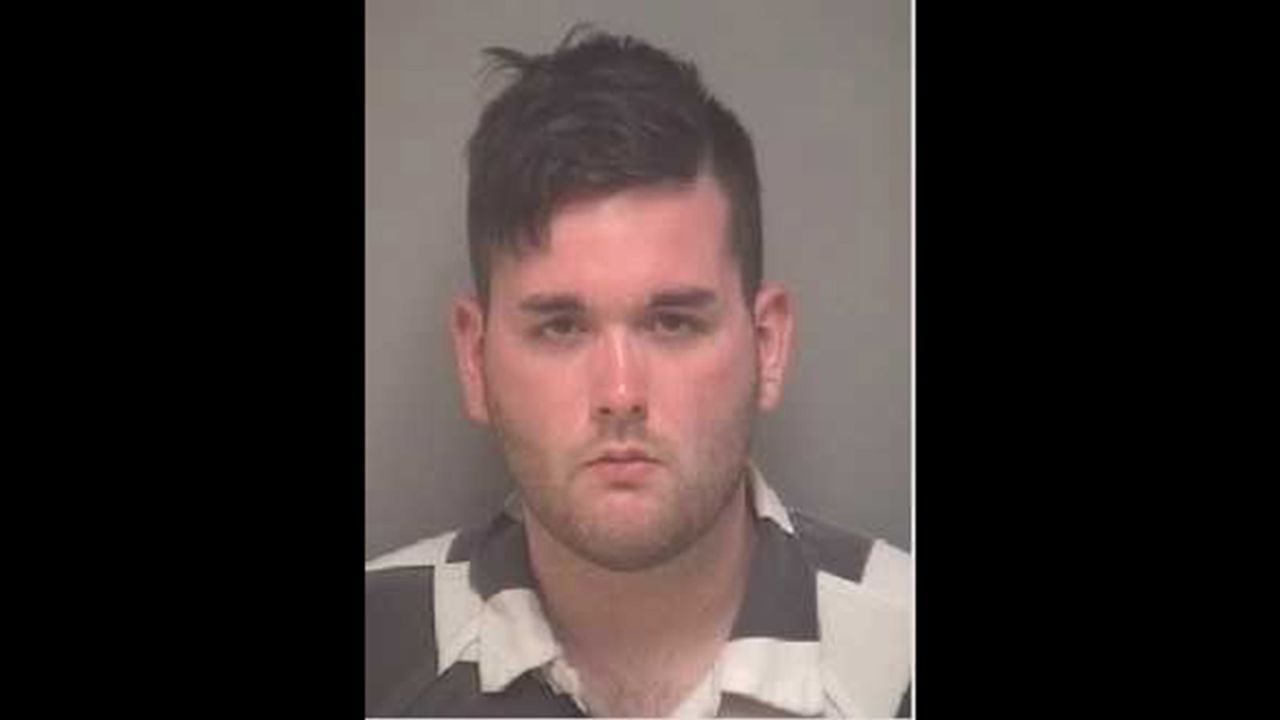 The driver, 20-year-old James Alex Fields Jr. of Maumee, Ohio, faces charges of second-degree murder, malicious wounding and failure to stop in an accident that resulted in death, said Superintendent Martin Kumer of the Albermarle-Charlottesville County Regional Jail.
Fields' mother, Samantha Bloom, told CNN affiliate Toledo Blade that her son told her last week he was going to an "alt-right" rally, but she said she was not involved in his political views. "I didn't know it was white supremacists. I thought it had something to do with Trump," she said. CNN's attempts to reach Bloom were unsuccessful.
Three other men were arrested Saturday. One of them faces a charge of carrying a concealed handgun and another is charged with disorderly conduct. The third man was arrested on suspicion of assault and battery.
The investigation
The Department of Justice and the Federal Bureau of Investigation have launched a civil rights investigation into the deadly crash.

Attorney General Jeff Sessions said US Attorney Rick Mountcastle is leading the investigation.

"The violence and deaths in Charlottesville strike at the heart of American law and justice. When such actions arise from racial bigotry and hatred, they betray our core values and cannot be tolerated," Sessions said in a statement. "Justice will prevail."
The blame
But the organizer of the "Unite the Right" rally, Jason Kessler, issued a statement blaming the violence on law enforcement and local officials. "The blame for today's (Saturday's) violence lies primarily with Charlottesville government officials and the police officers who failed to maintain law and order, protect the First Amendment rights of rally participants, and provide for their safety," Kessler said.
Devon M. Sayers reported from Virginia; Holly Yan and Steve Almasy reported and wrote from Atlanta. CNN's Shawn Nottingham, Nicole Chavez, Caitlin Ostroff and Sheena Jones contributed to this report.