Story highlights
Popole Misenga was part of the first Olympic refugee team in Rio
He was rescued by Unicef, aged nine, after his mother died
A year on, he has been reacquainted with family members
At first glance a Rio de Janiero favela would seem an unlikely place to find an athlete who was one of the sporting stories of the last Olympics.
Judoka Popole Misenga – one of the stars of the refugee team at the Rio 2016 Games – lives with his partner and children in the Bras de Pina favela in the northern part of the sprawling Brazilian city.
It's a place that, on some days, isn't safe enough for him to jog through. Its streets are frequented by drug dealers and occasional police presence.
In the first two months of 2017, at least 182 people were killed during police operations in Rio's favelas – a 78% increase on the same period in 2016, according to official figures, reported by Amnesty International.
But Misenga, who ran away from the Democratic Republic of Congo (DRC) team camp at the 2013 World Championships in Rio, remains eternally grateful the city gave him a home, helping him compete at the Summer Games last year.
"My life really changed after the Olympics," Misenga told CNN. "I have a good life now. I don't need to worry every day if I can feed my family.
"I've been supported by the IOC [International Olympic Committee] and Visa since last year," he added referring to the US financial services company.
Read: Rio refugee team a year on
Rescue
Judo has given Misenga the life he has longed for since he was orphaned at the age of nine when his mother was killed.
"I was separated from my family when I was nine," said the 25-year-old. "My mum got killed and I ran for days in the woods and I was rescued by UNICEF."
It was at a training camp in the DRC that Misenga was first introduced to judo, where his robust physical frame caught the eye of the coaches.
Legends of judo: Teddy Riner, the best ever?
He gradually rose up the ranks, although he confesses it was more under sufferance than because of any great love for the sport.
"I was entered for the national team but things were difficult back there," he says. "They just wanted us to win medals and, if we failed, we would suffer."
The DRC's Olympic Committee did not immediately respond to CNN's request for comment regarding Misenga's description of his treatment.
Walking the streets in Rio
Four years ago in Rio, he finally saw the chance to escape. Another Congolese competitor, Yolande Mabika, made the decision to abscond from the team before returning to fetch Misenga a few days later.
"It was a very hard time," he says. "I didn't have a home, money or food. Everything was missing in my life.
"I was hungry and it was a lot to suffer. So I decided to stay here, that I'm going to find a way, that someone will help me but I won't go home."
The pair walked the streets until they met another refugee from Angola who introduced them to the Bras de Pina favela, and Misenga scraped around for any work he could get.
That changed in 2015 when he was introduced to the Insituto Reacão where he was invited to train by Brazilian judoka and Olympic bronze medalist Flavio Canot.
The institute is run to help disenfranchised youth affected by poverty and crime. There, he benefited from the tutelage of the institute's co-founder and veteran Olympic coach Geraldo Bernardes.
The world's most famous judo fans
READ: Meet judo's history maker
With limited preparation for Rio, Misenga made the refugee team and, against the odds, won his opening contest against India's Avtar Singh.
Seemingly on his way out of the competition in a hold, chants of "Popole" spurred him off the mat to perform a shoulder throw to win the contest outright.
One round away from the quarterfinals, he then faced world No. 1, Gwak Dong-han, lasting the near four-minute duration of the bout before being beaten.
"It was an amazing time in my life – I couldn't believe it was happening," he said of his Olympic experience.
"I think people really liked the refugee team. I didn't dare hope we would have people cheering for us but, when I came to the judo mat, I heard the crowd calling my name. It was really amazing."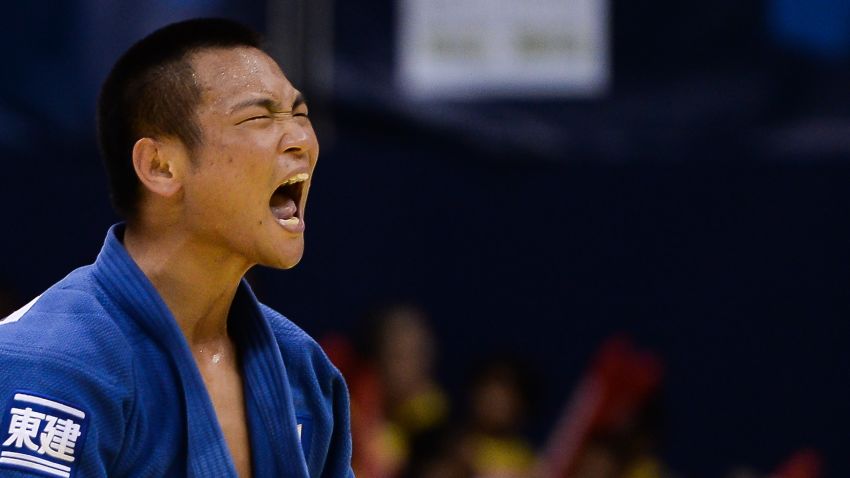 Legends of judo: Masashi Ebinuma
READ: How judo 'saved my life'
Olympic medal target
In some ways, his fame was short-lived – although he is still well known in his favela. And the financial backing has afforded him simple pleasures.
He has bought a new fridge for the home he shares with his Brazilian wife Fabiana and the couple's two children, Helias and Maria-Eliza, as well as Fabiana's three other children.
"People don't now recognize me on the streets," he said. "Only in my community because only they know the whole story."
Misenga had set himself three core ambitions at the Rio Games. One was to raise the profile of the world's 65 million refugees, another was to win a medal, and most importantly to become reunited with his family back in Africa.
Visit cnn.com/sport for more news and videos
He has since made contact with one of his brothers for the first time in almost 15 years – his first words to him down the telephone were "I'm alive!"
His judo ambitions are to make an Olympic return at Tokyo in 2020.
"I still compete when I have the chance and this year I won a bronze medal at the Judo Open tournament in Rio," he said.
"I am training a lot so I can go to the Olympics again, and this time it will be difficult to overcome me. I will win a medal."