Story highlights
The National Weather Service says 27 inches of rain is expected in the Houston area over the next four to five days
Houston schools are closed all week
A difficult, years-long recovery likely lies ahead for Houston after Tropical Storm Harvey tore through the nation's fourth-largest city this weekend, swelling bayous and stranding residents on rooftops.
The storm dumped more than 24 inches of rain on the city over a 24-hour period. Rising flood waters have prevented rescue teams from reaching some areas – and the water is not yet done rising.
The full extent of the devastation was still unknown on Sunday as darkness fell. Tens of thousands of people have called 911 for help, forcing Houston Mayor Sylvester Turner to ask emergency responders to give preference to those in immediate life-threatening situations.
Harvey will linger over Houston for the next four to five days, said CNN meteorologist Dave Hennen, who labeled Harvey a "one-in-1,000-years-type of event." The National Weather Service forecasts another 27 inches of rainfall in the Houston area over that time.
Those heavy rains, coupled with the overflowing of Houston's bayous, could make water levels surge to about 50 inches in some areas over the next few days, the National Weather Service said.
"Inland flooding from hurricanes is the deadliest part, more than wind and surge," Hennen said.
The rain and winds from Harvey also hit coastal communities like Rockport, where callers to the local emergency dispatch line told of walls and roofs collapsing on people across the city. Off shore, thousands of passengers on several Carnival cruise ships were stranded and unable to return to the port city of Galveston.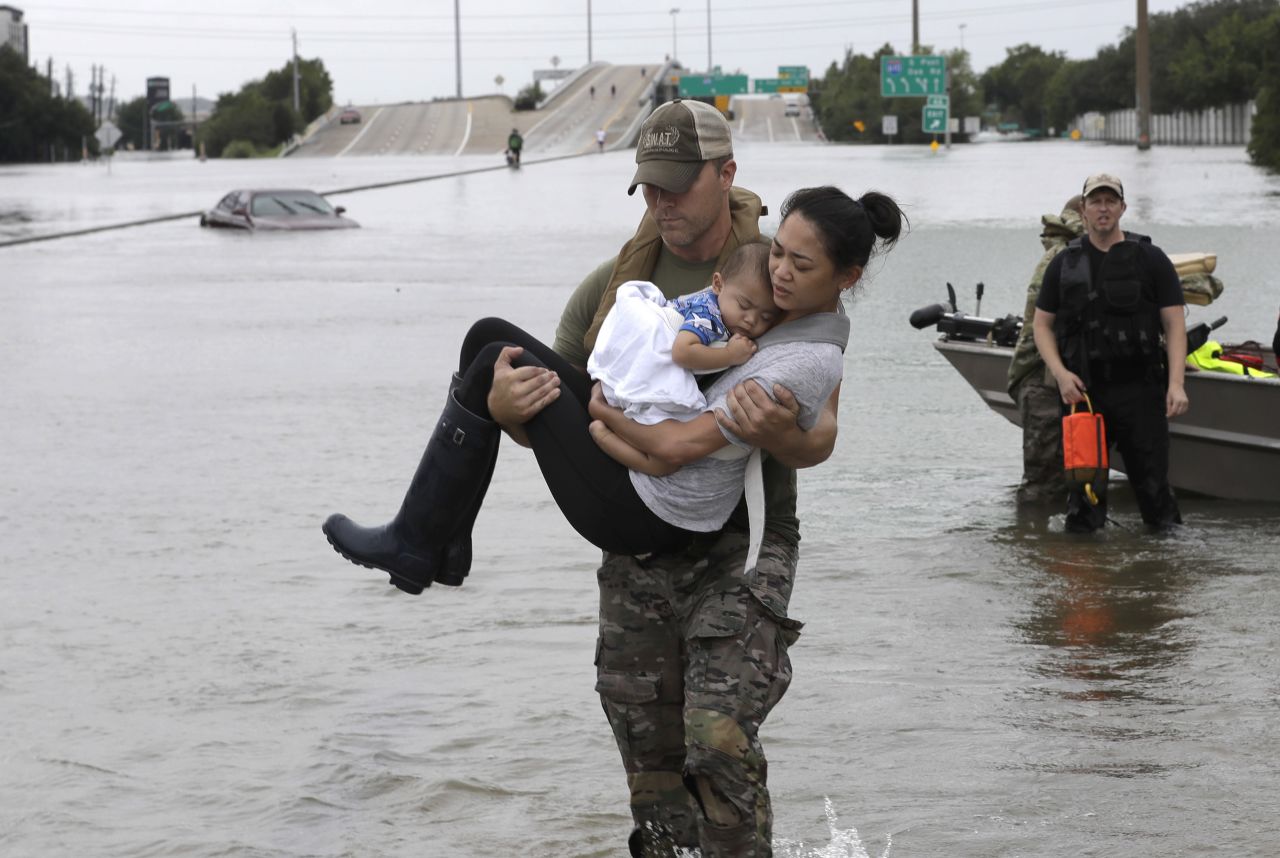 Photos: Hurricane Harvey slams Texas
The Federal Emergency Management Agency is expecting the damage from the storm to keep FEMA personnel there for years after the flood waters recede, the agency's director, Brock Long, told CNN's "State of the Union."
While the storm has drawn comparisons to Hurricane Katrina, Long said that Harvey is unique in the way it poses a days-long threat.
"This is a storm that the United States has not seen yet," Long said.
Some Houston residents drew their own comparisons to another natural disaster: Allison, the storm that struck the Texas coast in June 2001 and killed 23 people in the state.
"Allison was bad … really bad," Pat Napolio, who lived through Allison, told CNN. "But if (the water) creeps up any more, Harvey will surpass Allison."
"This is a storm that is testing the city of Houston," Mayor Sylvester Turner told reporters Sunday. "The city will rise to the occasion."
Many rode out the storm in the city
As Harvey approached on Friday, Turner discouraged residents of the city from evacuating. "Please think twice before trying to leave Houston en masse," he said on Twitter. "No evacuation orders have been issued for the city."
He cited the chaotic conditions created when millions of residents in coastal communities and the Houston area tried to leave the city before Hurricane Rita hit in 2005. During that evacuation, roads out of the area were gridlocked. Some cars ran out of gas. Ten people died of heat exposure while trying to evacuate, the Texas Tribune reported. And at least 24 people died when a bus carrying elderly evacuees from a nursing home near Houston caught fire and exploded.
Harvey blasted ashore late Friday as a Category 4 hurricane, first walloping the Texas islands and coastal cities like such as Galveston and Corpus Christi.
The hurricane brought extreme winds and deadly storm surges, ripping apart homes. Once ashore, Harvey lost speed and transformed into a tropical storm that dumped more than 15 to 30 inches of rain across southeastern Texas.
The slow-moving storm crept further inland and settled over Houston.
On Sunday, Turner defended his decision not to order evacuations. The city, which is flat and particularly vulnerable to flooding, was never put under an evacuation order – voluntary or mandatory – even as then-Hurricane Harvey headed for a landfall.
"You literally cannot put 6.5 million people on the road," Turner said. "If you think the situation right now is bad, you give an order to evacuate, you are creating a nightmare."
Houston mayor: No regrets about not evacuating
Since many stayed, the city is wrestling with an enormous task of sheltering displaced residents, sending them to centralized locations that Turner calls "lily pads."
Officials have closed Houston schools for the week and shuttered William P. Hobby Airport until at least the middle of the week. Southwest Airlines airlifted around 500 of its customers out of Hobby Airport Sunday, according to airline and US government sources with knowledge of the operation.
In nearby Dallas, officials there are preparing to house up to 5,000 Harvey evacuees in the city's Kay Bailey Hutchinson Convention Center.
'The water keeps rising'
Flood traps Houston apartment residents
Houston residents awoke Sunday to flooded streets and homes, and submerged cars. Some waded through knee-deep water.
"The water keeps rising," Janet Castillo, who was trapped at home with little children as the water crept up to their knees, told CNN. "We have called already to several numbers but no luck."
Her husband, Luis, posted a video on Facebook of the water collecting in their home.
"Send some boats over here," he could be heard saying.
Rey Güatzin told CNN Sunday the water was rising in his Houston home throughout the night.
"It's scary," Güatzin said. "I've been through many storms in my city, but it has never been this terrible. This city is completely underwater."
Jake Lewis, who was in Houston on business, said he woke up to ankle-deep water in his Houston hotel room.
"We have nowhere to go," said Lewis, of New Braunfels, Texas. "I have a 2016 Chevy Silverado and the water is up to the door panels. The water keeps rising."
Two fatalities in Texas so far
Two people have been confirmed dead in Texas so far, though the death toll is expected rise.
In Houston, a woman drowned after she drove her vehicle into high water, police said. She got out of her vehicle when her car either became inoperable or the water was too high to pass, and the floodwaters swallowed her.
A second death was confirmed in hard-hit Rockport, where a person died in a house fire during the storm, Aransas County Judge Burt Mills said on Saturday. The death toll is expected to rise in Rockport, too, where about 5,000 residents rode out the storm, Aransas County Sheriff Bill Mills said.
Neither victim's identity has been released.
Rockport resident: 'We lost everything'
National Guard and 'Cajun Navy' to the rescue
Around 3,000 National Guard and Texas State Guard members were heading toward the affected areas, along with 500 vehicles and 14 aircraft, Texas Gov. Greg Abbott said.
More than 400 other rescue personnel who were already in south Texas before the storm began were at work, according to FEMA and the Coast Guard.
Teams from states including Arizona, California, Florida, New York and Virginia were expected to be deployed to the region over the weekend to perform water rescues.
And from Louisiana, the "Cajun Navy," a battalion of citizen boat owners, headed to the region on Sunday, Louisiana's Lt. Gov. Billy Nungesser tweeted.
President Donald Trump was also excepted to travel to Texas on Tuesday, press secretary Sarah Huckabee Sanders said. Sources tell CNN the final locations are not set, but the President is expected to avoid the most hard-hit areas, like flood-ravaged Houston.
CNN's Eli Watkins, Dakin Andone, Eliott C. McLaughlin, Ralph Ellis, Joe Sterling, Jeff Zeleny, Peter Morris, Amanda Jackson and Christina Zdanowicz contributed to this report.