Story highlights
Iceland qualifies for first World Cup
Will be smallest nation ever to play in World Cup
Topped qualifying group after beating Kosovo 2-0
Russia brace yourself – the "Viking thunder clap" is heading your way.
With a population of just 335,000, Iceland became the smallest country ever to qualify for the World Cup after beating Kosovo 2-0 on Monday to ensure the islanders topped European qualifying Group I.
"I'm sure there are a few sore heads in Iceland this morning," Eidur Gudjohnsen, the country's record goalscorer, told CNN. "It was an amazing night – historic for us, historic for world football.
"Obviously we enjoyed going to the Euros in France 2016, our first major tournament, and the party seems to continue."
Trinidad & Tobago, which has a population of 1.3 million, was the previous smallest country to reach a World Cup back in 2006.
Predicting Iceland would now win the World Cup, humorous Icelandic website the Reykjavík Grapevine tweeted: "The Ice Age cometh."
READ: Syria's World Cup hopes ended as Australia come from behind to win
READ: Egypt sent into raptures as country qualifies for first World Cup since 1990
Gudjohnsen believes the experience gained from playing at the Euros played a huge part in the team's successful qualification campaign.
"I think it gave the team confidence, I think the whole experience was great. They're much better prepared now and we're reaping all the benefits.
"It's a generation of players coming through in Iceland that have been together a long time and there's still more to come.
"There's a unity in this team. They love playing for each other, with each other. We are proud to represent out country."
Iceland's Prime Minister Bjarni Benediktsson was the epitome of diplomacy, tweeting: "To Russia with love."
Iceland's successful World Cup qualification comes less than 18 months after dumping England out of Euro 2016 to reach the quarterfinals before being beaten by France.
"Iceland have qualified for their first ever World Cup. They're a bloody good side," tweeted former England international Gary Lineker, who now works as a TV presenter. "Only losing 2-1 to them now looks a triumph…ish."
It is estimated around 33,000 people – 10% of the population – turned up in the Icelandic capital of Reykjavik to give the players a hero's welcome on their return from France back in 2016.
Qualifying from a tough group
"I thought after Euro 2016 that the hardest thing would be to motivate ourselves again," Iceland coach Heimir Hallgrimsson, who is a part-time dentist, told reporters after goals from Gylfi Sigurdsson and Johann Gudmundsson secured his team's win over Kosovo.
The fireworks rocketed into the sky above the Laugardalsvollur stadium to celebrate Iceland's success in automatically qualifying from a tough group that included more established sides like Croatia, Turkey, Ukraine and Finland.
"The first beer after a party is not the best," added Hallgrimsson. "The hardest thing was to get going again after our massive party in France.
"And what's more in a group contested between Croatia, Turkey, Ukraine and Finland, who are much better than their position in the group would have you believe.
"The success is not an end in itself but a long journey towards a final destination."
Academic and author Viðar Halldórsson who wrote "Sport in Iceland: How small nations achieve international success" tweeted: "It's not genes, it's culture, organization and bunch of character!"
Kosovo, which has population of 1.8 million, managed to secure just one point from its World Cup qualification campaign, but the team coach Albert Bunjaki had nothing but praise for Iceland.
Visit CNN.com/sport for more news and features
"Congratulations to the whole Iceland team and to Icelanders," Bunjaki told reporters.
"It's a great example for small nations like our own who aim to have a good team, well organized, in the future."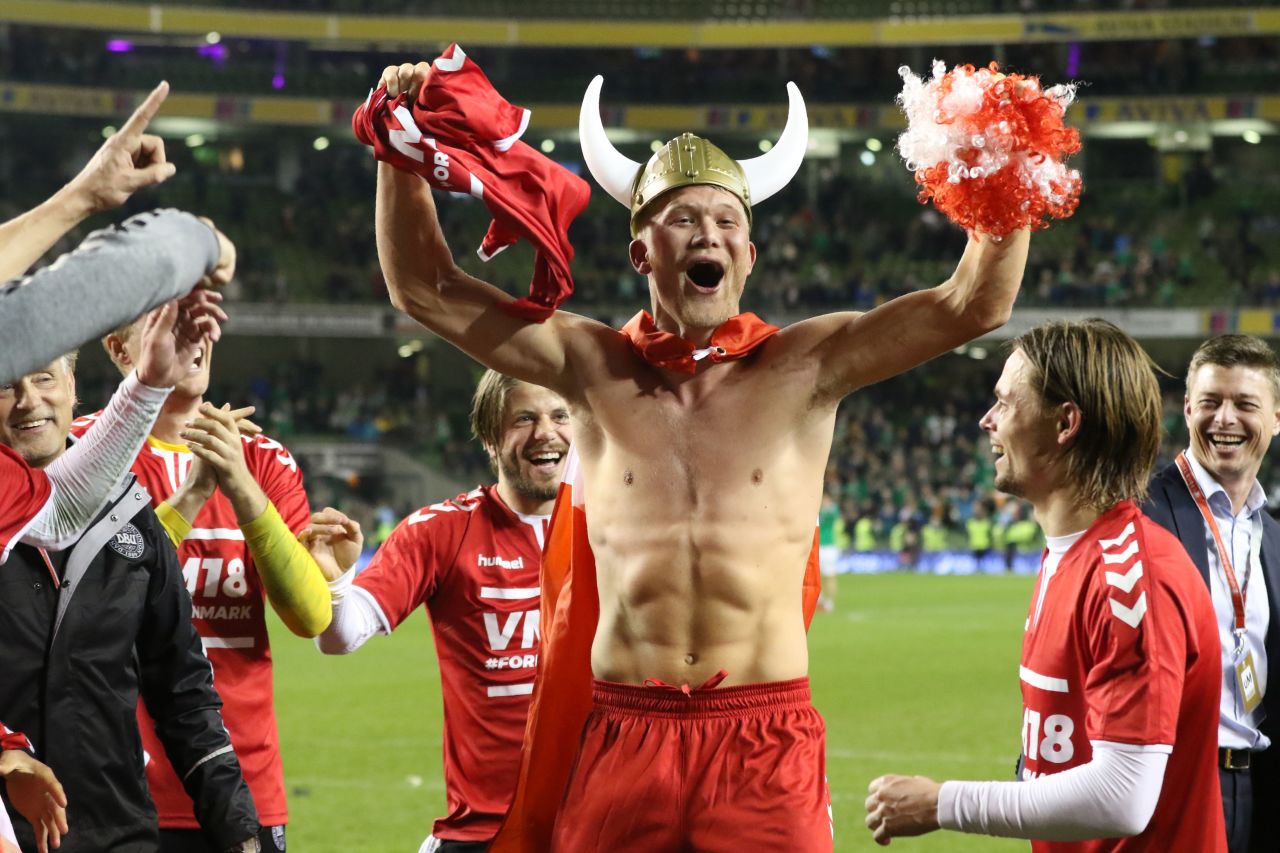 These are the teams that will play at the Russia 2018 World Cup
Iceland will be one of 32 nations at the World Cup in 2018, with the draw for the tournament to take place inside the concert hall at Moscow's State Kremlin Palace on December 1.
The 2018 World Cup's first game will feature hosts Russia on June 14 in Moscow's Luzhniki Stadium.