Story highlights
Federer wins 6-1 5-2 ret.
Chung retired with a left foot issue
Federer will face Marin Cilic on Sunday
Roger Federer plays quick matches, but Friday at the Australian Open was even quicker than usual.
It wasn't the semifinal match the fans wanted but they were likely pleased with the outcome.
The hugely popular Swiss moved into Sunday's final in Melbourne when South Korea's history-maker Hyeon Chung retired with a lingering blister issue while trailing 5-2 in the second set. Federer – who breezed in the first 6-1 – now finds himself in a record seventh Australian Open final and 30th grand slam final overall.
The contest under the roof at Rod Laver Arena lasted only 62 minutes and about five of those came when Chung received a medical timeout at 1-4 in the second set for the problem to his left foot. South Korea's first grand slam semifinalist subsequently called it quits minutes later.
"I thought the first set was normal," said Federer, 36, in an on-court interview. "I couldn't tell what was going on with my opponent.
"In the second set I felt he was getting slower. Clearly, I'm happy to be in the final but not like this. He's had such a wonderful tournament."
Who will win the Australian Open? Have your say on our Facebook page
A 20th major for Federer?
It's been that kind of week at Melbourne Park in the men's draw: World No. 1 Rafael Nadal retired in the quarterfinals against Marin Cilic with a hip injury in a fifth set and Kyle Edmund – like Chung a young, maiden grand slam semifinalist – was hindered physically in his semifinal defeat Thursday to Cilic.
But barring his knee injury in 2016, Federer has mostly been in good health in his career and the nature of Friday's tussle means he'll be well rested for his clash with Cilic in a repeat of the Wimbledon final as he bids for a landmark 20th major.
"It would be amazing," the defending champion said when asked about potentially winning that 20th grand slam title.
"I can't believe how fast now the week has turned out to be. Yeah, I mean, it ain't just an easy trip to the finals. There's always a lot of work that goes into it during the tournament, focus, and also preparation beforehand.
"For many weeks and months before, you try to put yourself in the position – 'Are you going to be ready in case a good semifinals or quarterfinals match at the Australian Open?' So forth.
"This is something you sort of plan from a long time ago. That's why when it does happen, it's a great feeling."
'Happy to be in the finals'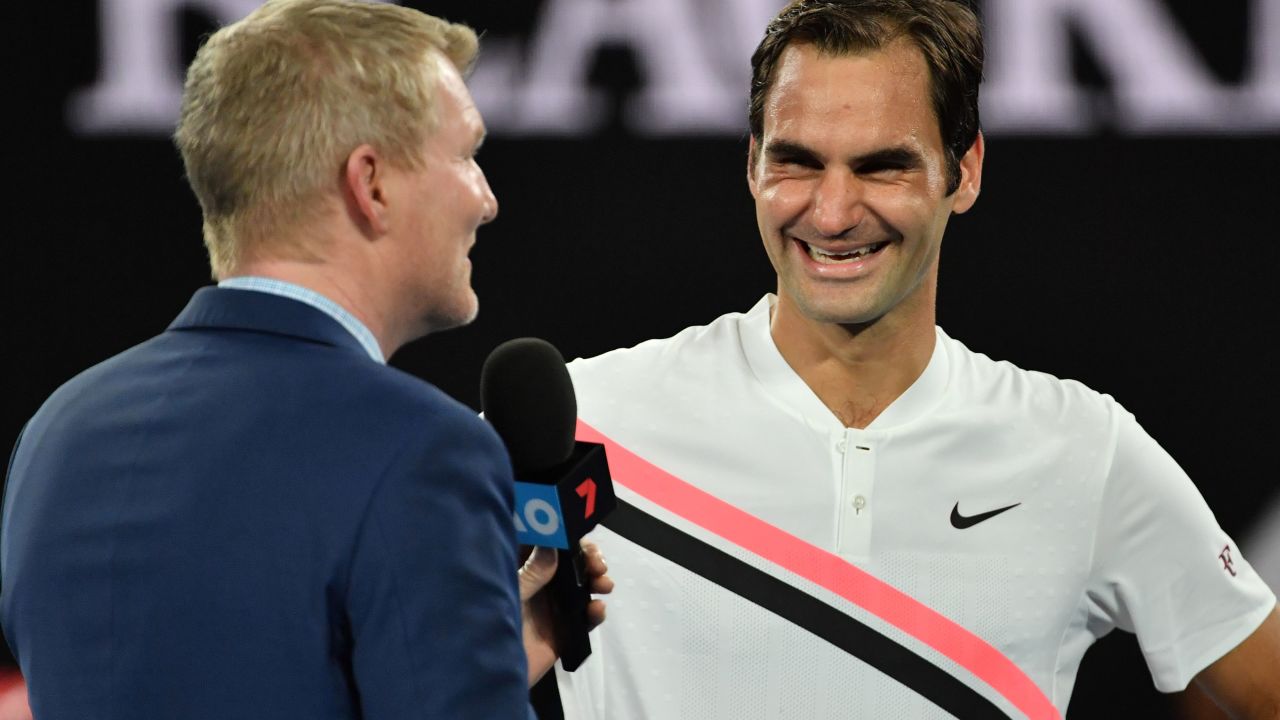 Federer has yet to drop a set during the fortnight. He wasn't concerned about not playing enough on Friday as he prepares for the tougher test of Cilic.
"You do take the faster matches whenever you can because there's enough wear and tear on the body, there's enough tough matches throughout the season that when they happen, you take them," said Federer.
"There's nothing you can do anyway about it. The thought process is not like, 'What would have been better?' I'm just happy I'm in the finals.
"That was the goal before the match. I was able to get there. Not under the circumstances I was hoping to or not planning with. But I played a good match. He struggled clearly with his movement. I was able to take advantage of that."
In the Wimbledon final, Cilic himself was troubled by blisters on his left foot, but that was their only lopsided duel in the last five meetings. A healthy Cilic memorably cruised past Federer en route to winning the 2014 US Open and held three match points against him in the 2016 Wimbledon quarterfinals.
Holiday meeting
Federer – who has never retired from a match in his career – revealed that he and Cilic played against each other while on holiday in the Maldives a couple of months ago.
"We were both looking for a hitting partner," he explained.
"He's a really nice guy. He had a similar problem as Chung in the final at Wimbledon. It will help him that he's had two days off and he hasn't had to come through a tough semifinal. We'll see a fresh Marin. He believes he can come this far, he will go far."
The bespectacled Chung was South Korea's first grand slam quarterfinalist, but his task of upsetting Federer became more difficult when he was broken in the first game. Federer's flawless play, and Chung's injury, meant there was little chance of an upset for the 21-year-old in their first encounter.
Chung's agent Stuart Duguid explained the extent of the blister problem in the world No. 58's post-match news conference as the player is still perfecting his English.
"Over the last few days, it was blister under blister under blister," said Duguid. "He had it shaved off. Now it's red raw. They tried injections to see if it numbed the pain. It didn't work. Much worse than a regular blister.
"I think a lot of players get callouses. As they go along, they shave them down. Because he has played so many matches in the row, I think that's why it was a buildup. I think that's how they started."
Great tournament for Chung
Still, it was a fine fortnight for Chung, who had upset both Novak Djokovic and Alexander 'Sascha' Zverev. He'll leave Melbourne with a projected ranking of 29th, the highest ever for a Korean player.
He said he could get even better.
"I played really good in the last two weeks," said Chung. "I make a first round of 16, quarters and semis. I play Sascha, Novak, Roger. I (had a) really good experience in the last two weeks.
"I think I can play better and better in the future."
Federer didn't disagree, saying about Chung, "I think he's going to have a lot of success."
Simona Halep faces Caroline Wozniacki in a blockbuster women's final Saturday. It features the world's two highest-ranked players and will end with one of them winning their first grand slam.
Federer, meanwhile, is favored to get to No. 20 on Sunday.