Chinese tech companies have had a bumper year raising money from investors, but there are signs that the good times may be coming to an end.
Smart take
2018 is the biggest year for Chinese tech IPOs since Alibaba went public four years ago
Chinese tech firms have raised more than double the amount pulled in by their US rivals
But some of the largest Chinese listings have performed badly once they started trading
More than 40 Chinese firms have sold about $15 billion worth of shares in 2018, accounting for 40% of the cash generated by all tech IPOs worldwide, according to data provider Dealogic.
It's the most lucrative year for China's tech startups since 2014, when Alibaba (BABA) raised a record-breaking $25 billion in New York. If you take Alibaba out of the equation, 2018 has been the biggest year ever for Chinese tech IPOs — and there's still nearly three months to go.
Some big names are in the pipeline. Tencent's (TCEHY) streaming music business is aiming to raise $1 billion in the United States. Online movie ticketing service Maoyan Weiying is reportedly seeking a similar amount.
Chinese tech companies have "become a very hot topic for the world," said Ringo Choi, the head of Asia-Pacific IPOs for consulting firm Ernst and Young. "There are still several big IPOs coming in the last quarter and first quarter of next year," he added.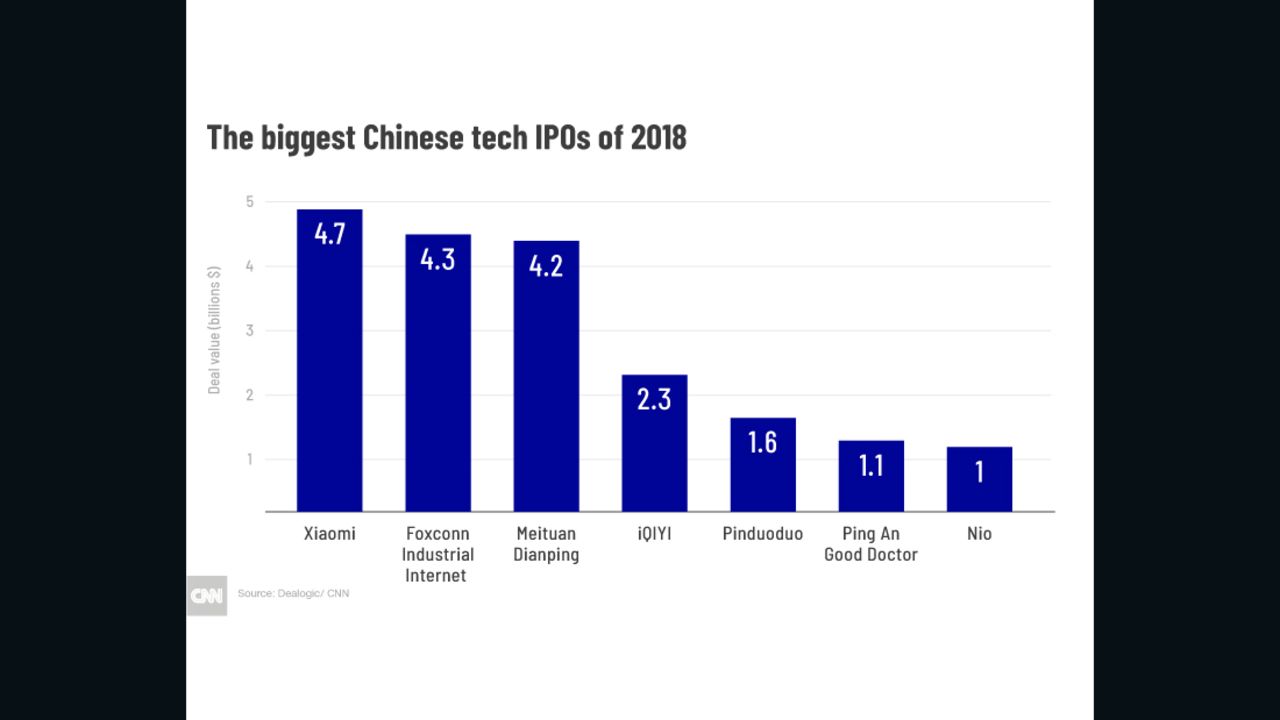 But some of the largest Chinese IPOs this year have underwhelmed on their market debuts. Investors have been worried by the trade war between the United States and China, the slowing Chinese economy, stricter regulation by Beijing, and doubts about how much Chinese tech companies are really worth.
If more Chinese IPOs disappoint, others that are in the works are likely to be put on hold, cautioned Choi.
Hong Kong or New York?
Last month, online services company Meituan Dianping raised an impressive $4.2 billion in its Hong Kong IPO, pricing near the top of its target range. Shares rose on the first day, but are now trading about 6% below their listing price.
Smartphone maker Xiaomi's widely anticipated IPO in July was even worse: the company raised less than half the $10 billion it had reportedly been seeking earlier in the year. Its shares priced near the bottom of the target range, fell on their first day in Hong Kong and are now down about 15% from their IPO price.
Chinese companies that debuted in Hong Kong faced a particularly difficult market this year. The city's benchmark index entered bear market territory last month, and investors in mainland China have been pulling money out of Hong Kong stocks.
Some Chinese companies also rushed to get their IPOs done quickly this year to try to secure higher valuations, according to an Ernst and Young report released last week.
Chinese tech companies that chose to IPO in the United States have fared better.
The biggest Chinese tech firm to go public in the United States this year was iQiyi (IQ). The video streaming company raised $2.3 billion on the Nasdaq in March, and its shares are now trading nearly 50% above their IPO price. E-commerce platform Pinduoduo (PDD) is up almost 40% since its New York IPO raised $1.6 billion in July.
Outpacing Silicon Valley, for now
Chinese tech IPOs are on pace this year to outstrip those from Silicon Valley for the third year in a row. So far in 2018, Chinese tech companies have raised more than double the amount pulled in by their US counterparts.
But uncertainty clouds the plans of two of the biggest Chinese tech companies that were previously reported to be considering going public this year or next.
Ant Financial, Alibaba's digital payments affiliate that's valued at around $150 billion, has reportedly pushed back plans until at least the end of 2019.
And Didi Chuxing, China's dominant ride-hailing startup that's valued at $56 billion, is dealing with a backlash from regulators and customers following two separate killings of female passengers using one of its services.