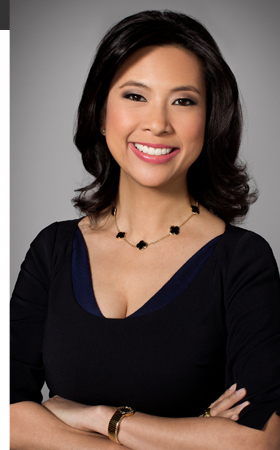 Maribel Aber
Maribel Aber is a correspondent for CNN Newsource's "Money Matters," a market-exclusive, multi-platform financial news service produced in conjunction with CNNMoney.com. She is based in CNN's bureau in New York where she provides custom live reports for approximately 800 CNN Newsource affiliates, CNN, CNN International and HLN from the NASDAQ MarketSite in Times Square.
In 2012 Aber covered the Sandy Hook Elementary school shooting and Facebook IPO for CNN Newsource.
She began her career with the National Association of Securities Dealers, Inc. (now known as FINRA) with a focus on securities regulation. Aber joined NASDAQ in 2000 as associate director, global sales & member services. Her work led to an appointment as chief of staff for the vice chairman of NASDAQ in 2001 and later promotion to vice president of the NASDAQ MarketSite, home of the NASDAQ Opening Bell. Aber was responsible for running the seven-story tower and broadcast studio. In her tenure at NASDAQ, she partnered with CNN in "America Votes 2004" live from the NASDAQ MarketSite and negotiated a partnership with Reuters Group Limited that combined the NASDAQ Tower and Reuters Sign properties to create the world's largest outdoor digital display system, located in Times Square.
Prior to joining CNN Newsource in 2012, Aber was host and producer for "Wall Street Week" and entertainment host, correspondent and producer for The Broadway Channel covering the Tony Awards and all major red carpet events on Broadway. Aber was also a freelance host for AOL, MSN and the syndicated educational television show, Brain Fuel TV.
Aber began her television career as a regular contributor on money and career issues for "The Better Show," a syndicated daytime television show produced by the Meredith Corporation, publisher of "Better Homes and Gardens," "Ladies Home Journal" and "Parents." She also contributed on career issues for "Dr. Drew's Lifechangers."
Aber graduated from the University of Virginia with a bachelor's degree in foreign affairs and a minor in German. She earned her Juris Doctor from New York Law School.