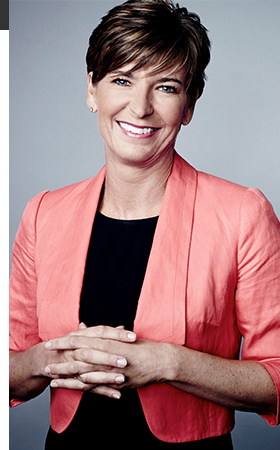 Becky Anderson
Becky Anderson is one of CNN International's highest profile anchors. She hosts the network's flagship news & current affairs programme, 'Connect the World', which airs weekdays at 5pm CET.
Anderson is based in CNN's Abu Dhabi bureau, allowing her a distinctive regional perspective on some of today's most important news stories, including the ongoing Israeli-Palestinian peace process, the deepening humanitarian crisis in Syria and the advance of radical Islamist forces in Iraq.
Anderson is a skilled interviewer, adept at close questioning and has interviewed many of the world's leading politicians, decision-makers & thought-leaders. She has conducted one-on-one interviews with top world leaders, including, Desmond Tutu, Kofi Annan, Israeli Prime Minister Benjamin Netanyahu, Afghan President Hamid Karzai, South African President Jacob Zuma and UN Secretary General Ban Ki-Moon. She is equally at home with celebrities, quizzing the world's A-listers, including Lupita Nyong'o, Oprah Winfrey, Juliette Binoche, Andrew Lloyd-Weber, Beyoncé, George Clooney, Lady Gaga, Tom Hanks, Javier Bardem and Brad Pitt.
In July of 2014 Connect the World left its Abu Dhabi base for a two week-long journey around the Middle East at an extraordinary time of upheaval. Anderson and the team visited Cairo, Jerusalem, Istanbul and Beirut, bringing a range of interviews, reports and packages to CNN International viewers around the globe. As the crisis in Gaza deepened, Becky's exclusive interview with Shimon Peres, in his final weeks as President of Israel, made headlines worldwide. Elsewhere, she sat down with Lebanon's Prime Minister, Tammam Salam; Qatari Foreign Minister, Khali Al-Attiyah; and Turkey's Prime Minister, Recep Tayyip Erdogan.
Anderson has reported from Greece on the anti-austerity riots, Tunisia during the Arab Spring uprisings and Rome on the abdication of Pope Benedict and the installation of his successor Pope Francis. She was also the official CNN Olympic Games Correspondent in 2012 and broadcast live from London's Buckingham Palace on the birth of Prince George. She also played a lead role in CNN's extensive coverage of both the 7/7 attacks in London and the network's coverage of the war in Iraq.
Latterly Anderson has also focused on covering issues affecting women and young people around the world. She has interviewed senior Saudi officials on the countries women's rights record while, as part of 'Connect the World', she discussed with a panel of experts if the Arab Spring had brought about new opportunities for women and young people. In 2013 she also hosted a live chat with NASA astronaut Karen Nyberg who was based on the International Space Station, asking her questions crowd-sourced from social media.
Anderson has extensive business journalism experience including posts with the UK's ITN, CNBC Europe and Bloomberg. She began her career in journalism as a print reporter with various business publications in Arizona, after gaining a Master of Mass Communication from the Walter Cronkite School of Journalism at Arizona State University in 1992 and in 2012 was inducted into their hall of fame. She gained her BA (Hons) in Economics at Sussex University in the UK.
Follow Becky on Facebook and Twitter:


More: