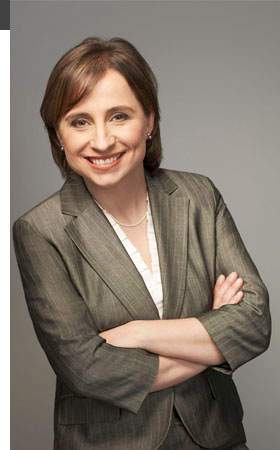 Carmen Aristegui
Carmen Aristegui is the anchor of Aristegui, CNN en Español's new talk show featuring in-depth conversations with Mexican leaders from an array of fields including politics, government, business, literature and entertainment.
The most recent addition to CNN en Español's award-winning team of journalists, Aristegui has more than 15 years of experience as an anchor, commentator and reporter for some of Mexico's leading radio and television programs. On the radio side, she has been associated with such top-ranked shows as MVS's "Para Empezar," W Radio's "Hoy por Hoy" and Grupo Imagen's "Imagen Informativa." Aristegui also collaborated with various high-profile television programs, including MVS's "En Blanco y Negro" and "Círculo Rojo" on Televisa. Most recently, she anchored "Noticias Canal 52: Aristegui-Solórzano."
In Mexico, Aristegui is widely-recognized as an expert on national politics. She is a regular speaker at academic forums and political debates. For over five years, Aristegui hosted the Federal Electoral Institute's special political programming. In 1997, she also acted as an advisor to a civic group involved in the first election for the head of government in the Mexican Republic's capital.
Aristegui has received multiple honors throughout her professional career. She received the Mexican Press Club's "National Award" in 2004, 2002 and 2001, and in 2003 she was recognized as the "Best National Anchor" and presented with a Public Image Award. Aristegui was named "2004 Woman of the Year" by Mont Blanc, and was selected to carry the Olympic Torch through Mexico as part of its global journey to Athens that same year. In 2005, she received recognition from the National Institute of Indigenous Languages for her participation in the promotion of the indigenous languages of Mexico.
Born in Mexico City, Aristegui graduated from Mexico's Universidad Autónoma with a degree in communication sciences.